It's always a treat to see moms and daughters who look alike—it's proof that no matter how old they get or where they end up, they will always have that undeniable bond.
In celebration of Mother's Day, we gathered amusing and heartwarming stories from Pinay daughters who are their moms' lookalikes, among them body positivity advocates and twins Danah and Stacy Gutierrez who also grew up with a mom who looks more like their ate. Read on, and make sure to give your own mom a big hug for everything she's given you—including your gorgeous looks.
Twins Danah (left) and Stacy (right), both 28, with mom Angela (center), 44
Danah: My mom had us when she was 16. If someone gave me a peso for every time we've been mistaken for sisters, I'd be rich! My mom is cool about it; while going around a shopping mall one time, I called out to her, and she quipped, "Huwag mo nga ako mina-mama! Call me ate." We look so much alike that whenever I visit her office, the guard often stands up and gives me her newspapers—he thinks I'm her! I don't mind it all. If I can look as flawless as her in my 40s, I'd be grateful.
Continue reading below ↓
Recommended Videos
Stacy: My mom, my twin sister, and I ALWAYS get teased that we're "triplets." When people comment on our pictures, some even apologize and say, "No offense, but your mom looks the youngest!" It's funny because I would never find that offensive, because our mom really is a young mom! My mom's youthful looks actually make me feel secure that I'll look just as good as her when I hit my mid-40s!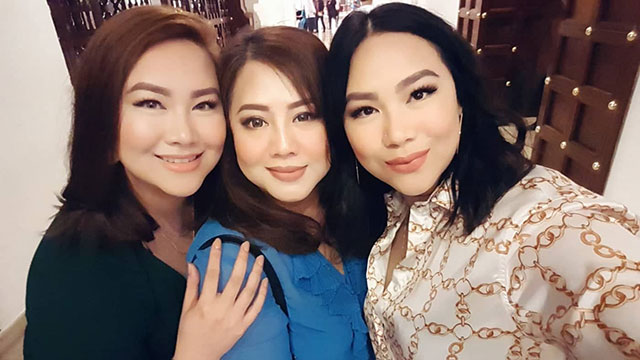 Coco, 31 (right) with mom Chit, 60 (left)
Coco: My mom and I work actively in the mental health field and we seem to amuse a lot of people we meet in conferences with how much we look alike. I remember attending a conference in Hanoi last year and two of my colleagues from Africa who knew me but had not met my mom were so bothered about seeing this woman who looked so much like someone they knew. One day, both of them finally saw me and my mom together and they started going, "Oh my…there are two of them! How is this possible?" We all had a good laugh!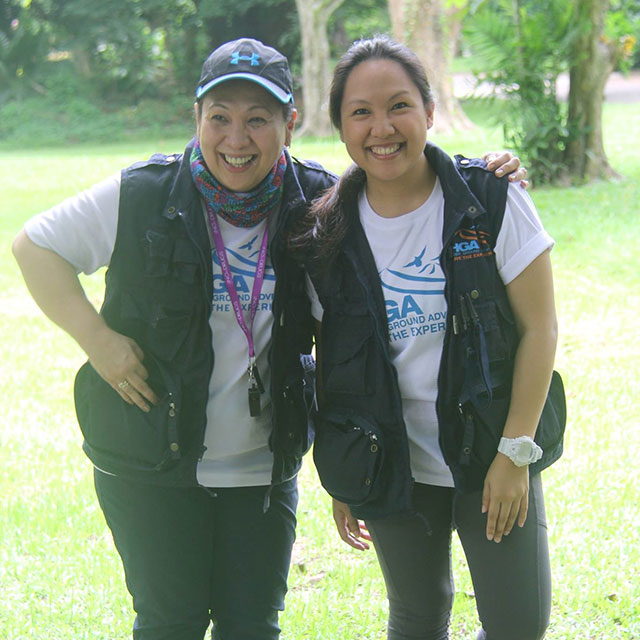 Ysa, 28 (right) with mom Chiqui, 52 (left)
Ysa: I'm proud I look like my loving and beautiful mom. Once when I went for a check-up with our family doctor, he kept on calling me "Chiqui" because I look like her. When we shop, salesladies are always shocked to find out that she's not my ate and compliment her on how young-looking she is. Another time, I used her membership card to try to get access somewhere; since we look alike, the staff somehow didn't notice that the picture in the card was not me!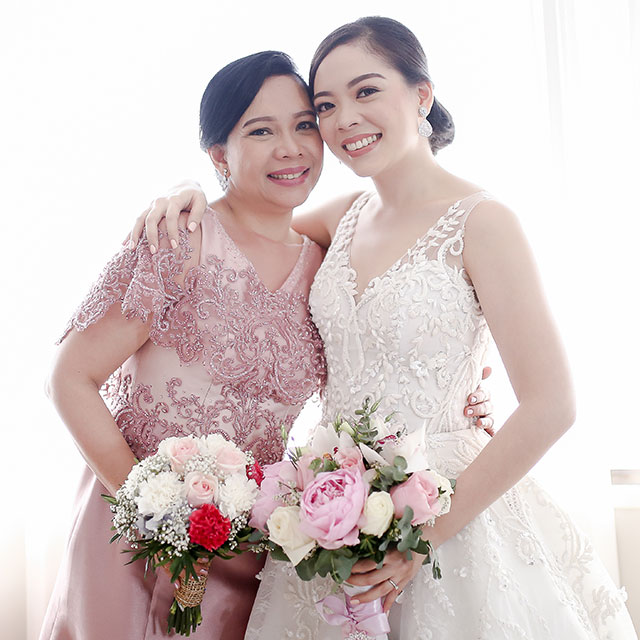 Leah, 20 (right) with mom Melanie, 37 (left)
Leah: My mom always teases me that I look like the older sister and sometimes it annoys me, but I really don't mind. I remember when we were at this store in Divisoria that sells school supplies; Mom was roaming around while I was at the cashier with the stuff we were buying. I called her "Mommy" and the cashier lady was shocked. "Is she really your mom? I thought she was your sister," she said. One thing is certain: I know I'll look good when I get older, and would probably look younger than my age, too, because of mom.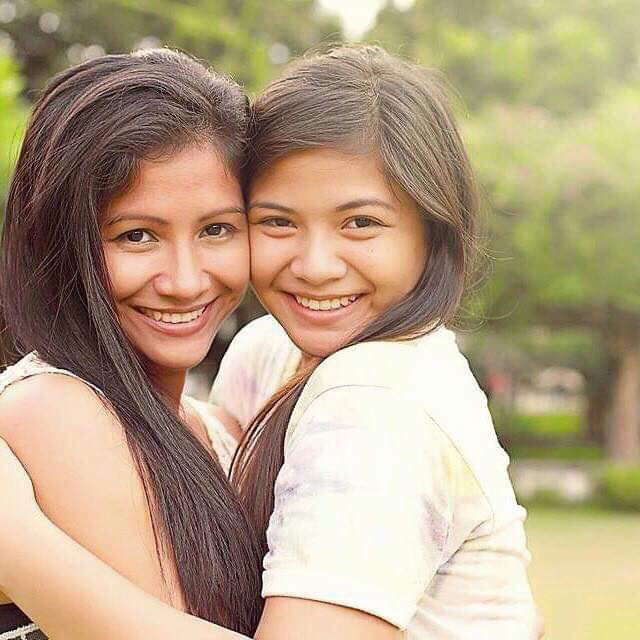 Sisters Louvette, 40 (center) and Karen, 35 (left) with mom Lolita, 63 (right)
Louvette: Every Christmas, my mom would require us to wear the same outfit, so imagine us three together then! We'd go to church for the Christmas Eve mass, and friends in the neighborhood would call me "Hey, Karen!" and some would even call my sister "Hi Tita Lolit!" Our similarities don't stop at our looks: Mom, Karen, and I have very similar-sounding voices to the point that when I call my mom, she can't tell if it's me or my sister calling her!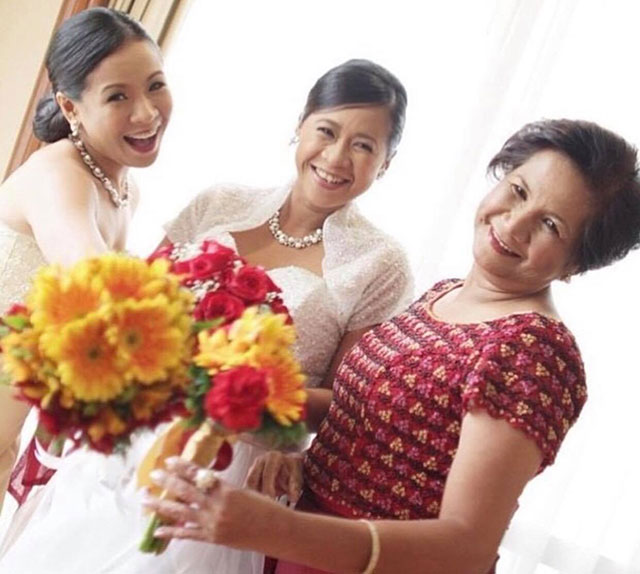 Keina, 32 (left) with mom Lynne, 59 (right)
Keina: Ever since I could remember, people would always tell me that I look like my mom. Whenever we'd go to family reunions, my titas and lolas would always say how I look so much like my mom when she was my age. Recently, I had a lunch date with my mom and took a selfie of us. Facebook tagged her face as me—even Facebook thinks we look alike! As I grow older, I find that I'm really becoming more like my mom—not just in the way I look, but also in the way I handle life's challenges. She's a cancer survivor and so much more, so I tell myself that if I'm able to get as much of her strength as I got of her looks, then I'll be able to get through anything.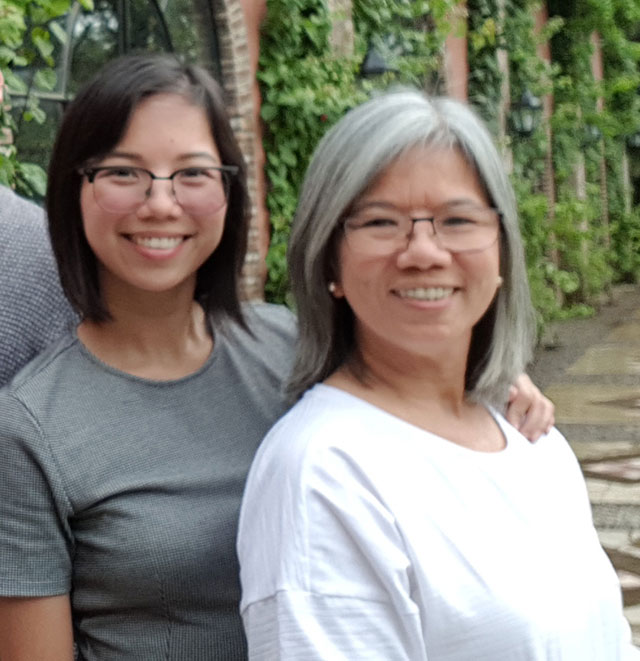 Aleena, 25 (right) with mom Weng, 51 (left)
Yna: Back when I interned at the company my mom works for, I would always sit at her desk as she was always out in the field. Her workmates would often hand me calls addressed to her, call me by her name, and sometimes even tap me on the shoulder thinking I was her. It never really bothered us; my Mame and I would even ask who they think is prettier. The fact that I remind so many people of my Mame always pushes me to work harder because I do not want to disappoint when I get compared to her.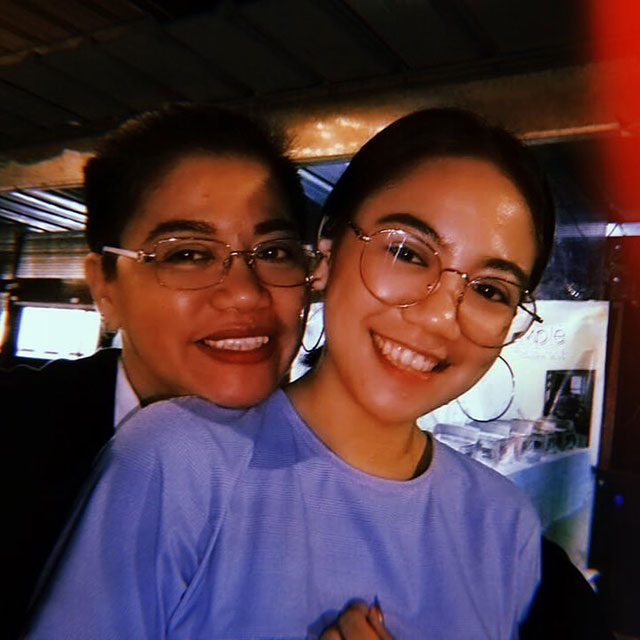 Sophia Tercelle, 20 (right) with mom Ariadne, 38 (left)
Sophia: Whenever my mom and I are together, "No way, she's your mom?!" is always the reaction we get from strangers. One particular incident I'll never forget happened two years ago when she and I were at JFK International Airport. When it was our turn at the immigration area, not one, not two, but three immigration officers could not believe that we were mother and daughter! The main officer in the booth was just staring at our passports and looking at our information in disbelief, insisting that we were sisters. He even said that my mom looked 17. We thought we were in trouble, but they eventually accepted that it is what it is: She's truly my mom!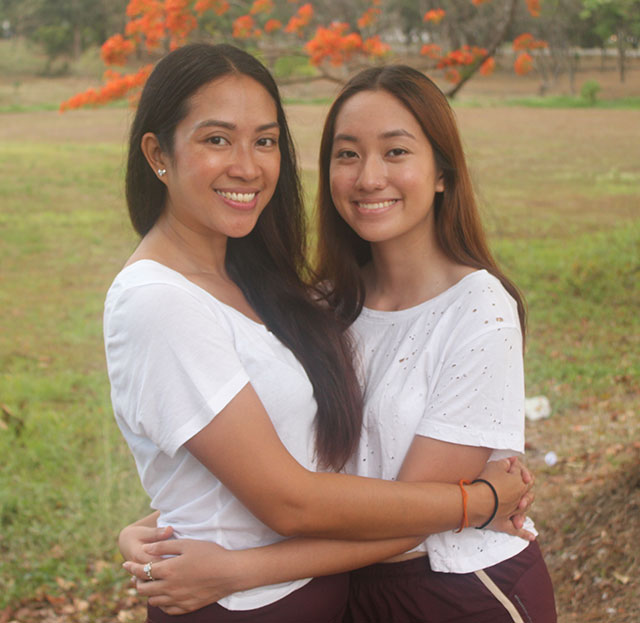 Tiff, 33 (left) with mom Abigail, 64 (right)
Tiff: Since I was a kid, people would tell me and my mom that we look alike, that I'm the exact copy of her. I used to really hate it and insist to people that I am unique. But now that I have a daughter of my own who everyone says looks just like me, I realized that it's actually fun that my mom and I have that similarity. It's fun to happen upon old photos of her and notice that we really do look alike!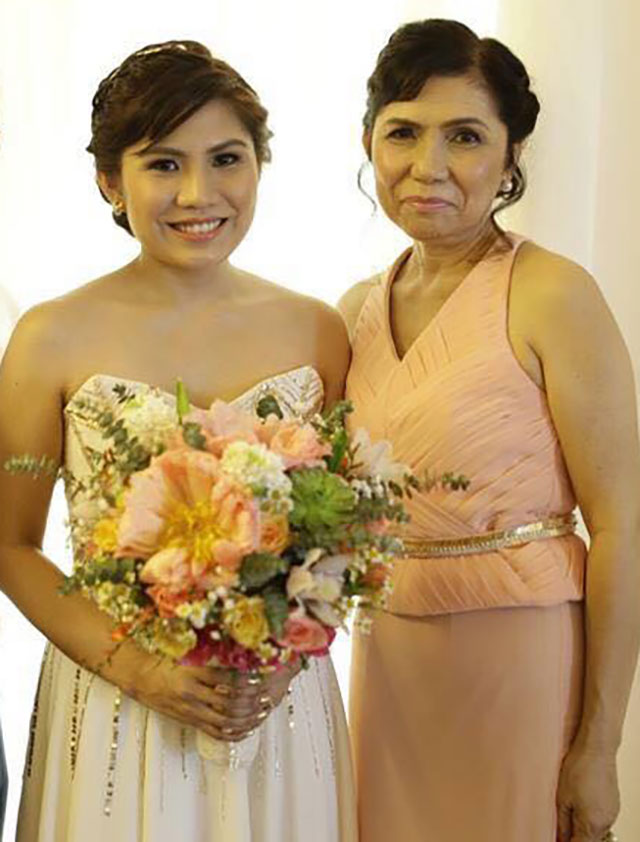 Amanda, 30 (right) with mom Ann Kirsti, 58 (left)
Amanda: My mom and I share the same passion for art and fashion. She wanted to be a fashion designer herself, but it was difficult during her time, especially in the time of Martial Law. Apart from sharing the same love for fashion, we look alike. When her friends would see me at a mall or at a common friend's gathering, they would say "You look very familiar" or "You remind me of someone, how are you related to...?" And when I gave them my mom's name, they would say, "Sabi ko na nga ba!" To this day, every time they see me, they would say it's nostalgic—they'd remember their college days with mom and how she was such a creative girl. She used her skills to make posters, comics, and slogans during Martial Law, and now I use that same creativity to sketch and make clothes as a fashion designer. I hope I made you proud, ma!