There's that saying, "Whatever happens in Boracay..." Well, you know the rest. For years this YOLO slogan symbolized the party culture that our beloved Boracay became known for. As for the summer flings that happen on the island, we know too well that they don't usually last. But not for these four couples, whose tropical romance went beyond the beach. Read their stories on how they met their significant others on the island of Boracay.
Martin and Maggie 
Married for: Six years
Maggie: For years it was my friends' tradition to go to Boracay for Labor Day Week. I first met Martin on Labor Day of 2010. We had a lot of common friends, but to be honest, I didn't really like him because of his reputation back then, haha! When we met through our friends Boj and Nica, it was just a, "Hi. Hello. Nice meeting you." Even in our photos, we were on opposite ends.
ADVERTISMENT - CONTINUE READING BELOW ↓
I didn't see him again until Labor Day of 2011. When we returned to Manila after that Boracay trip, he started calling, texting, and visiting me in my house every day. He was very persistent! I finally agreed to go out with him. He would take me to watch movies, plays, and my favorite bands. We would eat out and he would even take me to Baclaran every Tuesday night.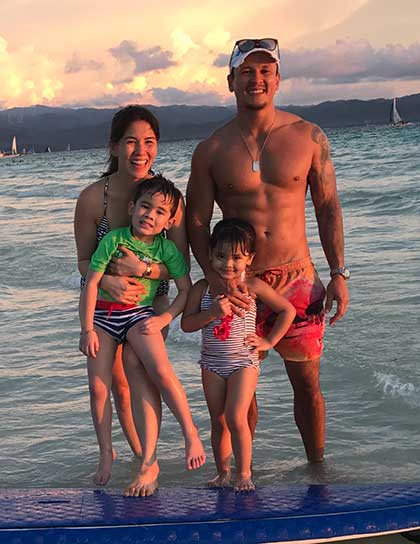 When we became a couple, we would go back to Boracay every month because of our family business. After one year and three months as boyfriend-girlfriend, he proposed. We decided to have our wedding in Boracay because this island holds a special place in our hearts, especially for me. I grew up coming here every summer since I was a baby. Planning the wedding was a breeze because my sister Amanda Tirol who's a Boracay-based wedding planner did everything for us. She made our dream wedding into reality and with the best wedding suppliers.
Moving to Boracay after I gave birth to our first child was a practical decision. Martin was in charge of setting up the restaurant in our White House Beach Resort and eventually, he opened his own bakeshop and restaurant, MarTinapay. Living in Boracay means more quality time with the family, fresh air, and no traffic. It also means living close to my brother and his family, and my dad, who are all Boracay-based. We have been married for six years, and living in Boracay for five. Our two kids, Liam and Ellie, are now five and four years old.
ADVERTISMENT - CONTINUE READING BELOW ↓
We were sad and shocked when we learned about the closure, but we're looking at the brighter side. Once Boracay reopens, it will even be more beautiful. We love the island and we're willing to sacrifice for the greater good. Boracay will always be special to us. This beautiful island is where we met, got married, and live. We enjoy it even more now that we are raising two kids. 
Joy and Per
Relationship status: Engaged
Per: Before I met Joy, I was living in the northernmost part of Sweden, where winter lasts nearly six months a year, so I enjoy winters sports and other activities related to nature. Joy was living in Boracay, where she likes to be out in the sun and be with friends. Talk about two different worlds!
Joy: The year I met Per, I had just gotten out of a six-year relationship. In November 2011, one of my Boracay workmates (and friend) mentioned that the cousin of her Swede boyfriend is visiting the island. She invited me and our other workmates to join them at the BBQ Friday buffet at Red Pirates. That is where I met Per for the first time. We hung out nearly the whole time Per was in Boracay. It became one of those island flings. Neither of us thought something would come out of it.
ADVERTISMENT - CONTINUE READING BELOW ↓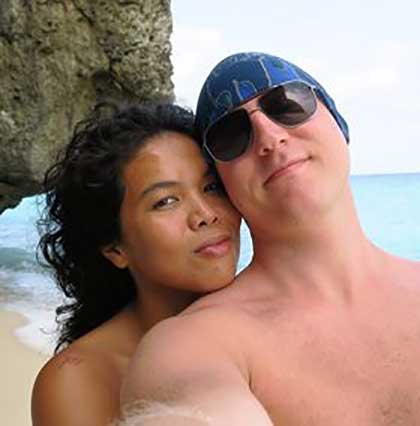 Per: Even if we could have easily contacted each other through my cousin, we both felt that it wasn't right during that time. But admittedly, I mentioned Joy a couple of times to my friends as the girl I had a strong connection with.
ADVERTISMENT - CONTINUE READING BELOW ↓
Joy: Two years later, Per returned to Boracay as the best man of his cousin's wedding, where I was invited as one of the guests. I remember when we went to Puka beach. It was Per's first time there, and he loved how that area of the island was so peaceful and quiet (back then). That's when we both realized that we could live like that forever. The rest, as they say, is history. Before Per returned to Sweden, we both decided to be together despite the long distance. Throughout the next few years, Per continuously traveled to the Philippines, and we traveled around Asia. I moved to Manila and then back to Boracay. Needless to say, Boracay became like a second home to Per. In April 2016, I moved to Sweden to be with Per. We got engaged in Greece in June 2017, and we are planning our wedding here in Sweden in June 2018.
ADVERTISMENT - CONTINUE READING BELOW ↓
Wincess and Chimmy
Married for: Three years
Ces: It was April 17, 2007—both our first time in Boracay. It was the first day of his vacation, while it was my last. We were both single at the time and just looking for a great first Boracay experience together with our own set of friends. When we first met that night at Cocomangas, we realized we had a string of common friends who introduced us to each other. Chimmy and I got to chat for only a few minutes because one of my friends got quite drunk, so we had to leave early to take her back to the hotel room. Chimmy was lucky because when he asked for my number, I gave it, haha!
He continued to communicate with me after my friends and I left Cocomangas. He asked if we could maybe see each other in Manila. I said okay. The impression he left on me was quite good as he was always smiling, and always seemed intent to listen to whatever I had to say during the few minutes of our chat.
ADVERTISMENT - CONTINUE READING BELOW ↓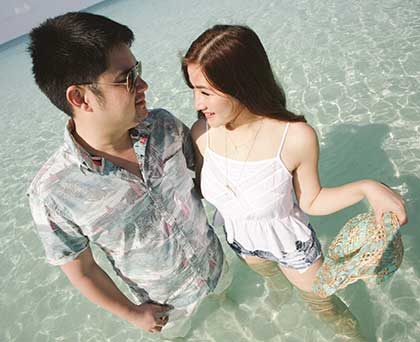 Back in Manila, he lost his cellphone where he had my number saved. This was before the era of Facebook. He went to great lengths to locate me on Friendster and Yahoo Messenger. I eventually received his message on YM and we had our first official coffee date at Starbucks Rockwell on May 1, 2007.
ADVERTISMENT - CONTINUE READING BELOW ↓
He was relentless, to say the least. He picked me up from school and work almost every day until I graduated a few months later. We officially became a couple in June. Since then, we made it a tradition to visit Boracay every year. We made it a point to visit Cocomangas, where we had that chance encounter, or even just take a photo of it from outside. We've had our fair share of Pink Panthers while watching gorgeous sunsets through the years.
We also had our prenup shoot there in 2014, which was the last time we were in Boracay. We got married on May 1, 2015—eight years from the day of our first post-Boracay date. When the island heals and recuperates, we'll definitely be back—this time with our one-year-old baby girl, Chiar Chiar.
Gin and Paul
Relationship status: Together for almost five years
Gin: We were classmates in one subject in law school, but we never really talked. The only time he spoke a word to me was when he congratulated me for winning a debate match. We would cross paths, but we would just look at each other and walk away without a single hi or hello.
ADVERTISMENT - CONTINUE READING BELOW ↓
Months after our class together ended, we met in Boracay. It was April 30, 2013. The night before he arrived in Boracay, I was hanging out with my high school and law school friends in a bar by Station 2. We were playing "Truth or Dare." If you picked dare, you had to take shots of liquor. I was not drinking then, because I vowed to not to drink until I passed the Bar Exams. I was compelled to choose "truth." They asked, "Who are your top three crushes in law school?" Off the top of my head, I answered, "Hmm, yung Paul as top one. Hindi kami nagpapansinan, pero cute 'yun. Galing pa sa class."
The next day, my friends and I saw some of my law schoolmates staying in the room right next to ours. Lo and behold, Paul was there, too! I whispered to my friends, "'Yan yung Paul! Siya 'yan! Siya 'yan!"
ADVERTISMENT - CONTINUE READING BELOW ↓
Our common friends got together that night. His law school friends knew about my top one answer from the night before. Then one of his friends told us about what Paul said earlier that morning. Paul told him that the one wearing green (me!) was his type, without realizing that I was his classmate in law school. What followed was a tireless chant of "ayiiiiii!" and "uyyyy!" from our friends.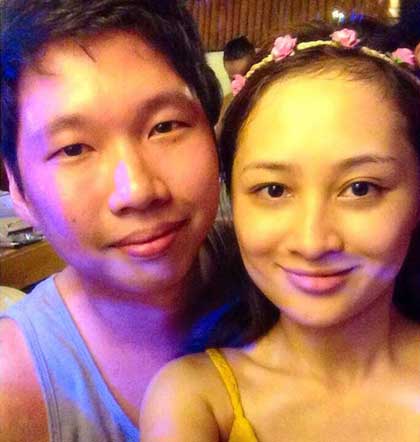 ADVERTISMENT - CONTINUE READING BELOW ↓
After that, we all went to Epic to enjoy the rest of the night. When we got tired and went back to our inn, he kept me company and we conversed. Little did we realize that we spent the rest of the night talking—strictly talking only—about life, law school, and everything else under the night sky by the shore. Sadly, I had to leave the next day.
Paul: I knew Gin even before LaBoracay 2013. She was popular in law school—top one of her batch, a fierce debater, and not to mention, an eye candy. I actually had a crush on her, but I did not make a move because someone told me she was taken back then. I was fine and content listening to and staring at her during her debates and class recitations. I did not recognize her in Boracay because she was dressed differently. I was used to seeing her in formal attire, not in a beach dress.
ADVERTISMENT - CONTINUE READING BELOW ↓
A few weeks after Boracay, I started making subtle moves to get to know her more and spend more time with her. We started dating. On October 27, 2013, we were officially together. In our case, what happens in Boracay does not really stay in Boracay. For LaBoracay 2014 and 2015, we were back to celebrate our pseudo-anniversary. It was significantly different because we went there as a couple already. The kilig was stronger. We stopped by the spots where we were the last time we were there and reminisced.
Visit Kate on KateWasHere.com and follow her on Instagram and Twitter.