Perhaps the only good thing about quarantine is having more time on our hands to do things we like. Of course, that's only true if your job doesn't require you to work longer hours or if you don't have too many urgent things to juggle. It's not always the case for me but lately, I've had more time to try different Internet trends. Yes, I've had my fair share of Dalgona coffee and banana bread but my desire to ~experience~ something new extends to the bedroom—in this case, I've been really interested in finding the *perfect* lubricant.
Why lubricants?
It's more based on a need than my curiosity. After giving birth and while breastfeeding, my vagina has become a diva. Sometimes, she's all good and happy, but more often than not, it becomes too dry during sex. 
I looked it up and according to Dr. Rebecca Singson, M.D.'s website, it's called "vaginal dryness." She defined it as the "sensation a woman gets when there is not enough moistness or lubrication in the vagina." Hormonal changes are mainly to blame, and aside from my case (childbirth and breastfeeding), this can also happen when you take birth control pills. It turns out that you can treat this with hormonal therapy, but if you don't want medications, it's safe to try using lube first. I've used lubes before just for fun, and I wanted to try them again. Thankfully, my partner agreed. 
Continue reading below ↓
Recommended Videos
The selection and rating process for the lubricants
I made sure to select only those within my budget—nothing over P300. We tried the new ones in a span of two months, and below are my reviews for each lubricant. By no means is this list all-inclusive. What we did was try out the available ones from accessible official stores or distributors you could transact with online. I detailed my honest reviews below and rated the lubes (one to 10, with 10 being the best in performance). Spoiler alert: I didn't find a perfect 10 among my choices, but two of them were close! (Do you need to use a lubricant for sex? Check out this article.)
Btw, during my research process, I found out that there are other uses of lubricants aside from sex. For instance, if you're new to menstrual cups, you can use them to help with insertion. You can also use them to help insert vaginal or rectal suppository medicines. 
Bliss
I was excited to try this one. It came in "Fire" and "Ice" variants that were in three-sachet packs. Fire promised to "warm on contact" but we didn't really feel anything; meanwhile, Ice also promised to "cool on contact" and this one delivered. Ice also let you have fun for longer since the cooling sensation has a very mild and totally advantageous numbing effect.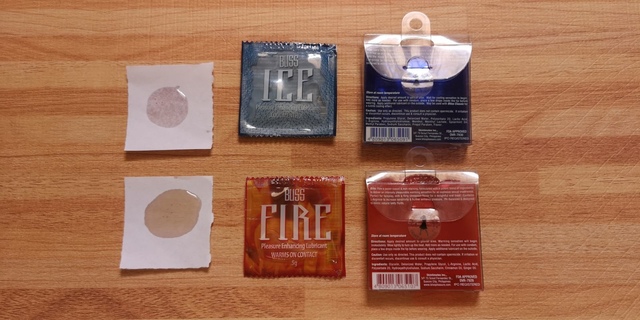 Price: P69 for a sachet of three
Type: Water-based
Condom-friendly? Yes
Thick or runny? Very runny
Drying time: Average
Scented? Fire - Not noticeable; Ice - Yes
Other notes: Both variants are edible, according to the online store. One is menthol-flavored, while the other has notes of cinnamon.
Rating: Fire - 7/10; Ice - 8/10
Where to buy: Watsons, Lazada (LazMall - DEG Wellness), Shopee, 7-11 stores, supermarkets, and other drugstores nationwide
Felina
This one is labeled "Doctor Recommended" and the official website gives pretty comprehensive information. It's supposed to feel natural and non-sticky. It does deliver in these aspects, so it was a pleasure to use. It also promised a "prolonged silky lubricating effect" and some moisturizing properties. I didn't notice these claims as much, though. My package was discreet also, but some buyers from Lazada and Shopee were disappointed when their package labels had "Felina Personal Lubricant" printed on it.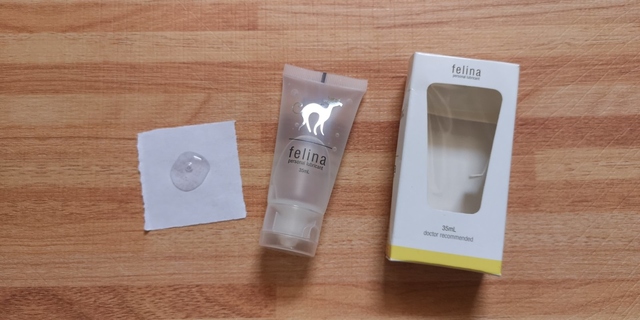 Price: P249
Type: Water-based
Condom-friendly? Yes
Thick or runny? A bit runny
Drying time: Average
Scented? No
Other notes: It's made with food-grade, non-toxic ingredients, so ingesting a small amount is okay—but it's not marketed as edible!
Rating: 7/10
Hot Kiss Cream
It faintly smelled like candy and it was sooo silky. A little goes a long way and I enjoyed the texture! Unlike others in the price range, this one doesn't dry up fast, too. Plus points for discreet packaging—the delivery guy and anyone else won't have a clue what you got unless they unwrapped your package.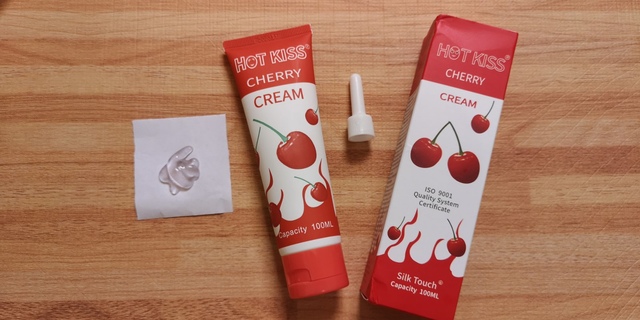 Price: P89
Type: Water-based
Condom-friendly? Yes
Thick or runny? A bit thick
Drying time: Long
Scented? Yes
Other notes: According to its online reviews, it's great for sex toys. The box came with a nozzle, too, so it's a good option if you're into anal sex. 
Rating: 8/10
Where to buy: Lazada (LazMall - Midoko)
SiYi
Among all the options, this one felt the most natural. It felt like one of those days when I was in my early 20s and I was just really wet down there. LOL! But it did dry out faster, so you need a little bit more of it for one use compared to the others. It's the best option for me in terms of price and value for money. For just P79, you already get a 215ml bottle, and the seller gives freebies, too (I got a couple of sachets of SiYi).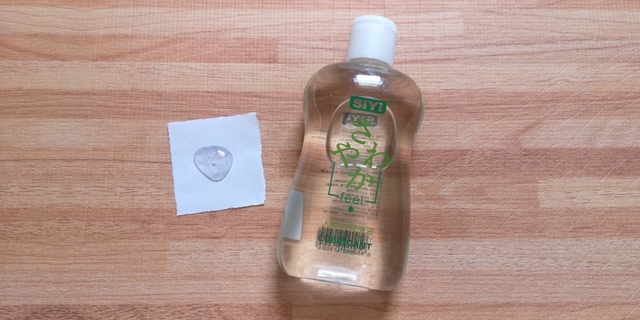 Price: P79
Type: Water-based
Condom-friendly? Yes
Thick or runny? Thick but gets runny on contact
Drying time: Quick
Scented? No
Other notes: Would be great for sensual massages!
Rating: 9/10
Where to buy: Lazada (LazMall - Midoko) 
Bare Naked
This is the lubricant I've been using since I got preggy and experienced mild vaginal dryness. The product was actually hyped in an online newlyweds group I'm a part of (which dubbed it "mahiwagang langis"). In short, I got budol—but it's one of my best budol buys ever. Among all the lubricants we've tried, this one lasts the longest because it's made with VCO. Strawberry and Chocolate are just okay—they tasted and smelled artificial but the performance was solid. The Mint one has become our favorite because it has the ~magical~ cooling sensation. That's big plus points for pleasure in my book! One tube lasted us about six months, too, and I think we were using it once every two weeks at the time.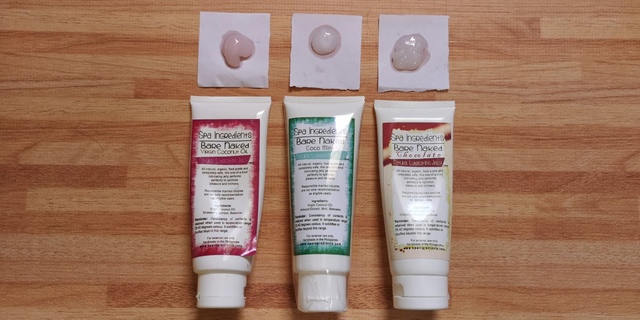 Price: P270 (mint) - P280 (strawberry and chocolate)
Type: Virgin coconut oil-based
Condom-friendly? No
Thick or runny? Thick
Drying time: Long-lasting
Scented? Yes
Other notes: It's edible and great for sensual massages, too. The VCO solidifies sometimes and separates from the watery ingredients of the lubricant. Before using it, squeeze and shake the contents around without opening the tube. 
Rating: Mint - 9/10, Strawberry and Chocolate - 8/10
Where to buy: Facebook
This little personal experiment helped me feel more empowered since I was able to actually try the choices within my small budget. I'm sticking to my Mint mahiwagang langis, for sure, but will keep SiYi and Bliss Ice on hand in case we run out. Again, our experiences won't be the same, just like our hormones and preferences. However, I hope this was able to help you decide on which lubes to try if you're searching for the best affordable one for you. May you have safe, slick, and satisfying sex! 
***
Cosmopolitan Philippines is now on Quento! Click here (Android, iOS, desktop) to download the app and enjoy more articles and videos from Cosmo and your favorite websites!