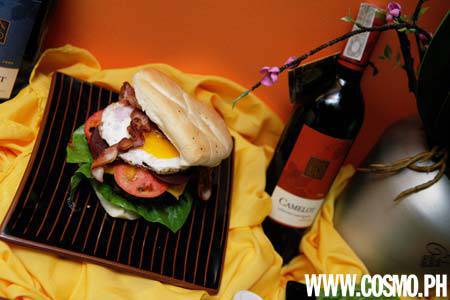 We know how hard it is to get your guy to take you to a fancy restaurant. Besides balking at the thought of picking up that hefty check after the meal, he's sure to grumble about the uptight ambiance! For him, a burger joint is a better place to spend his cash, and he won't even have to read unpronounceable dish names off the menu to get what he wants.
Here's a place where you can satisfy your fancy date desires and your beau can chomp on his beloved burgers—
Murray & D'Vine
.
Burgers And Bottles
Murray & D'Vine at Serendra, The Fort is part-burger joint and part-wine place, serving both gourmet burgers and luxe wines from Titania Wine Cellar. This small, two-story space is intimate enough to be a date place and cozy enough to be a
chillax inuman
spot.
Think the concept of pairing wine with burger is alien? Think again! "What is a beef burger? It's made from beef, like a steak, or a roast, which you'd normally have wine with. So why not [have wine] with a burger?" owner Murray Hertz says. "It certainly isn't a new trend, in the United States and Europe people have been having burgers with wine."
Murray's business partner, Tita Meneses Trillo of Titania Wine Cellar, agrees. "Even the French, like three-Michelin chefs, are actually doing burgers. They pair it with wine," she says. "Some places [are even called] Wine & Burger Bar."
Eats For Sweethearts
Murray suggests you prime your palates with some tender and tasty
Buffalo Wings
(P290). We also recommend the
Mixed Cheese Platter
(P425), which goes fantastic with your wine fix.
Ready for your entree? Better come here starving because Murray & D'Vine offers humongous half-pound burgers! And not just any burgers—Murray & D'Vine is the only spot in Manila that serves their patties and buns
heart-shaped
. Who says burgers can't be romantic?
Take a huge bite out of any of Murray & D'vine's juicy burgers, among them beef bigwigs
Wagyu
(P595),
Angus
(P495), and
Kobe
(P615). Slice your heart-shaped burgers in half and share if you think it's too big. If you want to have a little bite of everything, go for the
sliders
, which are three mini burgers on a skewer served with a side of fries.
[nextpage]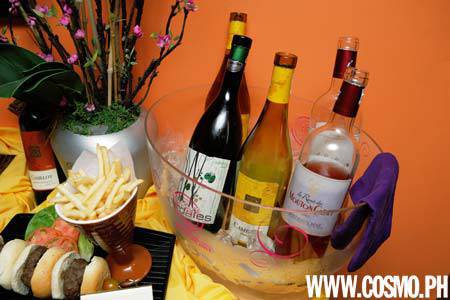 If you and your guy are trying to cut down on the calories, there are burgers here for you, too! Choose from low-fat
Ostrich Burger
(P525),
Tuna Burger
(P365),
Salmon Burger
(595), or
Veggie Burger
(P275).
For dessert, order a serving of their bestseller,
Carrot Cake
(P125). If you've still got some space in your stomach, we suggest you try the
White Chocolate Cheesecake
(P125), a deliciously indulgent end to a good meal.
The owners of Murray & D'Vine truly take pride in their burgers—they're all served on a plate, with proper utensils. You won't be seeing paper wrappers and plastic forks in this joint!
Love Buzz
A trip to Murray & D'Vine isn't complete without a sampling of the restaurant's many wines from
Titania Wine Cellar
. A bottle of vino can cost from as low as P400 to as much as almost P10,000. Don't worry, though: you can order by the glass so you don't clean out your wallet! We recommend
Agora Maceracion
, a red, organic, medium-bodied wine from Spain that sells for P145 per glass or P700 per bottle. Pretty soon, you'll get to taste the official wine of the Cannes Film Festival,
Le Rose de Mouton Cadet
, at this Serendra hotspot.
Many casual diners might feel intimidated by wine's rep as a beverage of the
burgis
. If you think you don't know your way around vintage, here's a
tip
from wine pro Tita: "
First, they have to start with white wine, then the medium, then the heavier wines in the end. The rule is the lightest to the darkest, then the younger wine to the older wine, then the sweet wine at the end for the dessert. But there's one wine you can take from the beginning of the meal to the end of the meal: champagne.
"
Still think wine is too chichi for you and your man? You can order cocktails such as
Margarita
,
Mojito
,
Martini
, and
Sangria
for only P95 each during happy hour, which is from 2PM to 8PM. We suggest you get identical cocktails, make countless toasts, and drink 'til you drop with your guy!
Perfect For Date Number: 4 or 5
, since you're past the crucial third date—and still going out! You need not worry that you might turn him off when you've got a bit of ketchup on the corner of your lips, and you're both more comfortable experimenting with date places and bingeing on burgers together, while still keeping the
kilig
atmosphere alive.
Murray & D'Vine is located at Space C114, G/F Retail Area, Serendra, Fort Bonifacio Global City, Taguig. Contact them at (02) 856-3723.
154
Continue reading below ↓
Recommended Videos