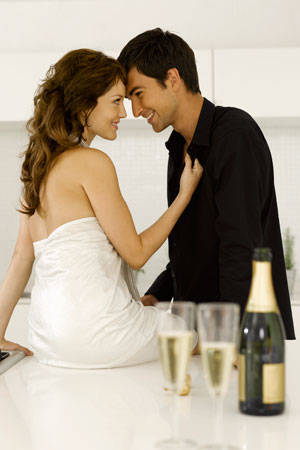 Get dolled up. You can't expect a guy to come your way if you look haggard, can you? For a guy to lumber up to you, you have to look presentable…dateable. No need to wear flashy clothes; just sporting a simple white tee and fitted jeans will do. Swipe on lipstick, put on blush, and wear a sweet-smelling perfume.

Be genuinely interested. Don't be a faker—guys know when you're just pretending to look engrossed when they're saying something. Act like the guy you're seeing is truly a friend: engage him in conversations, compliment him, laugh at his jokes. When you become tense and awkward in his presence, it'll be harder for the two of you to make a connection. And you don't want that right?

Be genuinely interesting. How? Just be your naturally charming self. Don't stop yourself from laughing, having fun, and showing him who you really are (Funny girl? Geeky? Girly?). You're setting yourself up for trouble if you put up a false front. Guys like girls who are being true to themselves. Remember that.

Master the art of flirting. Learn these suggestive basics: establishing eye contact, giving him subtle touches, flipping your hair over your shoulders, or running your hands through your hair. You have to let him know that you're interested in him...and that you're only waiting for him to make the next bold move.



Show 'em you're confident! Guys can't say "no" to a fun, fearless Cosmo chick. So, stand straight, strut your stuff, and prove that you've got the looks and the attitude. Wear clothes that sexily hug your figure. Apply hot pink lipstick that brightens your face. Sexy confidence starts with taking good care of oneself. Make sure that you're clean and fresh even down there. Use a feminine wash that understands your need to be confident and sexy. Your best bet is pH Care Feminine Wash, that now comes in a sexy bottle so you can stay fresh and sexy all the way to the last drop!
Continue reading below ↓
Recommended Videos