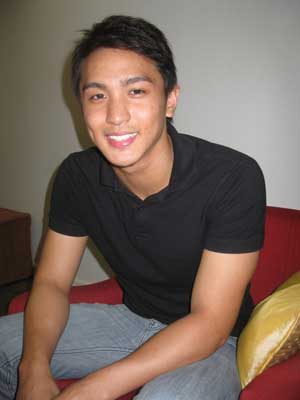 If Nico Ibaviosa can balance school with showbiz engagements, sports (he's a varsity swimmer!), student council duties, and even a long-term relationship, then you know you could pick up a tip or two from this apparent master of multi-tasking and balancing academics and extra-curriculars.  In fact, he shares with Cosmo 10 tips for college survival and another 10 for dating in school!

This sophomore Industrial Engineering major from University of the Philipines-Diliman is a familiar face to you, Cosmo chicks, not just because of his stint in TV5 shows Lipgloss and BFGF; he is last month's Cosmo Online Hunk. Remember how we made him go bold for last month's daring theme and asked him sexy questions?

This time, we bring you Nico for what he really is--a boy-next-door and studious stud, who can dish helpful tips for surviving college and handling romance in the university. After all, dealing with young men and balancing young love with your studies can really be quite a challenge, too, which you have to ace. Read on and tell us what you think when you comment.



Continue reading below ↓
Recommended Videos
Nico's Tips For Dating Guys In College

1. Be ready to party a lot! College guys want to have a lot of fun.

2. When a guy is being overfriendly, chances are, he likes you. But how can you tell the difference between being overfriendly and, well, just friendly? Nico said that small talk that is more than necessary, like if it's not related to the lesson or homework, especially if there's a follow up, means that the guy is into you. He said that for guys, small talk means a lot.

3. Persistence would spell the difference between two types of college guys. There are college guys with an I'll-make-you-love-me-one-day attitude, while other college dudes don't really spend much time and effort on a girl. Nico wants you, college chick, to pick the former, of course!

4. Confidence is key. "If a girl carries herself well, that's definitely attractive," he says. Wearing makeup while in school is too much for Nico; he feels that it is a little unnecessary. He said he prefers a girl who can pull off a shirt and jeans combo to school.

5. Keep him on his toes. Nico shares that guys always enjoy the challenge. He compared it with guys being normally competitive in games, whether sports or video games: they won't stop playing it until they win. "Maganda na pakipot ang babae," he said.

6. Guys don't like girls who don't keep it real. Nico advises all college chicks to just be themselves, because guys would know if they're faking it and are just aiming to please. "If girls can be confident about themselves, they'll be able to attract the right kind of guy," he said.

7. Set your priorities straight. Nico says that clingy and needy girls are exhausting. He said that girls have to understand that although they're dating, a guy also has other duties that he has to attend to. After all, Nico agrees that school definitely comes first over everything else, even dating. "You're not in college to date," he said.

8. Where the guy takes you on a first date says a lot about his intentions. Nico explained that a not-so-good guy who's probably just after physical intimacy would take you to a party on your first date. But if a guy took you to dinner or to somewhere special where you'd be able to bond and talk, then this guy's probably a catch.

9. Jokes are more than half-meant. Nico said that guys joke to make a girl smile, and quips like "You look cute today" are almost always true. "I think it's part of the Filipino culture na dinadaan na lang sa humor," he said.

10. Guys don't bite. He advises college girls, especially those from exclusive schools, to not be afraid to mingle with guys. He says that guys are people, too, and it's normal for guys to want to get to know girls. Nico said that girls don't have to worry about impressing them; what's important is to just be themselves and everything else will follow.


Nico's 10 Tips For Surviving College

1. Always study during your free time. For a busy guy like Nico, time is immensely precious. That is why he always brings his notes with him, so he could review his lessons in between tapings or photo shoots. Cosmo saw this firsthand when we chatted with Nico: he brought his notebook for the subject he had an exam on the next day. Isn't this grade-conscious hottie simply so adorable that way?

2. Be friendly. It's hard to get by alone. He said that your acquaintances now can be of help in the future when you need people to work with and to help you out. Nico really treasures everyone he meets, whether in class or in his work as part of the student council. "You never know when you'll need a friend," he said.

3. Be humble and grounded. He said he doesn't make boundaries just because he's a celebrity. He doesn't feel any more special than his fellow classmates and friends. He said he is, after all, still just Nico.

4. Befriend your professors. Nico always makes sure that he is in good terms with his professors. "I always found it works," he said. He also admits that he always sits on the front row, on the seat nearest the professor on the first day of class to make a good first impression.

5. Keep a planner. We got a little surprised that this college dude has a planner, but he said he really needs it to keep up with his almost always jampacked schedule.

6. Keep it simple and comfy. When it comes to fashion, Nico dresses up a like a typical college guy—jeans, shirt, and sneakers. But this hottie admits that he cannot leave the house without his outfit staple: a cap. "It's my trademark," he says.

7. Always bring baon. Nico admits to being kuripot that is why when lunch break comes, instead of going to the cafeteria to buy food, he brings food in a lunchbox plus a water jug. "I don't want spending too much on food," he says. But he said that whenever he doesn't bring baon, he still opts for cheap thrills such as those in Lutong Bahay in UP, which is famous for their delicious yet super affordable food.

8. Always allot time for exercise and your past time. "School can be toxic, more often than not, so sometimes you just have to release tension through sports," Nico said. He said whenever he has free time, he takes out his longboard and just skates on the sides of the streets in UP. He also regularly goes to the gym.

9. If you want to do something, put your mind and heart into it. It won't help if you do it halfheartedly. Nico said that's the main principle that he follows in everything that he does, whether in school or in his acting career. It's tough, but if he's focused, then nothing can stop him from doing what he wants and living his dreams.

10. Make it a point to always be there for your special someone. Nico spilled to Cosmo about his love life, saying that he's been in a relationship with his girl for six years now. Being a student-celebrity entails dealing with crazy schedules and showbiz controversies, so he admitted that they've had some problems. But that is why he always finds a way to spend time with her to constantly reassure her of his loyalty. "I'm happy with her. Lahat ng gusto ko sa babae nasa kanya na."


Click the 'view gallery' button below to see more photos of Nico! We know you want to!
637