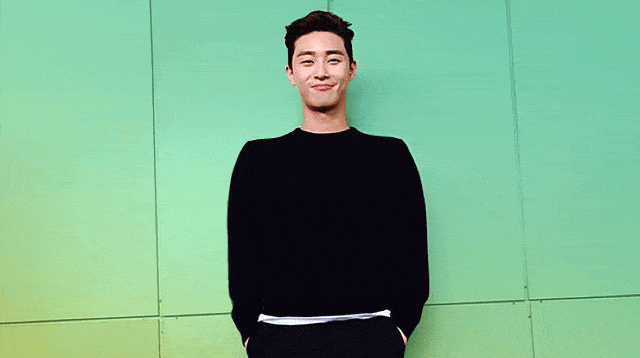 Picture this: During a particularly dead hour at work—usually right after lunch/before merienda—a group of friends gather around a computer monitor to squeal over Nam Joo Hyuk and Lee Sung Kyung, yelling sweeeg between bursts of kilig.
Up until two months ago, I was the girl making fun of them. For the longest time, I refused to watch K-dramas because I knew I had an obsessive trait. I know this based on how invested I was when Meteor Garden came out in 2001. I memorized all their songs even though I didn't speak a word of Mandarin; the show's opening song was my ring tone. I had F4 posters, pillows, backpacks—and, much to my mother's dismay, I eventually got an F4 haircut. Yes, there are pictures. No, you will never see them.
But resistance was futile.
Gong Yoo caught me at a weak moment. And I thought, maybe it'll be different this time. I'm no longer a young, impressionable 11 year old. I've grown. I've matured. Maybe I'll be able to enjoy a good show, appreciate the craft, and walk away emotionally unscathed. Maybe...
Ten minutes into the first episode of Goblin, I was bawling. (You know I'm talking about that birthday scene. It still kills me.)
For the next month, I was in a monogamous relationship with Gong Yoo. I couldn't stop talking about him even though I knew people were getting sick of me. I developed the art of being able to inject him into any conversation. I gotta give it to my friends, though, they just smiled at me like, "Late ka na pero, at least, gets mo na ngayon."
My new obsession came as a shock to everyone around me because I'm usually attracted to dark, muscular, bearded men—adjectives no one would ever use to describe Gong Yoo or Korean men, in general. Plus, I literally only find someone attractive every three to five years—I don't know how people are constantly dating; there aren't that many fishes in the sea, calm down—and there I was sending people Gong Yoo stickers on Telegram.
Afraid of running out of Gong Yoo-material to watch, my friend recommended Fight For My Way. I saw the poster—yes the one where they're all wearing matching pink suits—and thought, ok, this looks safe. I don't think I'll be as attached, but it seems like a good transition show.
You guys, Park Seo Joon is now my computer and phone wallpapers. I mean, can we take a moment?
I've turned my notifications on for PSJ on Instagram. I check the hashtags #ParkSeoJoon and #ParkSeoJun every morning when I wake up. I listen to the songs he recorded for Witch's Romance and Hwarang on a daily basis. I refuse to watch She Was Pretty because everyone's convinced me that I'll root for the other guy, and I'm #LOYAL. Before I fall sleep, I think about him for 10 minutes so I can will my brain into a sex dream—it hasn't happened yet, but I'm not a quitter.
I go on YouTube and watch videos of him—videos I don't even understand because they don't have subtitles, but love is a universal language so STOP JUDGING ME. I've also looked up "Korean actors who married their fans" and "Korean celebs who married foreigners" on Google, because in my mind, geography's the only thing keeping us apart. My birthday is coming up, I've dropped some not-so-subtle hints around my cousins, and I'm pretty sure a life-sized Park Seo Joon pillow is on its way.
The biggest life adjustment I've made, however, is canceling my visit to the States next March and planning a trip to Korea, instead. Because shit like this happens there, and I'm living for it:
The countdown begins.
Follow Ysa on Instagram.
Recommended Videos