It all started with a coffee...no, really. In one of photographer BJ Pascual's vlogs, Pia Wurtzbach shared that she met Jeremy Jauncey at a shopping and entertainment hub in the UK. Jeremy asked her to have coffee with him and Pia gave him her number. And the rest, as they say, is history.
Quick recap: ICYDK, Jeremy is an entrepreneur and brand ambassador. As the founder and CEO of Beautiful Destinations, a creative agency/Instagram account "focused on sharing inspiring travel content from around the world and connecting with talented creators with stories to tell," he's obviously a globetrotter—and he and Pia have definitely made the most of their shared love for travel! P.S. According to Inquirer, Jeremy has also been referred to as "The Hottest Male Traveler On The Planet" and "The Globetrotting Hunk." *winks*
Before their wedding takes place, let's take a look back at how Pia Wurtzbach and Jeremy Jauncey became the power couple they are today via this relationship timeline:
November 2019: A fan takes a photo with Pia
Taken in November 2019, the fan shares that she met Pia in Hong Kong, and their photo together included a man in the background that resembled Jeremy. This was amidst speculation that Pia and then-boyfriend, racecar driver Marlon Stockinger, had broken up.
ADVERTISMENT - CONTINUE READING BELOW ↓
December 2019: Pia and Marlon Stockinger call it quits
Pia's manager Rikka Infantado-Fernandez confirms that Pia and Marlon have ended their three-year relationship. Speaking to PEP, she said: "Yes, it's confirmed and you can quote me on that...On and off naman na matagal na, but yung final was September pa." Most of their Instagram photos together on Pia's account were also deleted.
Through her manager, Pia also released a statement regarding the breakup: "It's true that Marlon and I are no longer together. I wish him and his family well, and out of respect for them, let me make it clear - Marlon and his family never depended on me financially."
January 2020: Pia and Jeremy both take a trip to Indonesia
In January 2020, eagle-eyed netizens noticed that Pia and Jeremy were sharing similar snaps on social media during their respective trips to Indonesia. Fans speculated that the two were actually spending time together.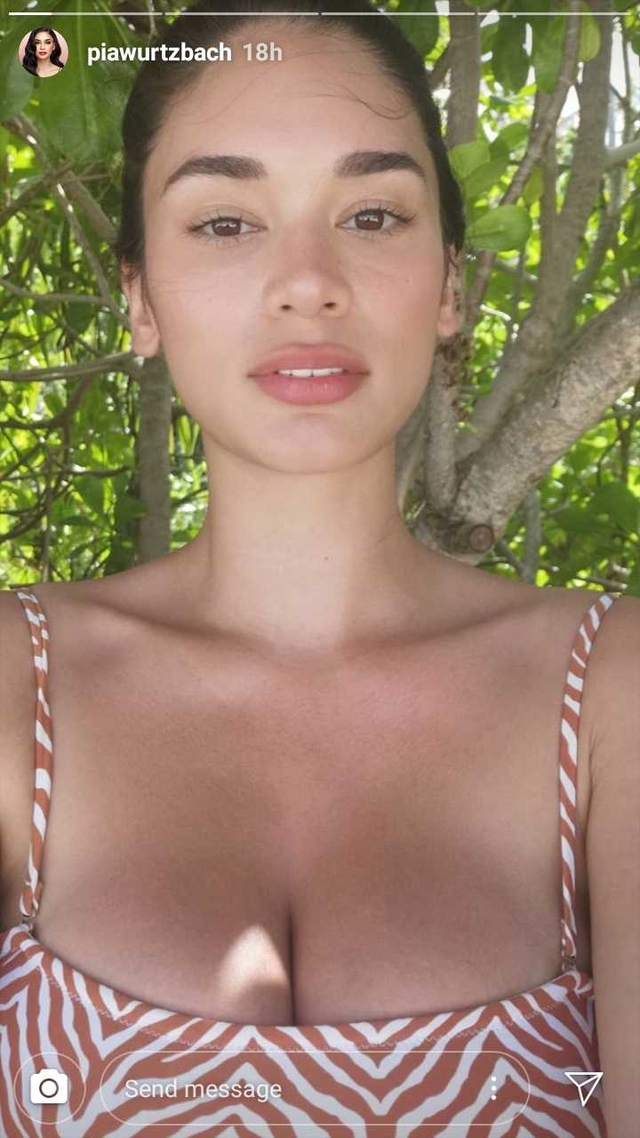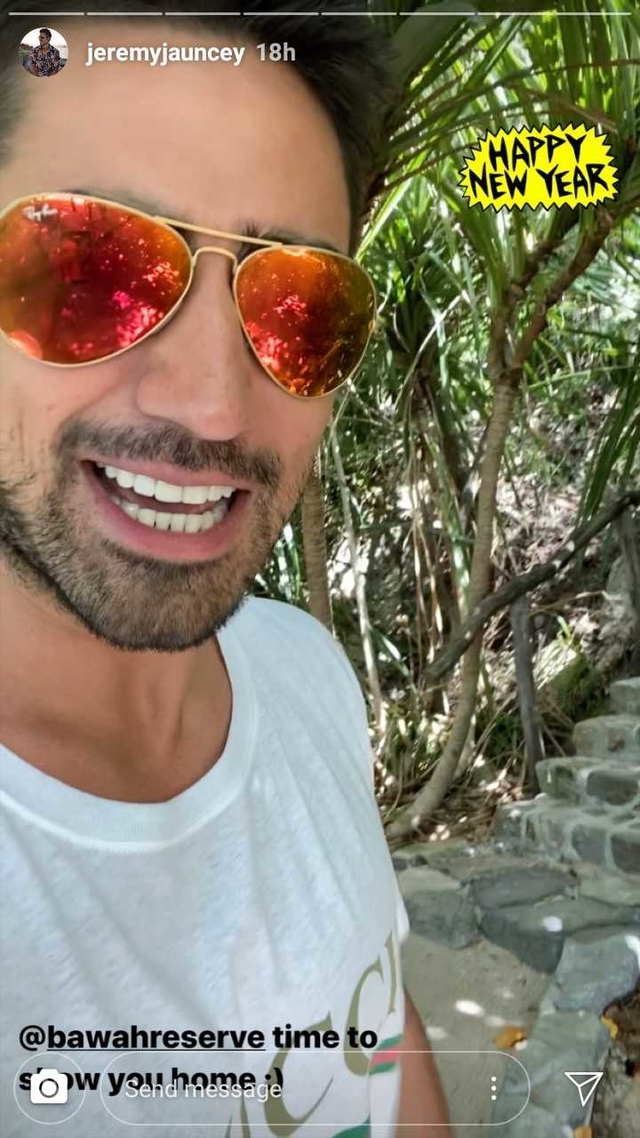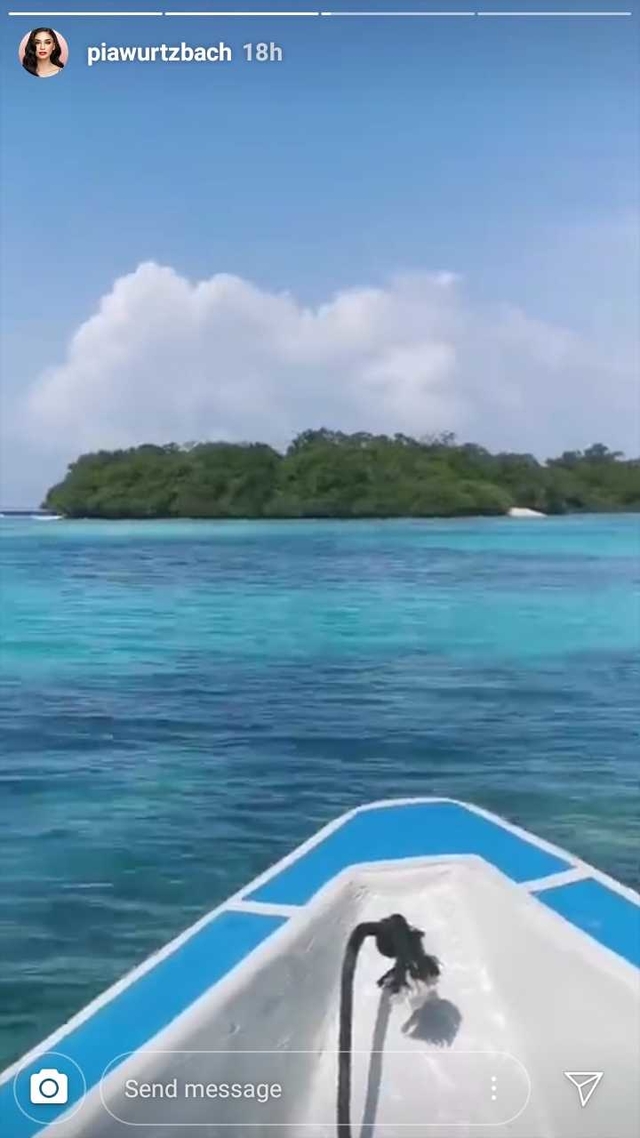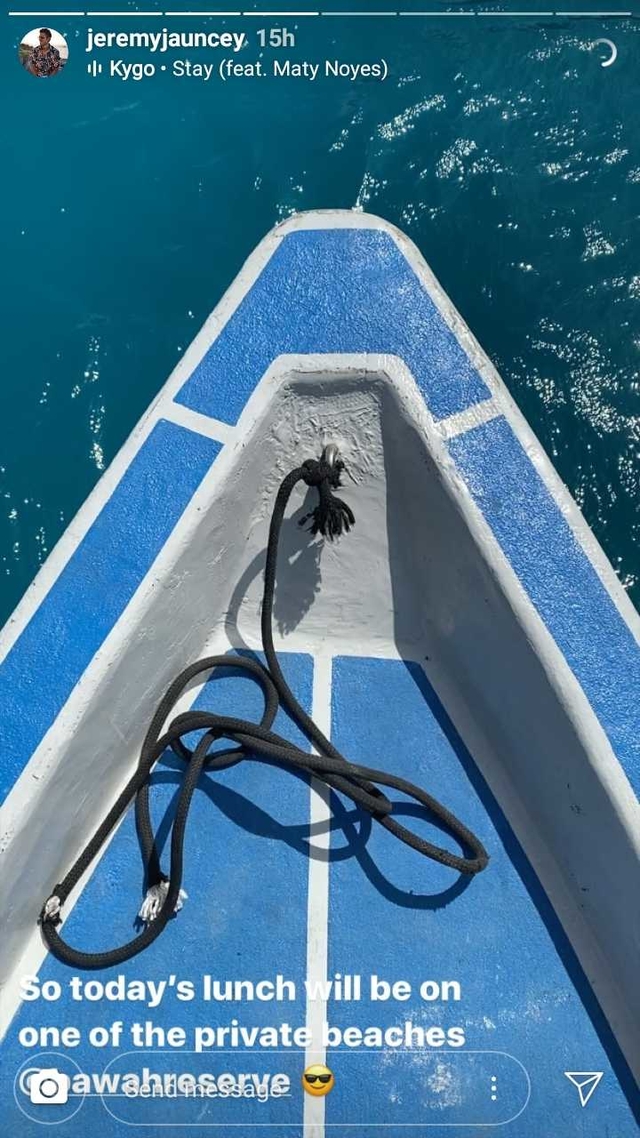 ADVERTISMENT - CONTINUE READING BELOW ↓
February 2020: Pia and Jeremy both visit New York City
The two later shared photos of the same spots during their individual trips to New York in February 2020, including a brunch at DUMBO House in Brooklyn, and an ice cream stop at Van Leeuwen.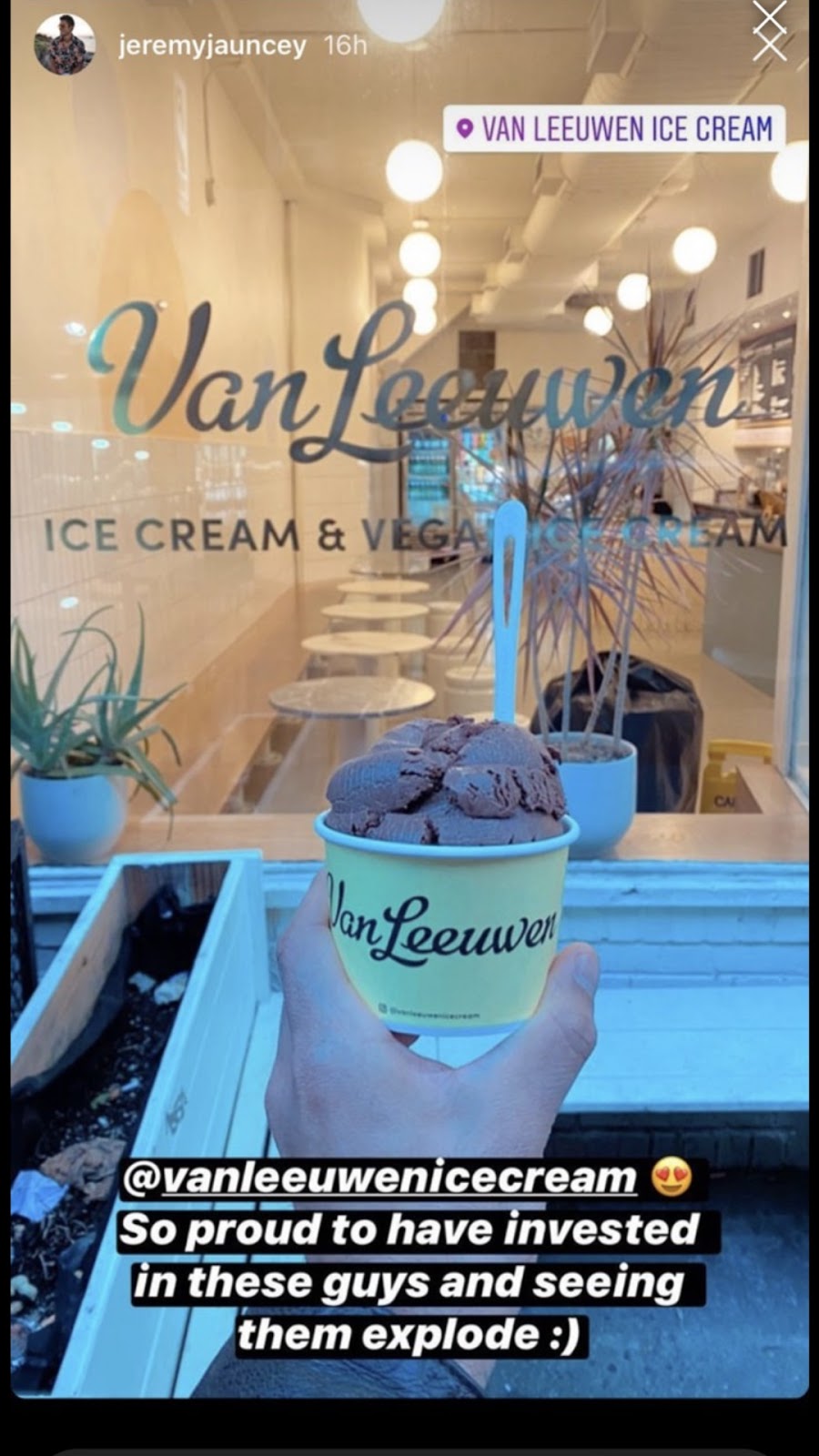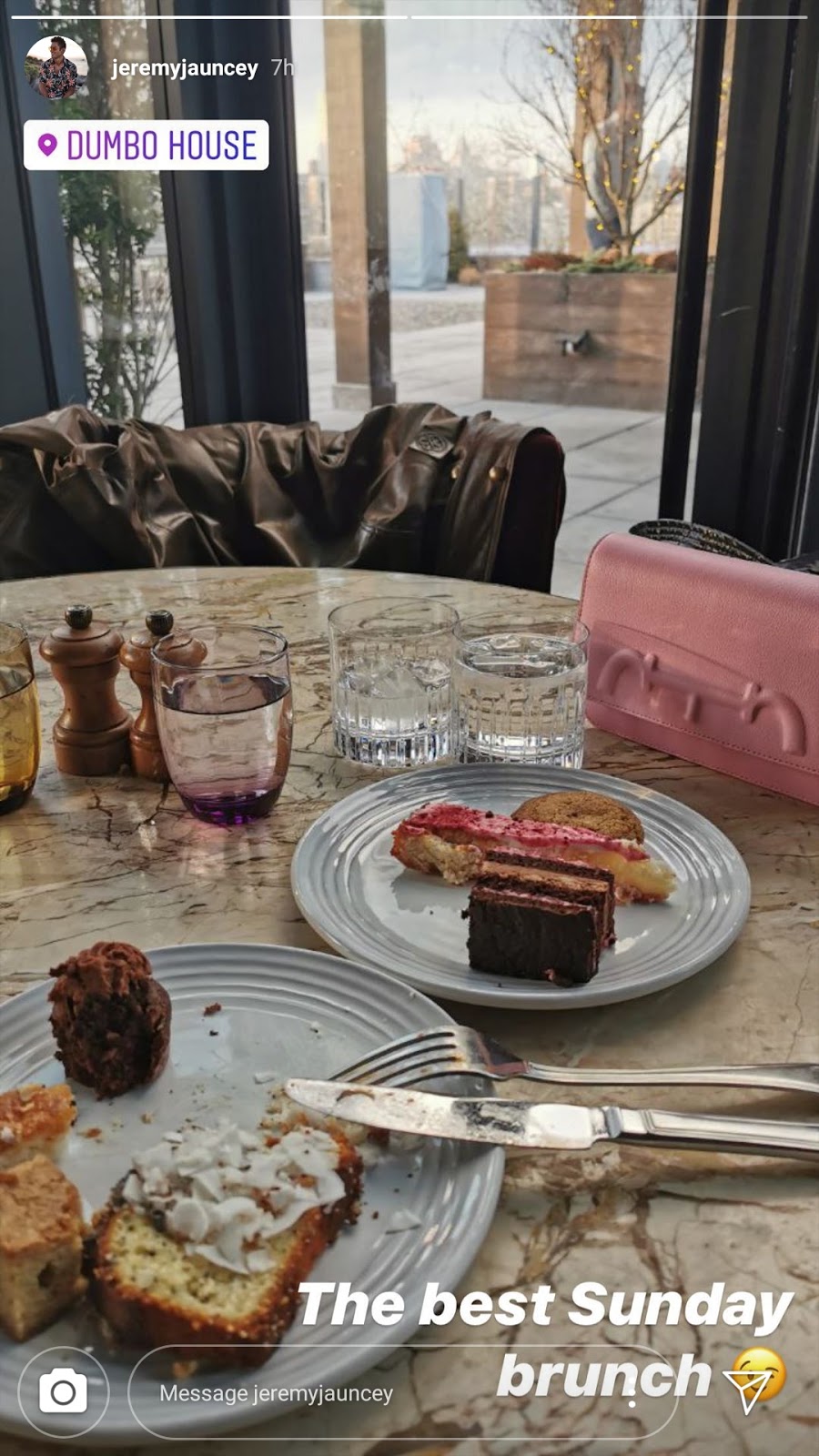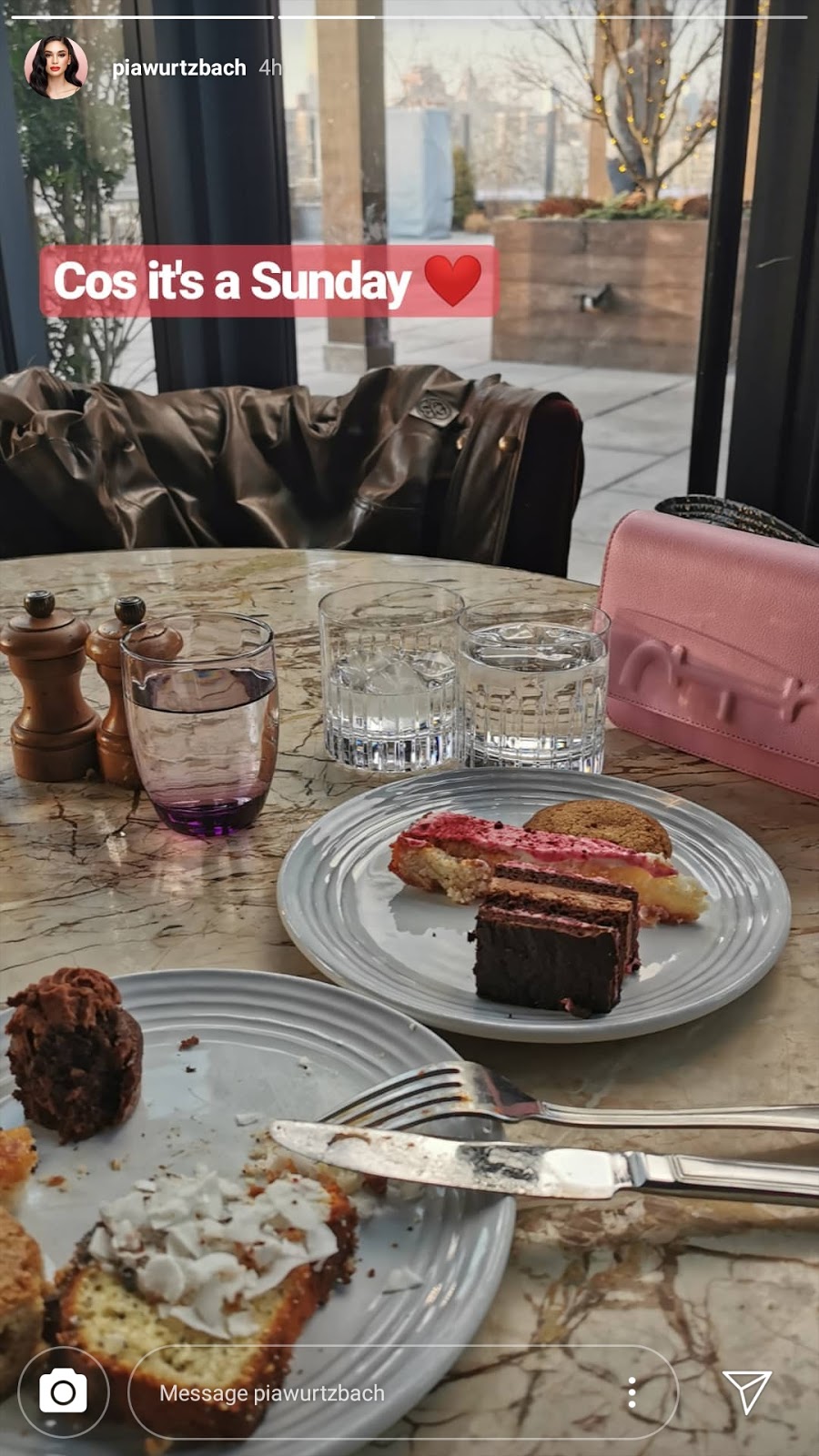 ADVERTISMENT - CONTINUE READING BELOW ↓
March 2020: Pia opens up about her new romance
Though she didn't name the person that she was dating, Pia had a lot to say in a March magazine cover feature. "I can be my full Pia, 100% empowered Pia, fight mode all the time. I can be the alpha that I am all the time. I don't have to filter myself for anyone anymore," she said, according to ABS-CBN News. 
The 2015 Miss Universe titleholder said, "I'm happy, I'm inspired, and I feel very empowered. I feel like I can be myself and I don't have to water myself down."
April 2020: Jeremy shares that's he's proud of Pia via Instagram Stories
On April 6, 2020, Pia updated her followers on the status of her fundraiser for Filipino frontliners, calling it "time well spent today."
In her caption, Pia thanked everyone who donated: "11,900 masks spread evenly to 12 hospitals today. You made this happen. Maraming salamat po. I will keep you posted on our progress."
Jeremy shared Pia's Instagram post to his Stories, and said: "Meanwhile in Manila someone very special arranged for thousands of masks to be delivered to 12 hospitals AND bought breakfast, lunch & dinner for other front line health workers. She's still funding raising now."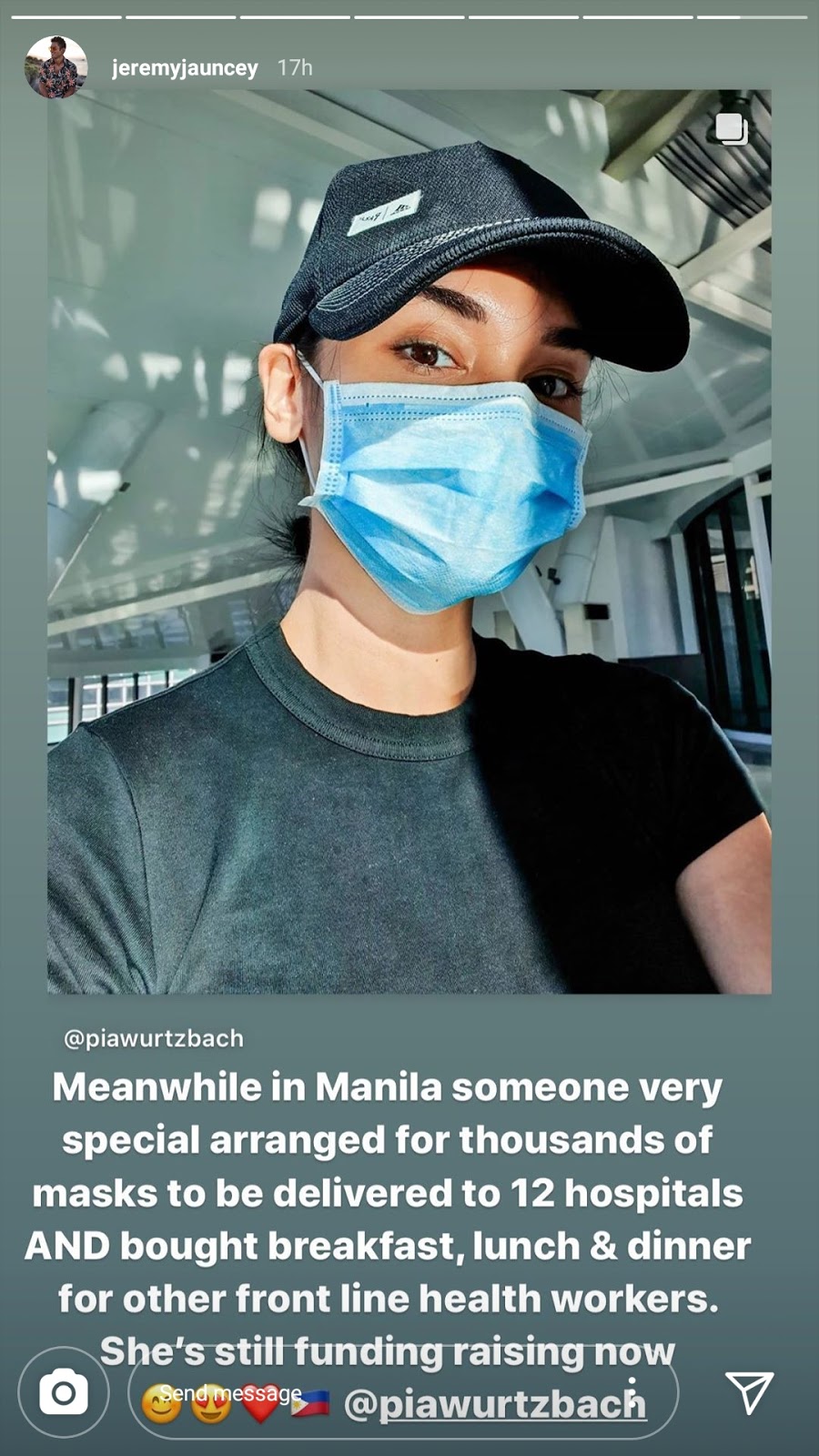 May 2020: Jeremy and Pia reveal sweet surprises on Instagram Stories
On May 18, 2020, Pia thanked Jeremy for sending her a colorful bouquet of flowers.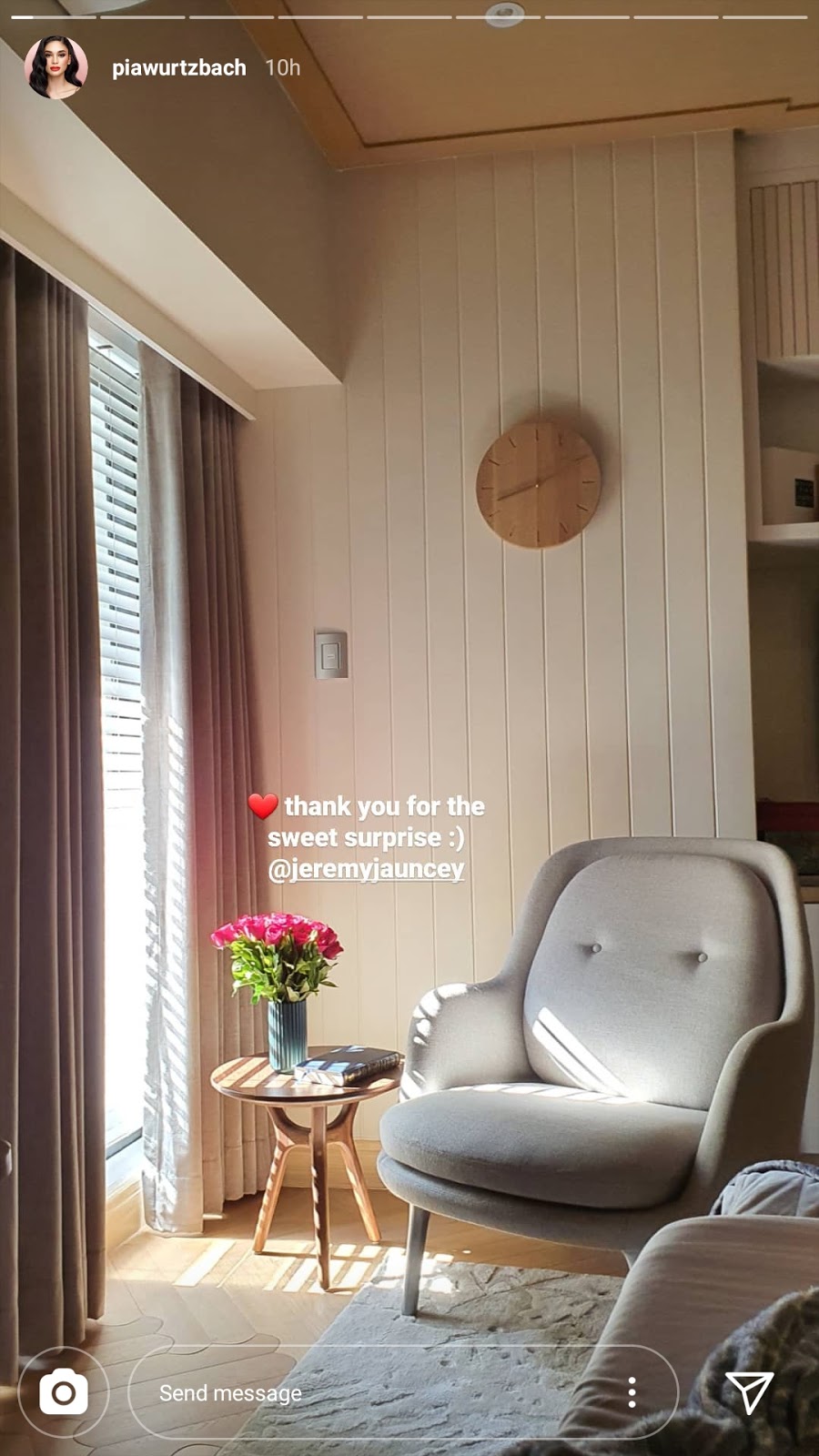 ADVERTISMENT - CONTINUE READING BELOW ↓
A few days later on May 23, Jeremy did an Instagram story takeover for fitness brand Ten Thousand, and accidentally revealed couple photos of him and Pia stuck to his fridge.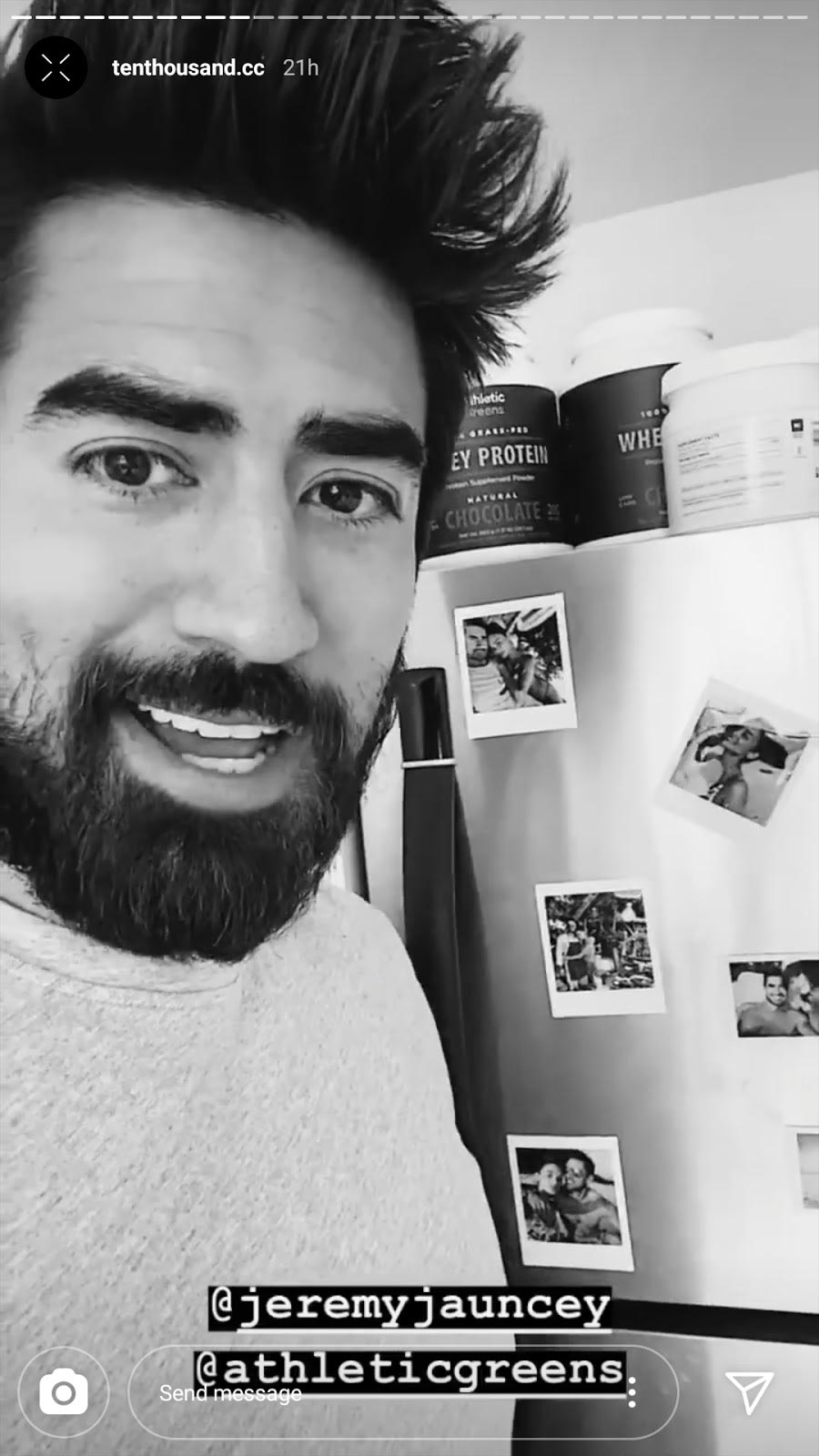 June 2020: Pia and Jeremy are Instagram-official
The couple hard-launched their 'ship through their first official apperance together on the cover of Tatler Philippines, shot in New York by famed photographer Nigel Barker. On Instagram, Tatler Philippines shared their cover feature about the couple entitled, "The Perfect Pair."
Pia shared the cover on Insta and ended her caption by saying "hi Jeremy" with a heart-filled emoji to express kilig.
Meanwhile, Jeremy shared the cover and two more photos from the shoot: "Some good news to start the week. Things have certainly taken a crazy turn this year but I'm very grateful for the kind words and of course for the amazing things happening with @piawurtzbach and I" with a kissy face emoji.
Nigel also shared some adorable behind the scenes footage from the cover shoot. Aww!
ADVERTISMENT - CONTINUE READING BELOW ↓
August 2020: Pia and Jeremy go on their first IRL date in 5 months, post-relationship reveal
Being in a long-distance relationship can be tough, and it's even more difficult when there's a global pandemic going on. But Pia and Jeremy made it work, and reunited in London so Jeremy could show Pia around "his neighborhood."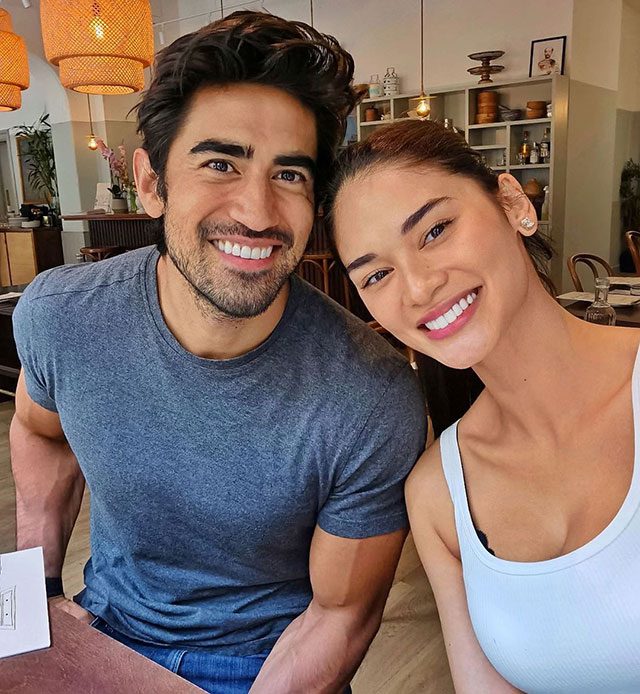 In his Instagram Stories, we saw Jeremy babysitting Pia's niece and nephew, Lara and Logan. The couple also made sure to visit one of their fave spots, Borough Market, to satisfy Pia's foodie cravings!
August 2020: Pia lists 10 special couple moments to celebrate Jeremy's birthday 
For her first public birthday greeting for Jeremy on social media, Pia made a special collage of some of their adventures together: "Thank you so much, my love. For all the amazings memories together, for all the things you taught me and continue to teach me, and all the love and support. You're an amazing man and deserve all the love and blessings in the world. I hope you continue to inspire so many more people. HAPPY BIRTHDAY!!"
In order of appearance in Pia's carousel post:
Walking around NYC with you
Our second date. You took me to The Peak in Hong Kong and we took this pic on the cable car ride to the top. (Didnt have pics of our first date kasi focused kami sa isat isa nun hahaha)
Bawah for New Year. I asked you to join me in a cooking class and you ended up doing most of the cooking. And I most of the eating LOL
Our favorite spot to have breakfast and just lounge by the beach. We also look some selfies haha
You took me to a surprise lunch date to a deserted island. You also learned that Im a terrible swimmer haha
Our ferry ride back to Singapore.. we took some selfies and without talking about it ended up taking lots of wacky pictures. Sino mas pangit? Hahaha ako.
So bummed I left my hard drive in Manila so I dont have much pics of NYC. But this is a nice bts of us on the way to The Vessel in the freezing cold morning.
Our first date in 5 months. After being away for so long cos of lockdown.
Unpredictable weather! Got caught up in the rain on the way home after lunch
Staying safe while strolling around London. Keeping our masks on
ADVERTISMENT - CONTINUE READING BELOW ↓
September 2020: Pia and Jeremy vacation in Greence
The couple go on a mini Mediterranean tour to celebrate Jeremy's 36th birthday, explored the cities of Santorini, Athens, and Milos, and made the most of Pia's first visit to Greece!
ADVERTISMENT - CONTINUE READING BELOW ↓
September 2020: Jeremy's first birthday greeting for Pia on social media
As an eye-opener to their relationship, Jeremy's birthday greeting for Pia was full of wacky photos and funny videos together—evidence of their shared sense of humor!
"On this special day I wanted to share some of my most treasured memories over the last year with @piawurtzbach to wish her a very happy birthday and remind her how much she means to me. I hope these photos give you an insight into our relationship... I love you baby, happy birthday!"
December 2020: Jeremy brings Pia to meet his family in Edinburgh
Before lockdown, Jeremy brought Pia home to meet his mom and show her around his hometown. "We walked for hours (something we always do together) I introduced her to haggis and she met her first piper :)"
Due to the pandemic, Jeremy's family was spread throughout the globe, but the businessman wanted to make it special anyways. "It's Pia's first Xmas with me and we have lots to celebrate & be thankful for so as with many other families around the world, we'll make it work :)"
ADVERTISMENT - CONTINUE READING BELOW ↓
January 2021: Pia and Jeremy visit the Maldives
The new year is the best time for introspection, and that's precisely what this couple did before welcoming 2021 together.
Pia shared a sweet photo of them on January 1st to greet Jeremy a happy anniversary: "This one's for you, my love. I'm so grateful for you. Thank you for always looking after me, encouraging me and making me feel so loved and supported. To more adventures, more laughter and more chicken burgers with you."
According to Jeremy, "We spend a lot of time together goal planning, sharing our dreams and supporting each other to think bigger or push harder and last year more than at any time before- encouraging each other through challenges in work & life. I'm so proud of Pia for all she's come through this year and couldn't think of a better way to start 2021 than making big plans together watching sunset."
February 2021: Pia and Jeremy explore Morocco
During the couple's trip to Marrakech, it was clear to see that Jeremy and Pia both have an amazing sense of humor—their Instagram posts were full of them making each other laugh. So cute!
ADVERTISMENT - CONTINUE READING BELOW ↓
Jeremy also made sure to post a Valentine's Day greeting for Pia—made all the more special by the accompanying throwback post to V-Day 2020. *laughs*
"Kicking off the Valentines weekend with a throw back to Pia's first trip to Santorini. Special memories, made all the more special because last year I forgot Valentines Day. As you can imagine @piawurtzbach took it really well......not" LOL!
ADVERTISMENT - CONTINUE READING BELOW ↓
The couple also toured Chefchaouen, Casablanca, and the Agafay Desert—where Jeremy again made fun of Pia for wearing "flip flops and a kimono" to hike up the sand dunes. Haha!
July 2021: Pia and Jeremy reunite in Dubai
"First meal together in what feels like forever," Pia captioned her post. The beauty queen slash host flew in to the country in early July to reunite with her boyfriend, but was forced to extend her trip after Dubai went under lockdown.
ADVERTISMENT - CONTINUE READING BELOW ↓
Tweeting a reply to a netizen who asked if she was no longer able to return home, Pia answered, "Yes! Kaya ang daming 'di makauwi sa Pilipinas na mga OFWs. I really feel for them. May mga nakilala at nakausap na rin ako dito at 'di nga sila makauwi. Sana bumaba na Delta cases at ma-lift na yung ban na ito lalo na kung vaccinated na rin naman mga kababayan natin."
The couple decided to count their blessings and extend their trip in order to spend some quality time together in the UAE and in Turkey.
September 2021: Jeremy pens the sweetest birthday greeting for Pia
To celebrate Pia's 32nd birthday on September 24th, Jeremy shared a lengthy yet touching caption on Insta. "Where do I begin? Another year of love, laughter, and adventures together, @piawurtzbach," the businessman wrote, featuring a collage of their travel photos around the world—mixed in with the glam shots are some of their wacky couple selfies! Quite appropriately, Jeremy geotagged his post with "The World."
"Making memories to last a lifetime, eating (you) and exercising (me) our way around the world, and having each other's backs through all the ups and downs. I couldn't be more proud and grateful for you, so this year, I thought I'd save the embarrassing photos and share some of our nice ones... Happy birthday, baby, mahal kita." Aww!
January 2022: Pia and Jeremy celebrate their second anniversary
To celebrate two years of being a couple, Pia uploaded a collab video on Instagram compiling some of their sweetest moments together—from their many travels around the world, to their hilariously wacky selfies.
"Can't take my eyes (and ears, and nose, and mind) off you," Pia wrote. "Happy anniversary, my love. @jeremyjauncey"
Meanwhile, Jeremy shared why New Year's Eve is special for him and Pia—aside from the holiday festivities, it's also their anniversary!
ADVERTISMENT - CONTINUE READING BELOW ↓
"We always spend the first day of the year together, sharing goals and ideas for the next 12 months and enjoying memories from the 12 months that have passed," he explained in an IG post.
"Plans had to change last minute this year, but we were together in spirit, supporting each other and reminiscing on another year of laughter and adventures," Jeremy added. "Pia drew herself into my photo in case I forgot what she looked like." LOL!
January 2022: Pia and Jeremy spend time together in Scotland
After recovering from a bout of COVID-19, Pia flew to Edinburgh, Scotland, to spend quality time with Jeremy.
"Reunited! It took a little longer than we hoped but we're back home in Edinburgh and catching up on lost time," Jeremy wrote on Instagram. Can you see Edinburgh castle in the background of their couple pic? Pia shared the same photo, but changed up her caption a bit: "Pa-sweet… but are you finally getting me a Doodle?" LOL!
Pia and Jeremy also treated their followers to a video of them doing The Boyfriend Tag, and thanks to the "13 embarrassing questions" we now know a lot more about the couple!
ADVERTISMENT - CONTINUE READING BELOW ↓
February 2022: Pia opens up about how she and Jeremy make their LDR work
In a virtual press conference for her sitcom My Papa Pi, Pia shared how she divides her time between the Philippines and her travels with Jeremy (who was based in Abu Dhabi at the time): "Kasi si Jeremy mahilig mag-travel so naging perk na lang na kasama niya ako tapos na-enjoy ko rin yung pag-travel dahil sa trabaho niya. Naka-base na rin kasi siya sa Abu Dhabi ngayon kaya madalas akong pumupunta doon pero bumabalik pa rin ako dito sa Pilipinas kasi nandito yung work ko."
She added, "I think kailangan may good and open communication lalo na we don't see each other all the time kasi parang in a way, long-distance relationship kami. It's important na lagi kaming nag-uusap, honest, and may mga plano para may something to look forward to."
The beauty queen-actress said they even make it a point to make their Valentine's day celebration "special" despite the distance. "Para sa akin kasi like ngayon hindi kami magkasama for Valentine's day, it can still be special in a way because we make it work because we have good communication."
In fact, for V-Day 2022, Jeremy surprised Pia with a special cake! "We always seem to time it so we're apart on Valentines Day but I know how much it means to you and I hope you like the surprise @piawurtzbach"
March 2022: The couple are back together in Dubai
Pia made sure to remind her followers that their S.O. should treat them right every day, not just during Women's Month.
In the caption of her sweet post, she gave a shout out to Jeremy: "Here's a man supporting and celebrating us women 24/7, 365 days of the year, and not just on International Women's Day"
ADVERTISMENT - CONTINUE READING BELOW ↓
April 2022: Pia and Jeremy enjoy a snowy vacation together in Switzerland
On March 30th, Pia shared the first of several posts featuring snowy Switzerland: "Feeling sweet in Switzerland with @jeremyjauncey. Got to walk around Geneva today and we're so lucky our hotel is facing the famous Jet d'Eau. Can't wait to explore the city further!"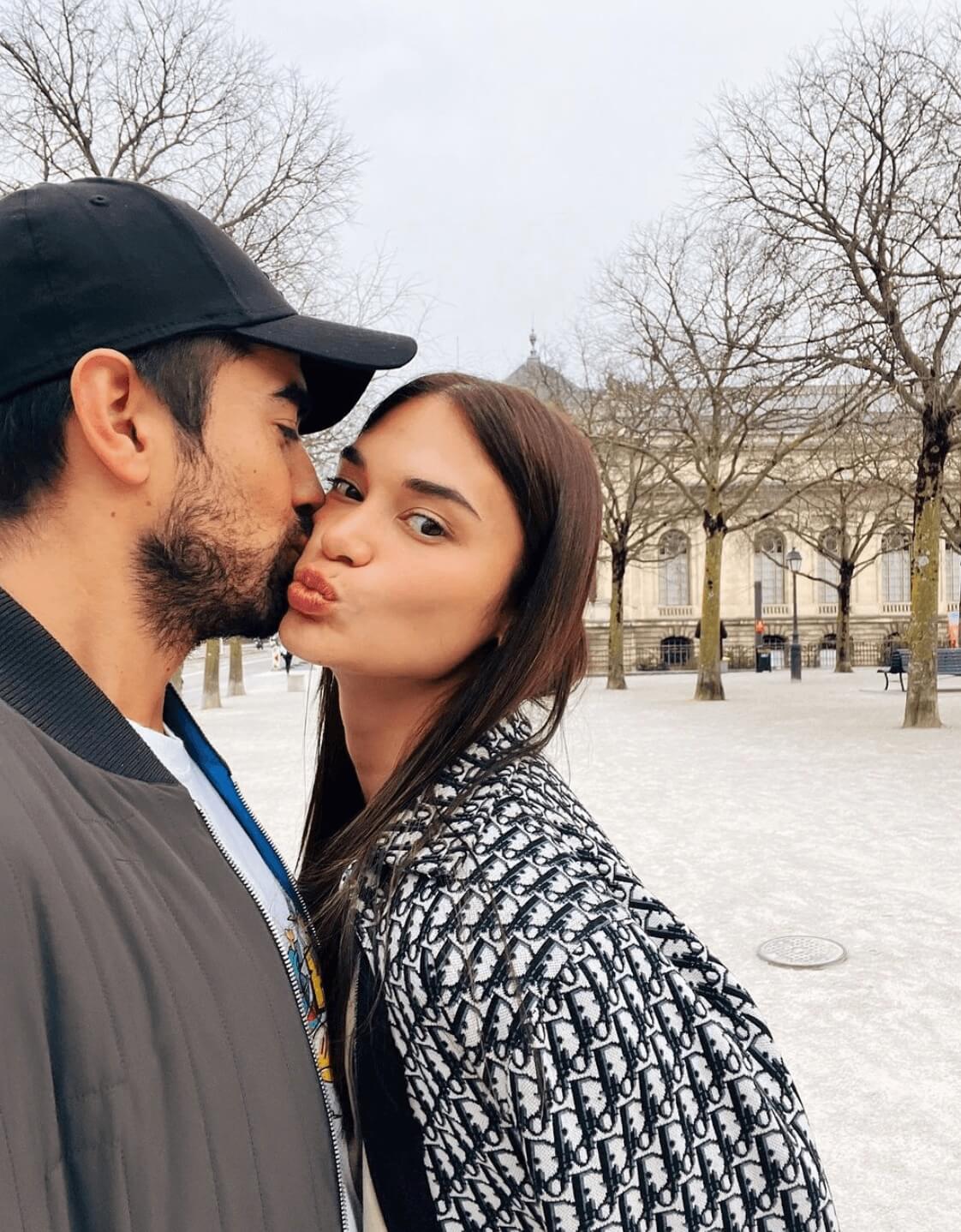 The couple's trip was also partly for business—Jeremy is a brand ambassador for a luxury Swiss watch brand, and attended a watch conference along with Pia! They paid a visit to a watch manufacturing facility and even learned how the timepieces are made. She shared, "The craftsmanship is unbelievable. I know we live in a digital age now where smartwatches are becoming a trend but classic, timeless pieces that last forever are still my go-to."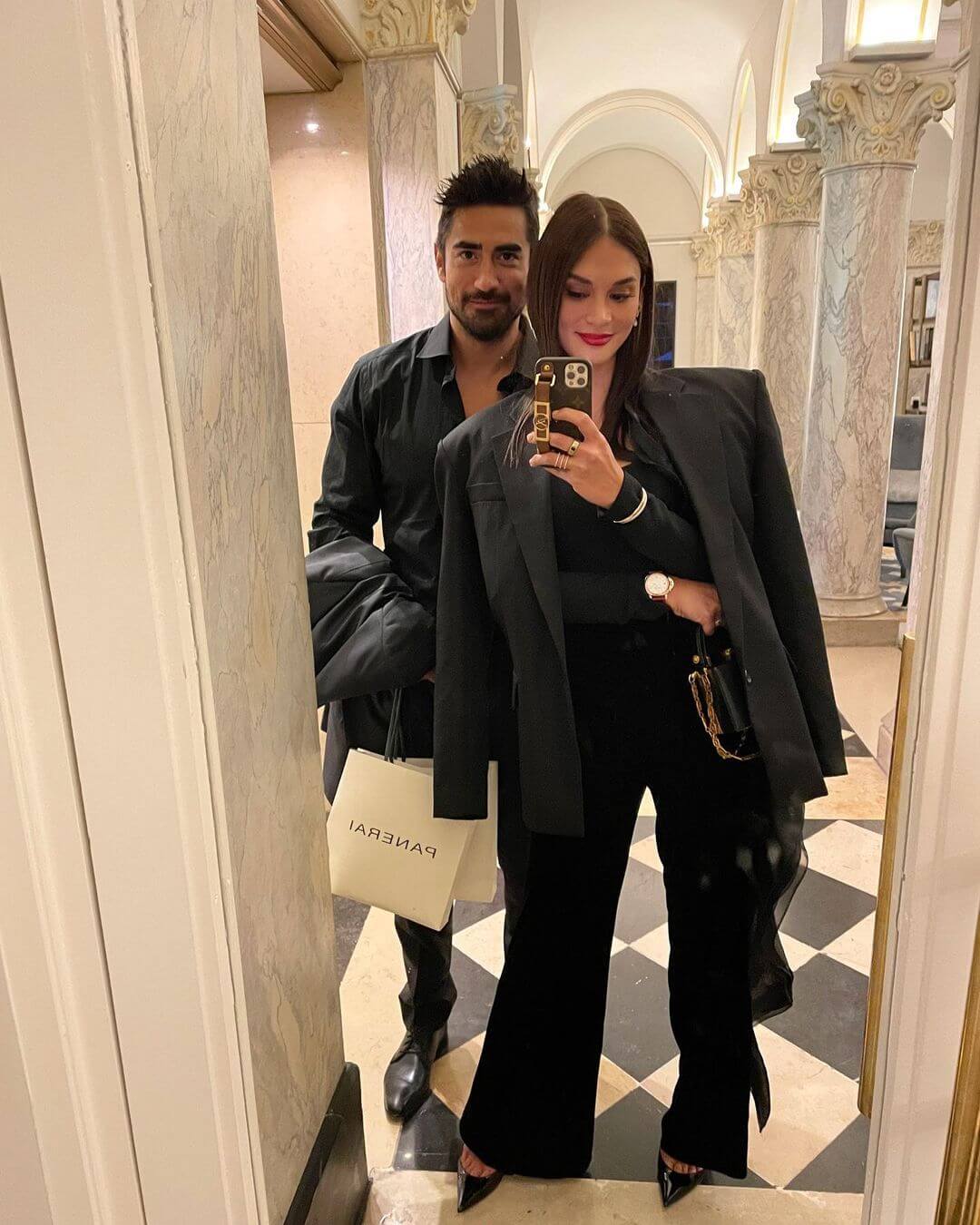 After visiting Geneva, the duo traveled to Lucerne. In Pia's April 5 post, she wrote, "From Geneva to Lucerne and we were greeted by snow! What a surprise! I don't remember the last time I saw this much snow. Honestly, I wasn't ready for this weather and it looks like I'm gonna have to borrow these coats from the hotel to stay warm. Thank you, my love @jeremyjauncey for taking me to another unforgettable place."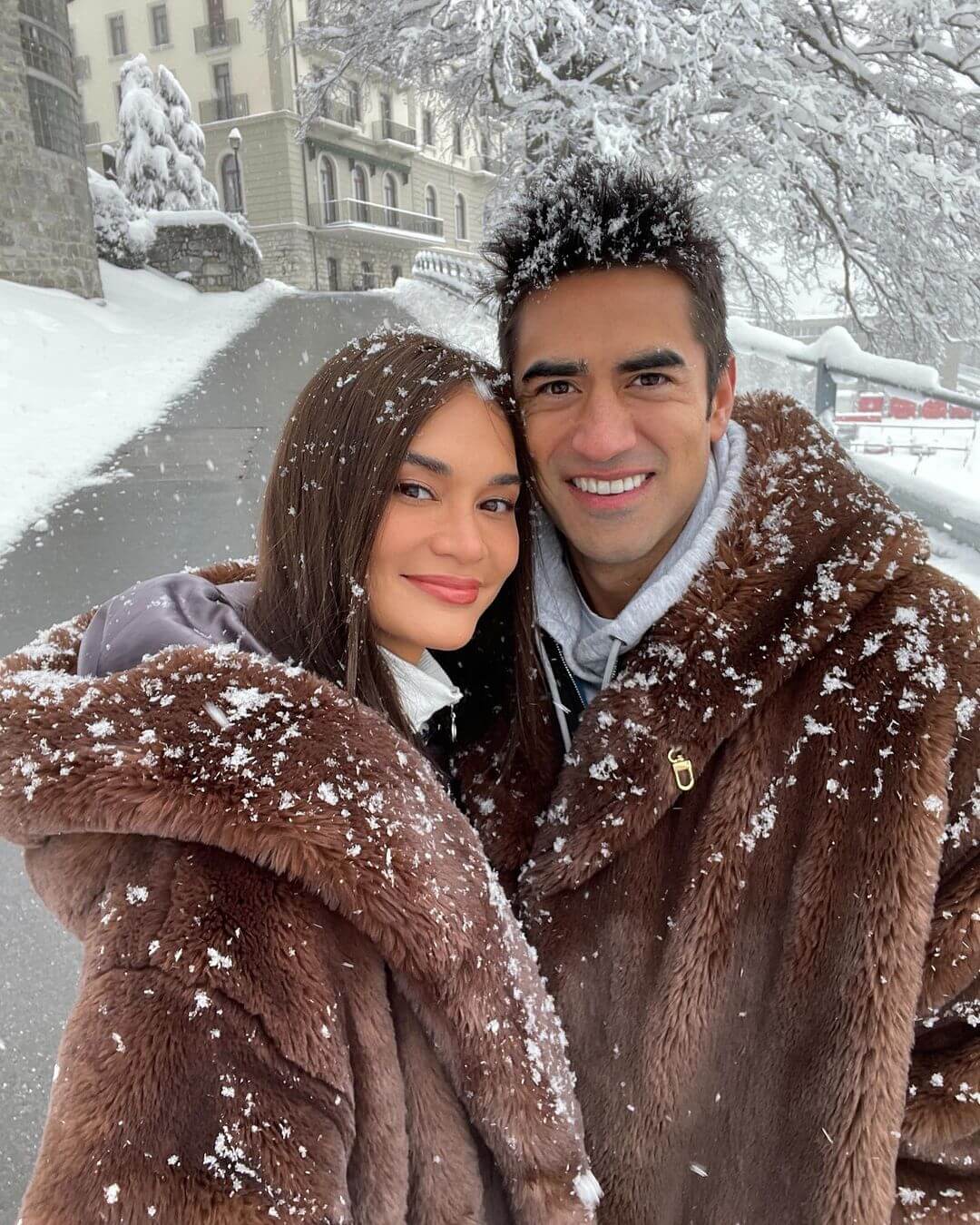 ADVERTISMENT - CONTINUE READING BELOW ↓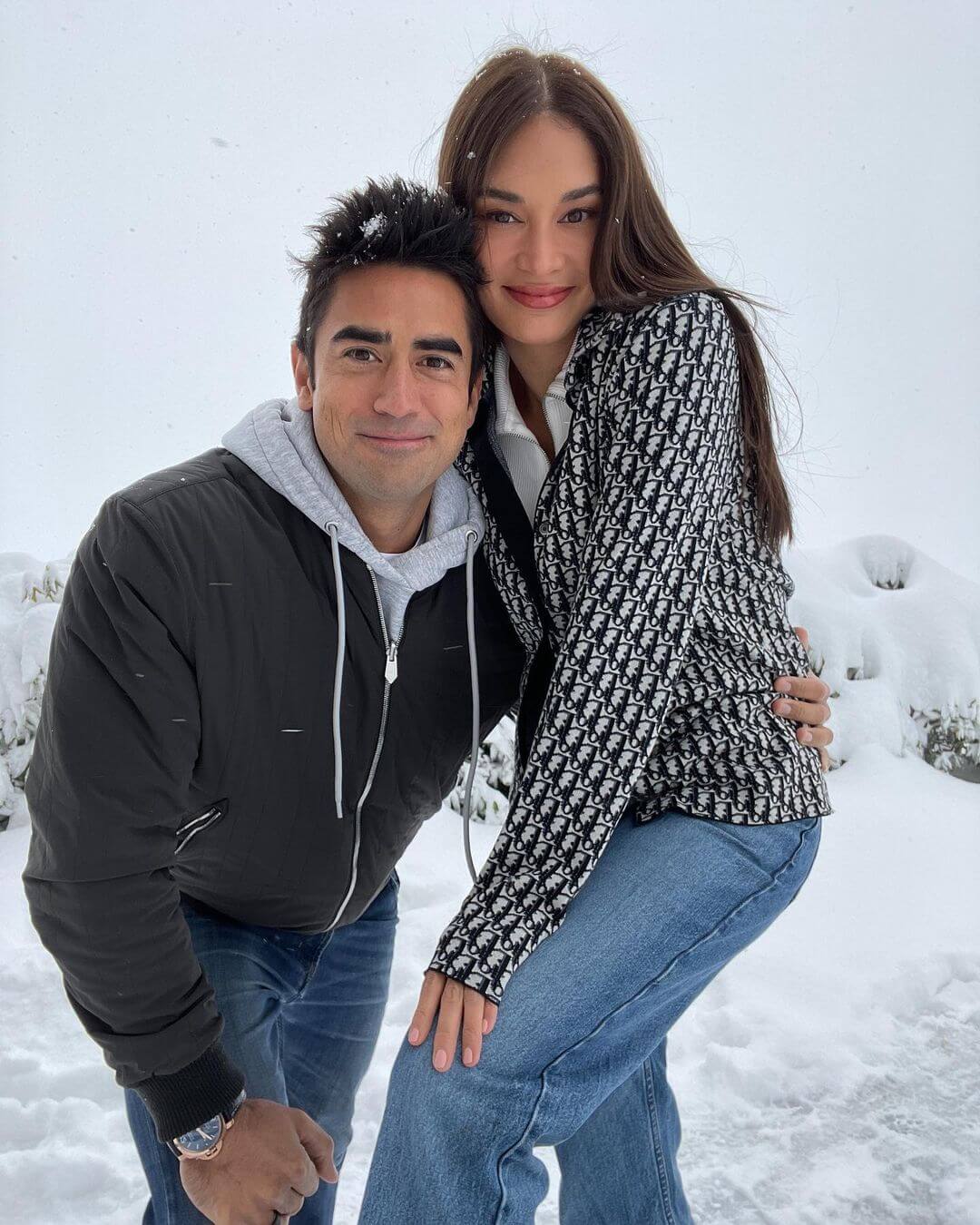 Pia also teased her followers with a proposal-like caption for this post: "He said yes…to pizza tonight! #AkoAngNagwagi"
In another post on April 8, Pia uploaded a sultry photo of her posing in an all-white swimsuit: "Honestly, it's been surreal! It's not every day you get to have a spa day with this view. Napa red lipstick tuloy ako."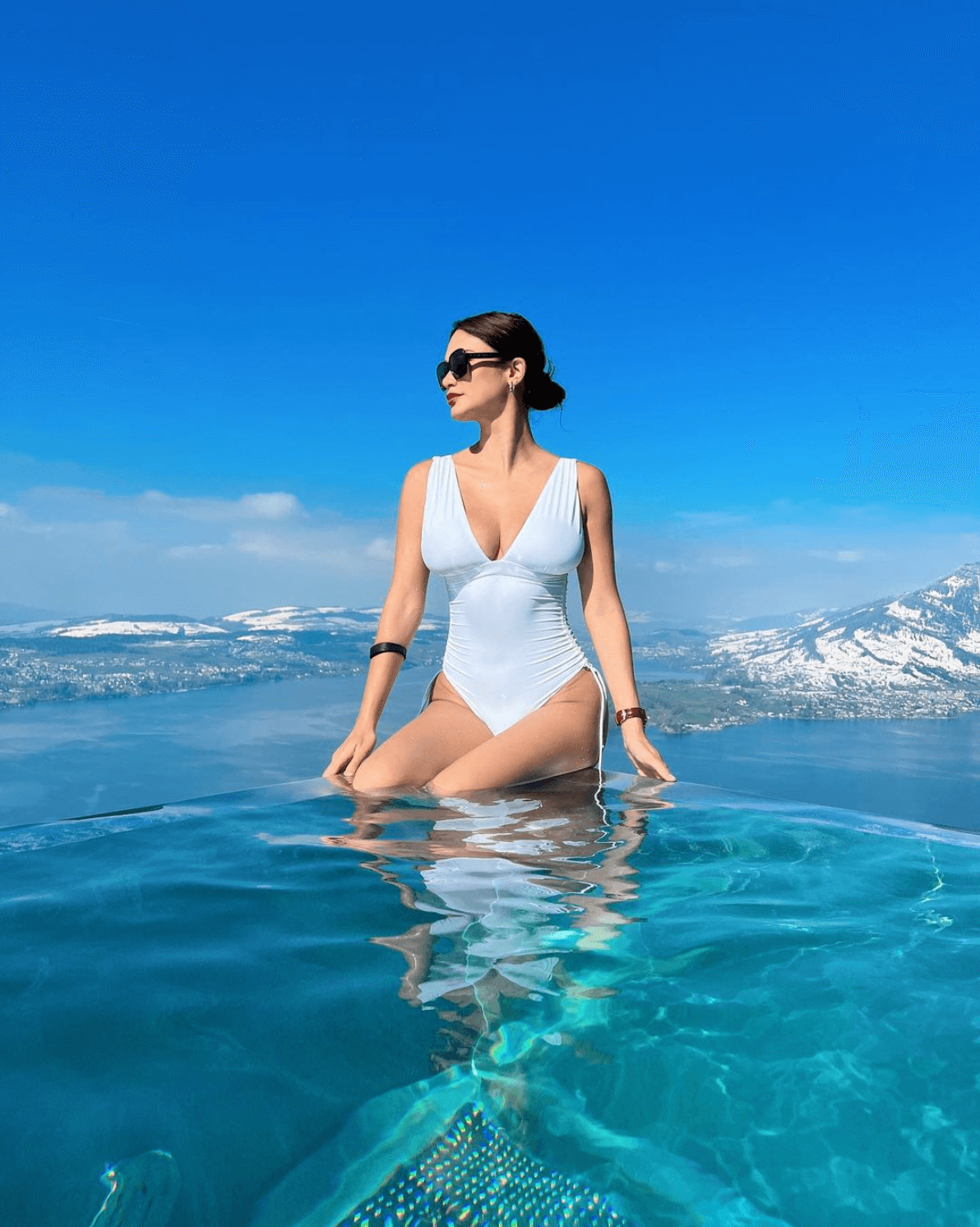 April 2022: Jeremy supported Pia during her hosting stint for Miss Universe Philippines 2022
Calling Jeremy her partner in everything, Pia thanked him "for supporting me in everything that I do."
Jeremy shared his own post, and said he was "Always proud supporting you @piawurtzbach …raising your game again and again."
ADVERTISMENT - CONTINUE READING BELOW ↓
May 2022: Pia and Jeremy announce their engagement
It's official: Pia Wurtzbach and Jeremy Jauncey are engaged! The couple announced the heartwarming news on May 6 via a compilation video of the proposal, which took place in Amanpulo.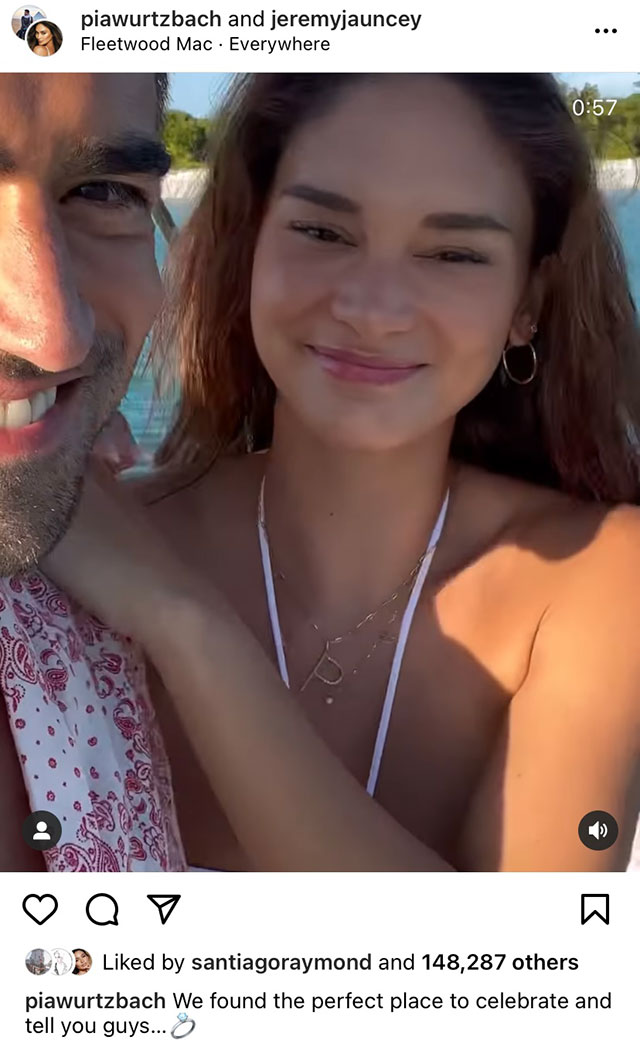 On Instagram Stories, Jeremy also shared deets on the proposal: "Pia doesn't know but I managed to arrange a pretty special surprise for this evening... I've set up a little boat to take us out to a bar which sits in the middle of the ocean," he said. "Pia has no idea."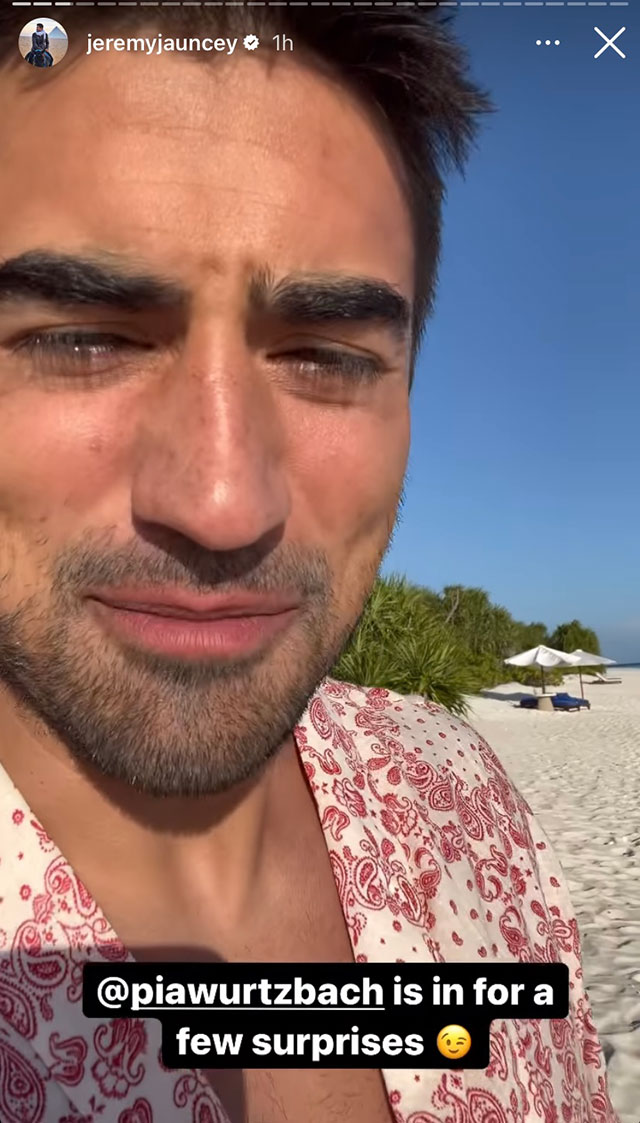 Check out the floating bar with a gorgeous view of the sea, where the proposal took place: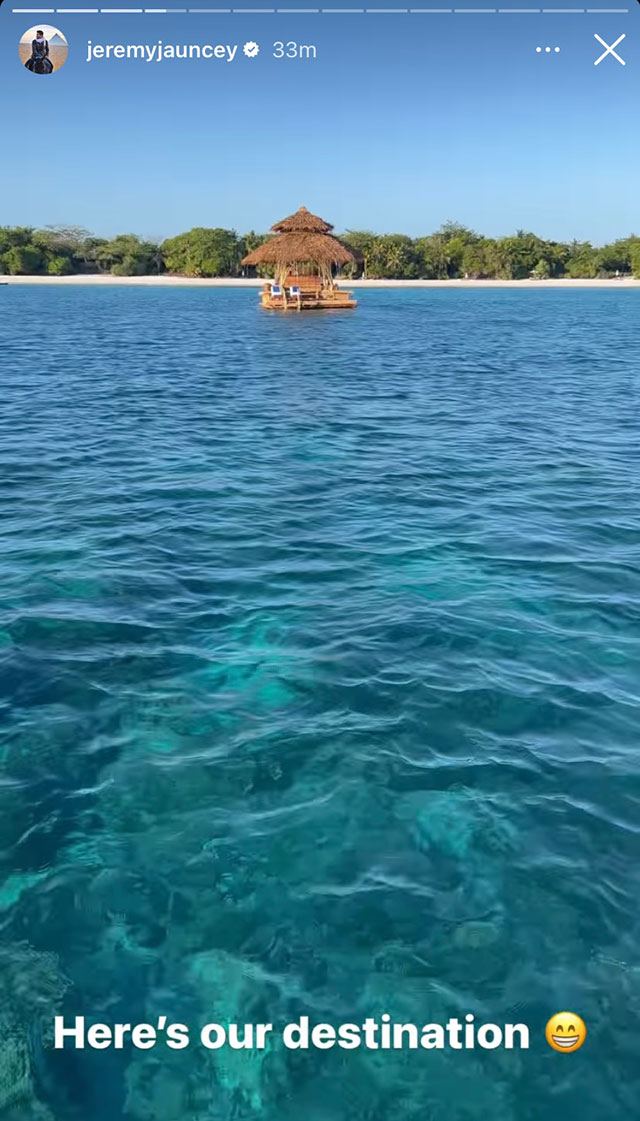 ADVERTISMENT - CONTINUE READING BELOW ↓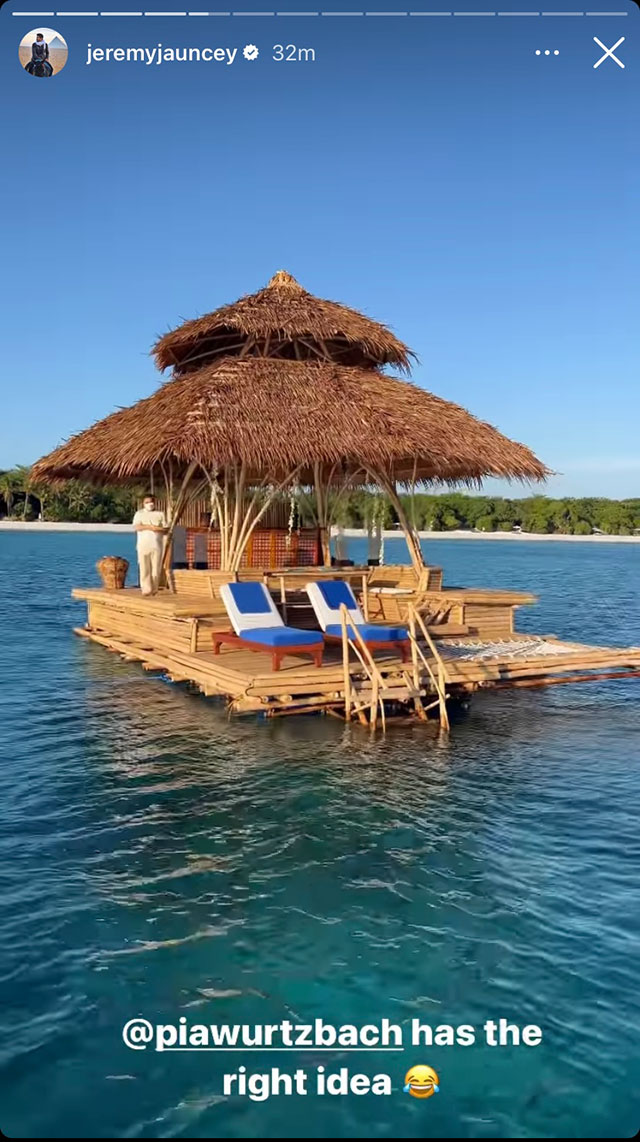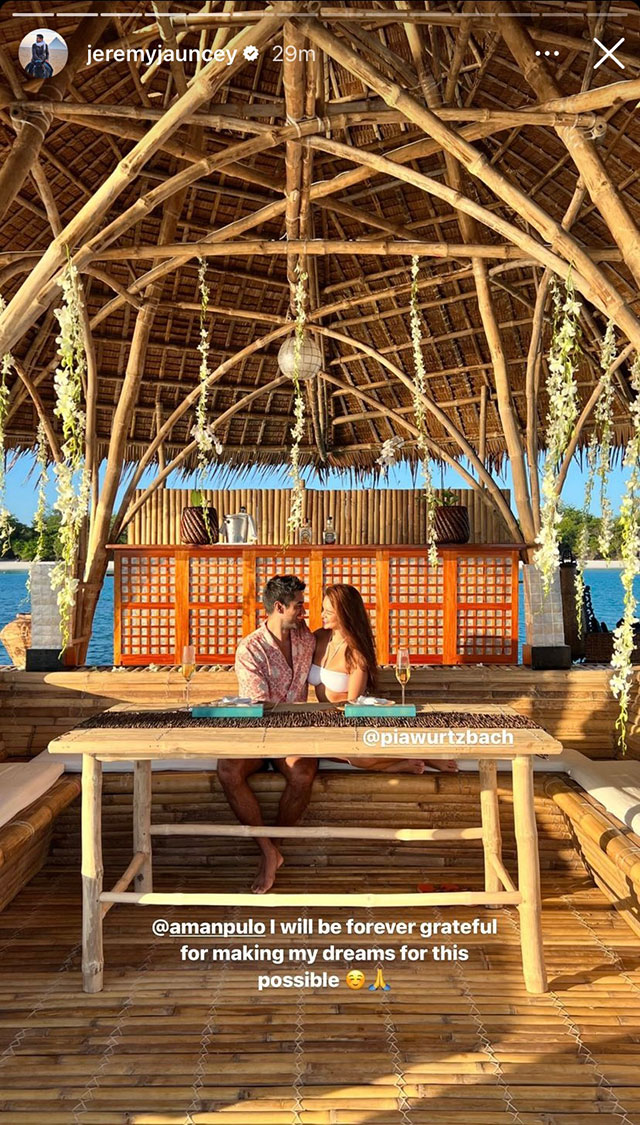 Literally moments before Jeremy popped the question—and right after: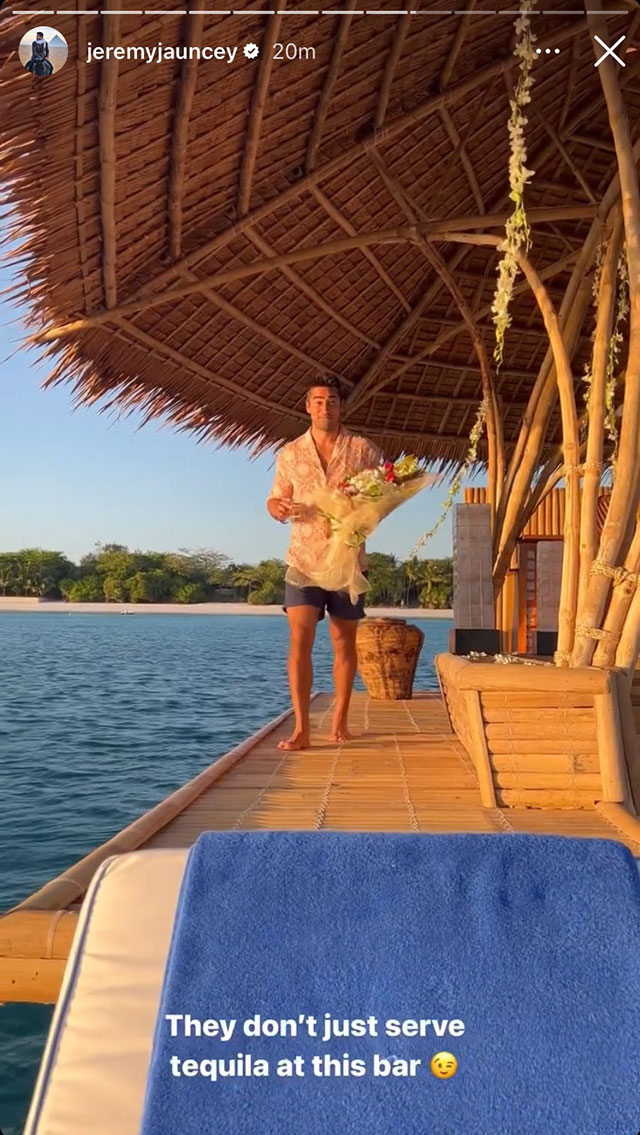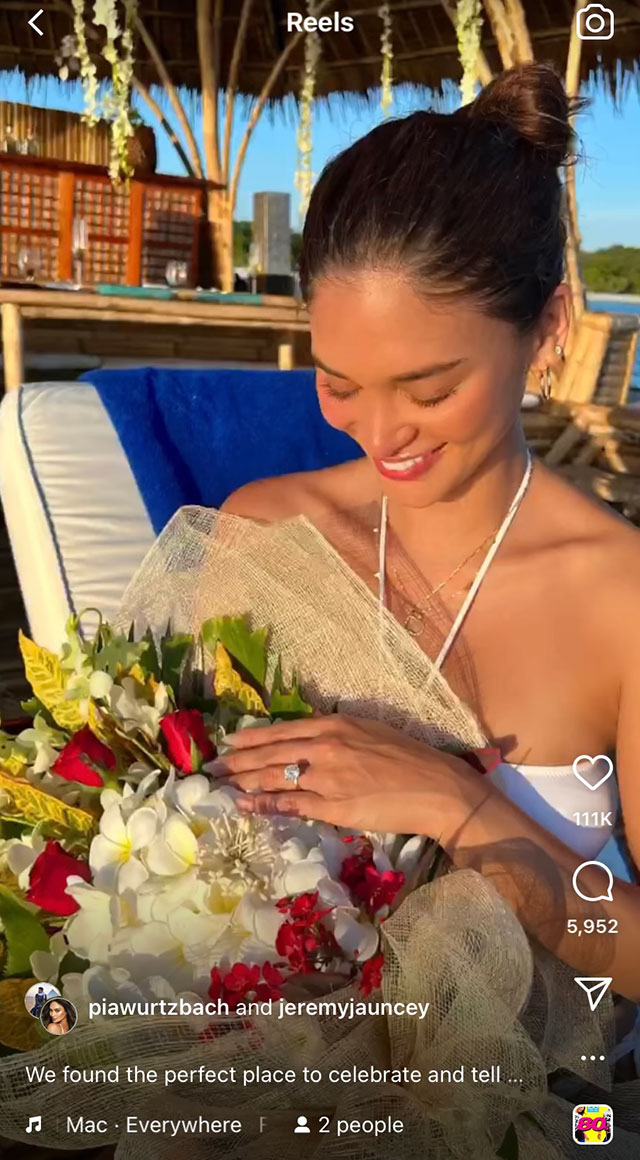 Here's a closer look at Pia's stunning engagement ring: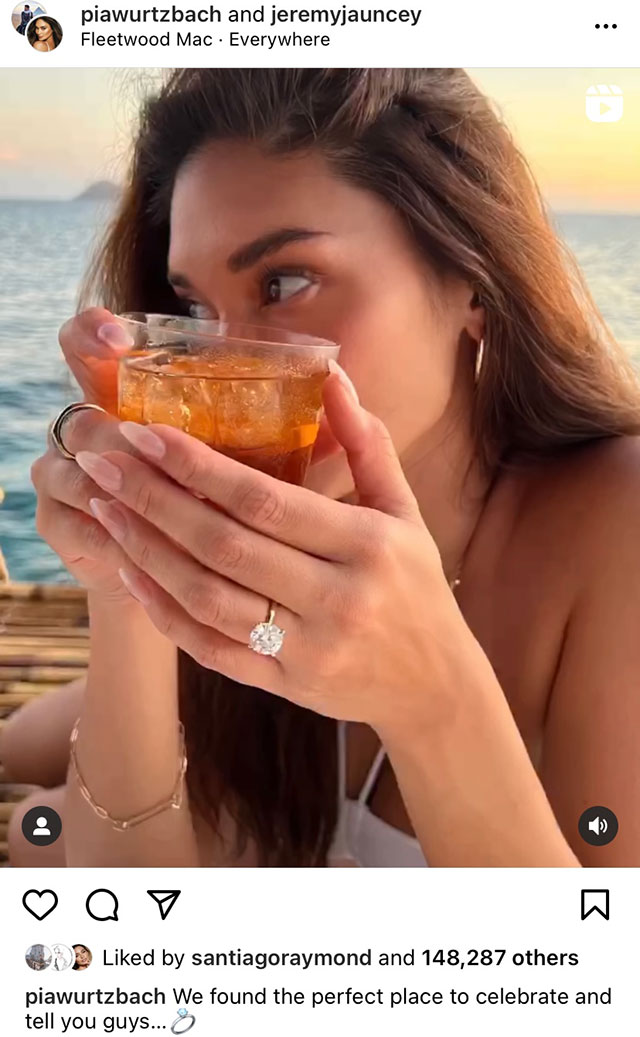 ADVERTISMENT - CONTINUE READING BELOW ↓
The next couple of video clips on Jeremy's IG stories showed Pia celebrating by dancing her heart out. So cute!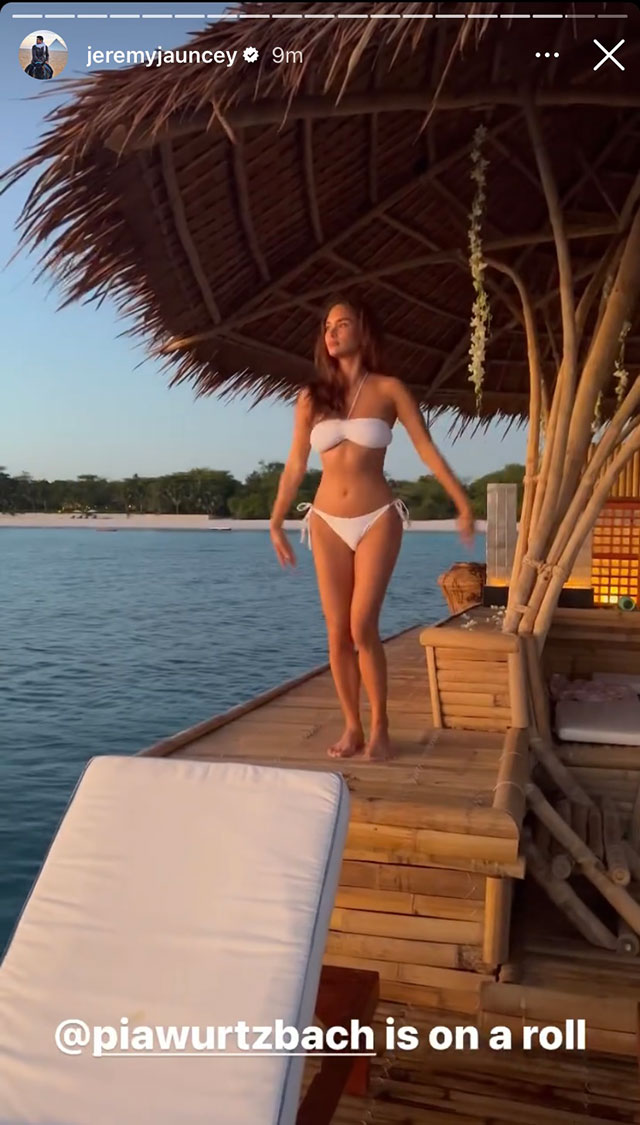 July 2022: Pia and Jeremy spend some couple time in Greece
The fiancés stayed at Katikies Chromata in Santorini, and Skinopi Lodge in Milos, Greece. (Milos was dubbed as the Greek island with the "best beaches", fyi)
Pia shared several *sizzling* sunset snaps of her wearing a zebra-print two piece. Bikini szn was definitely NOT over!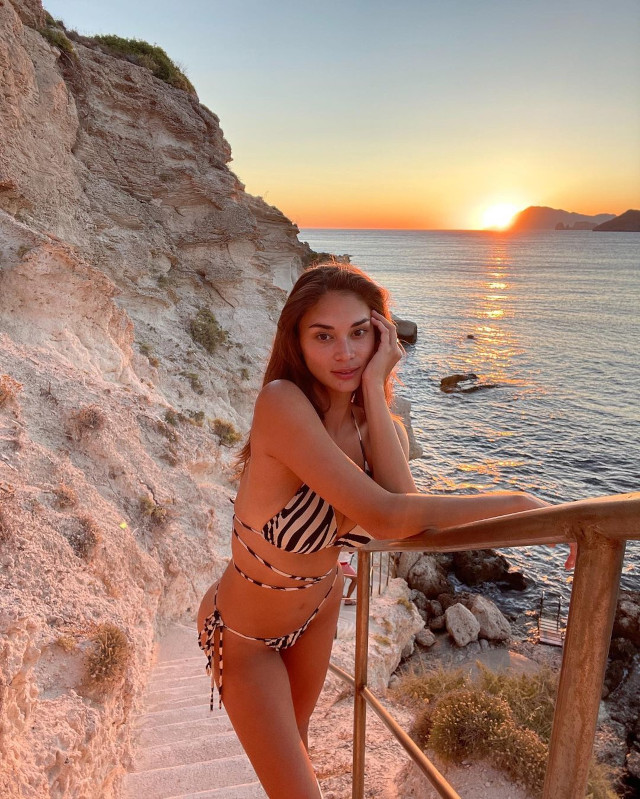 ADVERTISMENT - CONTINUE READING BELOW ↓
August 2022: Pia celebrates Jeremy's birthday on social media
Pia got all cheesy and sentimental when sharing not one, but two carousel posts full of videos and pictures of her fiancé to mark his special day, August 23.
"Because it's somebody's birthday I thought it would be better to post a carousel of some of my favorite funny videos of us," she begins her first post. "I'm not good with flowery words but this man has been the source of my happiness the past few years. So many good memories, so much laughter, so much love."

"I honestly thought a love or relationship like this didn't exist but he proved all my doubts & insecurities wrong. Jeremy is the most loving, supportive & hardworking person I know. He'e goal oriented, always going after new achievements. He takes care of everyone around him. I feel so safe in the relationship, that I can be my true silly self (and that it's okay for the world to see that) & I never ever doubted his loyalty & faithfulness, which is honestly the best feeling for a girl AND even when work gets stressful for him, he never treats me differently. He still laughs at my stupid jokes. My safe space & my happiness. Happy birthday, my love." Aww!
But of course, their relationship is full of humor, too—so Pia's caption for her second post had us laughing out loud! "Jeremy's birthday is a day before my (biological) Dad's birthday and even though my Dad isn't around anymore, I feel like the heavens have blessed me with another man in my life to watch over me & take care of me to fill all the voids in my heart. I may have lost a Dad, but I gained…a Daddy. Bwahahahahah. Happy birthday baby." LOL!
ADVERTISMENT - CONTINUE READING BELOW ↓
August 2022: Pia and Jeremy take in the sights (and enjoy the food) in Italy
The couple aren't just frequent travelers—they're fashionistas, and foodies too. Pia and Jeremy took in the sights at Milan and Como while enjoying delicious Italian food, and based on her numerous posts it's safe to say that this was a memorable trip.
ADVERTISMENT - CONTINUE READING BELOW ↓
ADVERTISMENT - CONTINUE READING BELOW ↓
September 2022: Jeremy says he can't wait to spend the rest of his life with Pia
Pia turned 33 on September 24th, and Jeremy made sure to celebrate her special day with a family birthday tradition.
"It's a birthday tradition in our family to post a celebration of our favourite memories from the year on the special day- usually funny, usually embarrassing but always the highlight of our year. This year there's only one memory that matters for me. I think you know what it is :) Happy Birthday baby, here's to the rest of our lives together," he captioned a photo taken during their engagement at Amanpulo in Palawan.
November 2022: Jeremy supports Pia at her first-ever New York City marathon
Pia had *a lot* of feels leading up to her first NYC marathon, and she shared some of it with her followers on Insta right before the race: "I'm so happy that I get to share this moment with Jeremy (swipe left bilang sumingit siya sa photo LOL) since he was the first person to know that this was a secret dream of mine. I kept it to myself for so long because I was embarrassed or maybe insecure about my athletic capabilities. Imagine saying "I want to run a marathon" when you dont even run 10 minutes on a treadmill. Nahiya ako. But I wanted it! I had the vision in my head I just needed to make it into reality…and now here we are. Sobrang lapit na and I'm actually really doing it!!"
Jeremy shared a couple selfie with Pia, fresh from receiving her NYC marathon medal, and happily stated, "SHE DID IT! COVID, crazy work & travel schedule couldn't stop her :) I'm so proud." 
ADVERTISMENT - CONTINUE READING BELOW ↓
Post-marathon, Pia made sure to say "Thank you to my family & friends who tracked me & cheered for me. Especially for patiently waiting long hours as I trained everyday."
After she ran her first NYC marathon, Pia spent the rest of her time in the Big Apple with Jeremy. "Together :) Feeling at home again in New York," she said.
November 2022: Pia pens a sweet appreciation post for Jeremy
Sharing a photo with Jeremy at the airport, Pia began her post by writing, "I know I post him a lot already but I need to thank this man for being the mooost patient guy ever. He's seen me go through all sorts of emotions these past few weeks."
ADVERTISMENT - CONTINUE READING BELOW ↓
"Seriously, I can be A LOT to deal with," Pia continued. "My moods go up and down and I go from being confident I'm gonna take over the world superwoman to vulnerable little kid who will cry about anything."
"But he sticks by me through it all. And loves me the same way. Thank you, my love. Please don't stop meditating," Pia concluded.
November 2022: The couple make time for quick trips to London and Milan
Pia and Jeremy spent literally a day in London "hanging out with the kiddos and my not so little sis," but it looks like the fam enjoyed it!
"Here's life lately… Short but sweet trip to Milan for some meetings. Seeing the Duomo di Milano never gets old," Pia captioned her Reel, which featured the two walking around Milan and making time to enjoy Italian cuisine.
December 2022: Pia spends the holidays with the Jauncey family in Scotland
From decorating the tree together and pretending to be Santa's elves with Jeremy, to cozying it up in sweaters, it looked like the couple had a wonderful Christmas!
ADVERTISMENT - CONTINUE READING BELOW ↓
Pia and Jeremy rang in the New Year in the Scottish highlands with Jeremy's mom and brother Tom. "Spent New Year's making new traditions with Jeremy & the fam @jeremyjauncey @tomjauncey Don't you think those kilts look so cool on the boys? P.S. I also learned some traditional ceilidh dancing that night! Buti nalang nagdance workshop ako noon kaya may naitatago akong moves char haha"
"A magical Hogmanay to end the year with family and friends," Jeremy said. FYI, Hogmanay is the Scottish celebration to ring in the New Year!
Pia couldn't resist making a pun: "Some beer… Some haggis… Some haggisan sa bed… wait what? Charot lang"
ADVERTISMENT - CONTINUE READING BELOW ↓
January 2023: Pia welcomed the first month of 2023 in London with family
"Still here," she captioned one of her posts. Pia also made sure to enjoy quality time with her sister Sarah's family based in London.
Although it took Pia a while to finish editing her Instagram Reel, she considered it to be time well spent: "It's been a great few weeks catching up with family, Jeremy's in Edinburgh & mine in London town. Celebrated Lara's birthday, played some board games, enjoyed some champagne, forced the kids to have an educational afternoon at Westminster Abbey… all in all a great week so far."
February 2023: Pia shares life updates on Instagram
ICYWW, Pia spent some time in London on a "wellness break" to focus on her health and her family. Because a major life event is coming up soon (her wedding!), she made the tough decision to defer her entry for the London Marathon: "getting married is something I wanna focus on first and enjoy preparing for the wedding stress free."
Pia shared that she'd be coming home soon (in fact, according to her Instagram Stories she's returning today!), "healthier, stronger and ready to be back in action." We can't wait for more wedding updates!
ADVERTISMENT - CONTINUE READING BELOW ↓