Graduate college? Check. Get a job? Check! Get married, have kids? Check?
That may be the path most people follow—some because they really want to and others because of societal pressure—but for the LGBT community in the Philippines, it's a little more complicated! As most of us all know, same-sex marriage is still not an option under Philippine law...but what about having children? Can LGBT couples start a family? 
Nimruz De Castro
26, Technical Writer
Status: In a long-term, long-distance relationship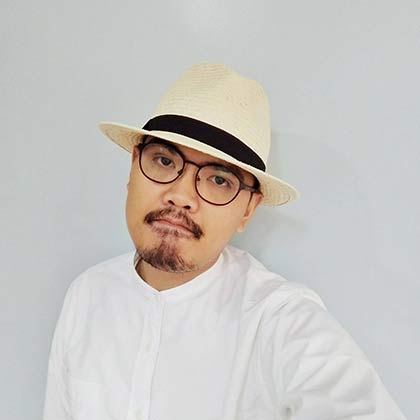 ADVERTISMENT - CONTINUE READING BELOW ↓
How do you identify?
Gay
How many children do you want?
Three
What options are you looking at for parenthood?
Surrogate pregnancy and adoption. I'm looking for a surrogate who can carry the child. As for the fertilization process, I'll be going with IVF.
What challenges do you foresee in pursuing a surrogate pregnancy?
The expenses! My partner is Russian, and surrogacy, though not standard practice or approved of, is not new in Russia. It's not practiced at large but it's not as complicated as, let's say, getting a Filipina surrogate. But really, we're hoping to have one child from a surrogate of his ethnic and cultural background and one from mine.
What are the costs involved?
For the payment to the possible surrogate mother, my partner and I estimated a figure close to $10,000 to $15,000 (or P520,000 to P780,000) per attempt. The legal fees and the expenses for her care during the pregnancy are not factored in yet.
ADVERTISMENT - CONTINUE READING BELOW ↓
Recommended Videos
What would be the legal implications of surrogate pregnancy?
I looked it up and surrogacy is legal in Russia. Under certain conditions, of course. And it can cost up to $95,000 (almost P5,000,000). But I guess this price applies to customers from first world countries.
How do people respond when you say you and your partner want to have a child?
I have spoken about this to my friends. Most, if not all, were excited about the thought. There's the concern na sobrang novel pa nung idea of having two gay dads in the Philippines. We usually respond that with the way the Philippines is right now, we would rather not have any kids than raise them in an environment like this. Our kids deserve better.

Sarah Lapastora
22, Operations Assistant
Status: In a relationship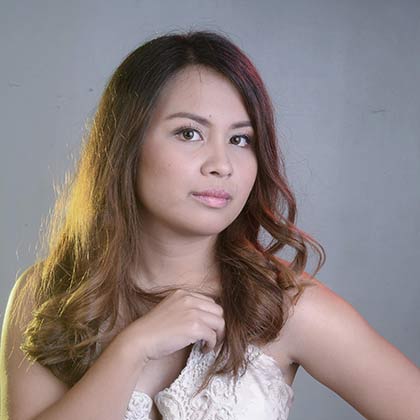 How do you identify?
Lesbian
ADVERTISMENT - CONTINUE READING BELOW ↓
How many children do you want?
Two or three
What options are you looking at for parenthood?
We're looking at both pregnancy and adoption.
What are your options for pregnancy?
We'll need a sperm donor. We'll both carry a child. We're thinking of artificial insemination or IVF. We're not sure yet, since it'll be at least five more years before we start trying. I'm quite sure it'll be expensive, though, especially here in the Philippines.
Have you spoken to any adoption agencies? Is the process different if you are LGBT?
We also haven't done much research on this.  I am aware that it's going to be complicated. First of all, since same-sex marriage is not recognized here, legally, we'll both be single. And I have heard about how difficult it is to get approval if you're single. Plus, if one of us does get approved, then the other one won't be a parent, legally. I'm still looking for answers.
ADVERTISMENT - CONTINUE READING BELOW ↓
How do people respond when you say you and your partner want to have a child?
I've mentioned my intent to some family members and all my friends (and some acquaintances who ask).  Usually, those who are open-minded react positively, like they're both amazed and curious. But I've had people say I should go back to a hetero relationship, saying it's easier (and "right"). There are those who'd simply shake their head, not believing what they just heard.
Guilian Sencio
25, consultant
Status: Exclusively dating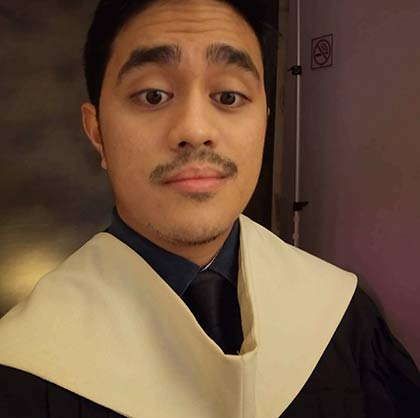 ADVERTISMENT - CONTINUE READING BELOW ↓
How do you identify?
I identify as a homosexual male.
How many children do you want?
One or two
What options are you looking at for parenthood?
Surrogate pregnancy. So far, I already have an egg donor. We are going to extract and freeze the eggs before she turns 25. I've yet to find a surrogate to carry the child, but it's gonna be easy once the resources are there.
What are the costs involved?
I'm estimating that a successful extraction, fertilization, and surrogacy will cost less than P10,000,000. Well, I better have P15,000,000 to be safe.
What are the legal implications in the Philippines?
As far as I know, the surrogate will be the legal mother while the sperm and egg donors will merely be adoptive parents after the surrogacy. There are a lot of legal and ethical questions about surrogacy and a ton of things can go wrong. There have been cases where the surrogate mother would not surrender the child to the sperm and egg parents. The parents-to-be should get sound legal advice before this procedure starts to be protected and foresee any legal challenges that might occur.
ADVERTISMENT - CONTINUE READING BELOW ↓
What are the challenges you foresee in finding a surrogate?
It's just finding the perfect fit and a willing surrogate. I have to choose a surrogate that's not only a biological fit but is also psychologically and physically healthy with little to no history of sickness, no history of substance abuse and critical diseases.
Why not adopt?
My animal-parent instinct will be much stronger when I see my own genetic material in another little human being. However, adoption will always be on the table, and I will love the adopted child no less.
How do people respond when you say you and your partner want to have a child?
I get mixed reactions. A good majority of people are overwhelmingly supportive and would admire the concept for its progressiveness. However, a handful still advocate for the "natural" way of having children. The only problem is that I'm not attracted to women or vaginas. Finding an egg donor who is also willing to carry the child will be difficult and will pose more legal problems. 
ADVERTISMENT - CONTINUE READING BELOW ↓
Jhen Latorre
33, Sales Supervisor/Team Leader in the BPO industry  
Status: In a relationship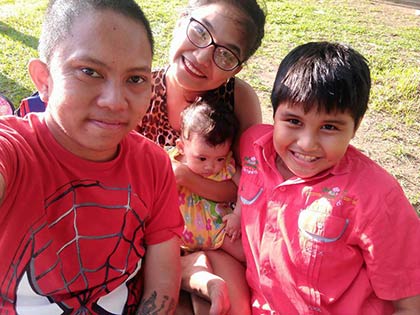 How do you identify?
Transgender male
Tell us about your family.
My partner is Carmi Menao, 23 years old. We have adopted two kids: JJ, 10 years old, and KK, 2 years old.
ADVERTISMENT - CONTINUE READING BELOW ↓
What was the adoption process like?
It wasn't a planned adoption at all, for both kids. We didn't go through the "usual" adoption process.
With JJ, a pregnant young woman—aged 17 at the time—approached my mom for help. We had a recruitment agency, and she wanted to apply as a maid. Mama didn't accept her application because she was pregnant, until the girl said she needed help with giving birth and giving her child away for adoption. Mom said she cannot take the child since she was old, so she called me. The mother didn't even want to write her name on the birth certificate. I was out as lesbian but not as a transgender male, so I was listed on the birth certificate as mother.
With KK, we had a helper who already had kids, then she worked with us for a couple of months. She was a drunk and a drug addict. Later, we found out she was pregnant. She asked for our help. Our helper said the baby was coming in February. I looked for an LGBT couple to adopt the baby. When she gave birth, she left the baby. Carmi and I decided to adopt the child. On her birth certificate, I'm listed as the father, and Carmi is named as the mother.
ADVERTISMENT - CONTINUE READING BELOW ↓
What were the costs involved?
With JJ, my mother and I gave a total amount of P35,000 to his biological mother. We also took care of her medication and hospital bills. With KK, we only assisted her biological mother with her medications, and we sometimes give cash.
What did people say when you adopted your kids?
They were very happy. They accepted the fact that I have kids whom I can consider my own. They just advised me to be ready with all the possible questions in the future.
What do people say when they find out you are a transgender male with two kids?
They are excited to talk about it. They want me to be featured on TV or something. It is as if I would be a different kind of father. I consider it a positive thing, that they would like to learn more about how it is to be a trans dad.
ADVERTISMENT - CONTINUE READING BELOW ↓
Do you face any stigma or discrimination as LGBT parents? Do you go to PTA meetings or school activities?
I don't go to PTA meetings. My mother goes. But the principal knows about me. So far, wala naman akong na-experience na discrimination. Thank God!
How has parenthood changed your life?
I am more responsible. I am always looking forward to the future, not just for myself, but for my kids. I want them to have a good life.
What message do you have for other LGBT who want to have kids?
Make sure you are ready—it means forever. They are not pets. They're children. Make sure you are sure about all the pros and cons of being a parent. 'Yung sinasabi nga nila, "Isusubo mo na lang, ibibigay mo pa." That's the attitude. Lahat ng gagawin mo, ang iisipin mo ang mga anak mo. Willing ka'ng ibigay, even your life for them. Treat, love, and accept them as your own. Do not treat them differently just because they are adopted.
ADVERTISMENT - CONTINUE READING BELOW ↓
***
What does the law say?
Filipino LGBTs can't marry, but can they adopt? If another woman carries your baby, is it your baby, legally? Atty. Gettie Sandoval, one of the proponents of the Republic Act 9710, or the Magna Carta of Women, has some things to say about these questions.
Can LGBT people legally adopt children?
Yes, LGBTs can adopt, as single or solo parents. The law on adoption (Republic Act 8552, as amended by RA 9523) does not consider the sexual orientation or preference of an adopter. For as long as one who wishes to adopt qualifies with the requirements of the law, then adoption can happen.
It's important to note, though, that if an LGBT couple wants to adopt, they cannot adopt as a couple, because we do not recognize same-sex relationships. So one of them will adopt as a solo parent.
LGBTs cannot marry in the Philippines. How would this affect any children they adopt?
In case of LGBT couples, only one of them will be recognized as adopter/parent. Unfortunately, that means the other partner will have no parental rights over the child.
ADVERTISMENT - CONTINUE READING BELOW ↓
Are there any Philippine laws on surrogate pregnancy?
There are no laws on surrogacy in the Philippines. This means it is not illegal, but it's also not legal. Meaning, whoever carries the child is the mother, legally. The sperm donor can claim paternity (but this must be proven). However, a gay man cannot claim any paternity over the child, unless he adopts the child later.
What about a lesbian looking for a sperm donor? Would the sperm donor have to be listed as father? Would the mother's female partner have any role, legally, in the child's life?
There is no requirement for the sperm donor to be listed as father in the birth certificate. Once the name is written, the mother will have to give the sperm donor all the rights of a father, and I don't think lesbians would want that. Again, legally, the partner of the lesbian would not have any legal rights over the child. 
ADVERTISMENT - CONTINUE READING BELOW ↓
EXPLORE COSMO