As LGBTQ communities around the world celebrate Pride Month this June, it's ever more important to recognize that love is a universal gift—it's not some exclusive prize that only straights can enjoy.
Here, nine couples from the LGBTQ spectrum share their own swoon-worthy romantic tales—from romcom-perfect meet-cutes to you-and-me-against-the-world ordeals—to prove that love is love is love.

Once more, if that wasn't clear: Love is love is love.
Chii and Jone
Chii: When we started talking in an online writers' forum for gay romance, I thought she was just some regular gay guy from South Africa. Meanwhile, she thought I was a gay Filipino man. We read and commented on each other's works. We flirted. We fell in love.
One day, I got this panicked email from her saying, "I'm sorry if I misled you; I'm a girl." To which I replied, "So am I." That was the moment we decided we were going to continue this love in person.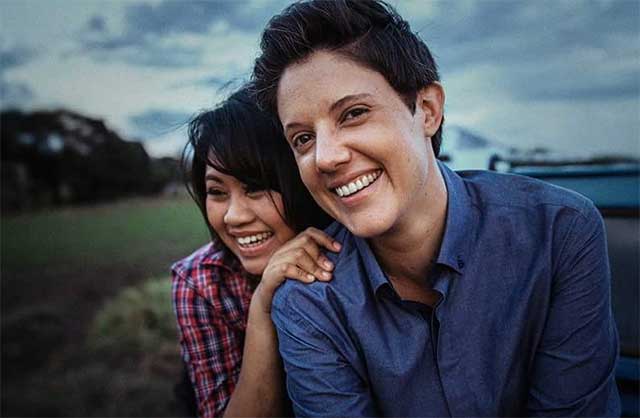 In the summer of 2011, she came to the Philippines and we spent three weeks together. The night before she returned to South Africa, we sat on a beach in Bohol, listening to a random guy playing his bamboo flute under the full moon. I had just taken the physician's licensure exam; she still had to finish her master's in literature. She told me to wait for 22 more full moons, then she'd be back for good.
Continue reading below ↓
Recommended Videos
Eight years, two houses, one pet tarantula, and one cat later, we have been living together for six years and been married for seven months. We've had our share of trials and difficulties, but the moment we said our vows under a balete tree in front of my whole family with her dad officiating the ceremony, we proved this to ourselves and to everyone: Love overcomes everything—gender, race, religion, cultural differences, and distance.
Duds and Ben
Duds: Three years ago, I agreed to meet this guy I met online. We had planned to meet for coffee at Bonifacio High Street, but just before the meeting, he suggested a "secret option." Looking back, agreeing to meet a stranger at a secret place does not sound safe, but intrigued by this new proposition, I picked the latter.
Once Ben showed up, he asked me to follow him. After about five minutes of walking, we reached the "secret option": the ice cream place near High Street, Farmacy. This was where we would begin an unforgettable first date.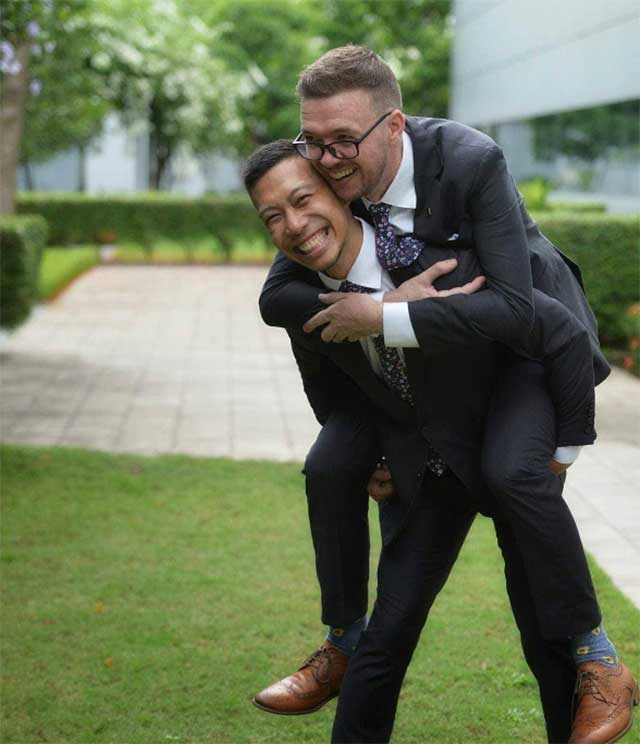 After finishing our ice cream, we were still enjoying each other's company, so Ben suggested having dinner at a Vietnamese restaurant. After dinner, we still didn't want to leave, so he asked if we could go for coffee and we ended up at Starbucks. That's when we encountered a mishap: His ex had seen us and followed us into Starbucks. Ben had to escort him to a corner where they had a quiet yet tense conversation. Eventually, the guy left.
I can still remember how cute Ben was as he apologized to me and arranged for another meeting to make it up to me. And so he did.
Two months later, we were officially boyfriends. Two years later, we were living together, had a dog, had traveled together, and had spent special occasions with my family. This June, we got married and had an intimate gathering with family and close friends.
Meds and Kate
Meds: I met Kate through our common gay friend, and we found out that we were both brokenhearted and trying to heal from past relationships. From the day we met, we instantly connected. I told myself that she was the one I wanted to spend the rest of my life with.
Six months into dating, Kate wanted to move to Singapore to gain more experience as an interior designer. I didn't know what to feel. I had a very good career as a brand manager at a multinational corporation in the Philippines, but two months of LDR was difficult. I tried to resign from work twice but my employer didn't want to let me go; I was even offered a higher salary. I finally decided to give up my career, pack my bags, and follow Kate despite the uncertainty of what was going to happen.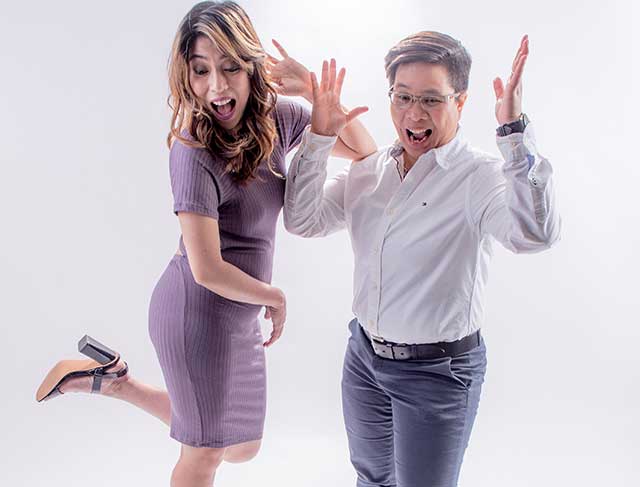 After eight years of living in Singapore, we decided to migrate to Canada in 2015 so we could have legal rights and live like "normal" couples do.
We always support each other in everything we do. Since Kate is a dancer and I'm a singer, we serve as each other's PA, photographer, and number one fan. We can say that our relationship works because of our profound love and respect for each other.
Andrew and Tirso
Andrew: I've had a huge crush on Tirso since the moment I saw him at an art event, but despite being in the same social circle, he and I had never actually met. I told all my friends that I had a crush on him, and they encouraged me to say hi. I was nervous, but I gathered up the courage to talk to him. Right after, we began following each other on Twitter.
A few months passed, and a friend told me about an upcoming art event. I told my friend that I would come only if Tirso invited me. I devised a plan that involved me tweeting about wanting to go to the event, but only if someone went with me.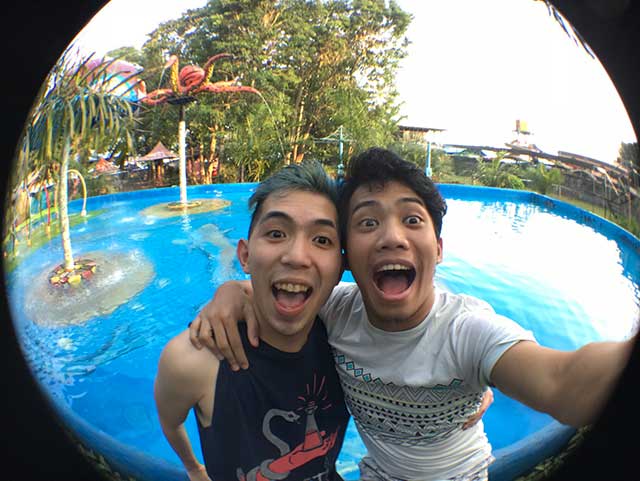 I immediately got a reply from Tirso; he was inviting me to join him at the event! I replied yes faster than you could say the word itself. This triggered a string of dates that would eventually lead to a relationship.
It wasn't until three months into the relationship that I found out that he had convinced our mutual friend to make sure I would come to that second event. Turns out, my crush had a crush on me, too! All this time, our friends had actually known that we liked each other, and they helped bring us together. It's heartwarming to know that our friends have always supported us from the start.
Patty and Meds
Patty: I met Meds at an exclusive women's party in Tomas Morato in 2009. Being Fil-Am and feeling like a fish out of water, I didn't expect to meet anyone at the party, but when a friend introduced me to Meds, I felt sparks!
In the first few months of us dating, I acquired dual citizenship and continued living and working in Manila. I harbored this dream of "may forever" in the Philippines. We were in love, we overcame differences, and yet…we could never marry here.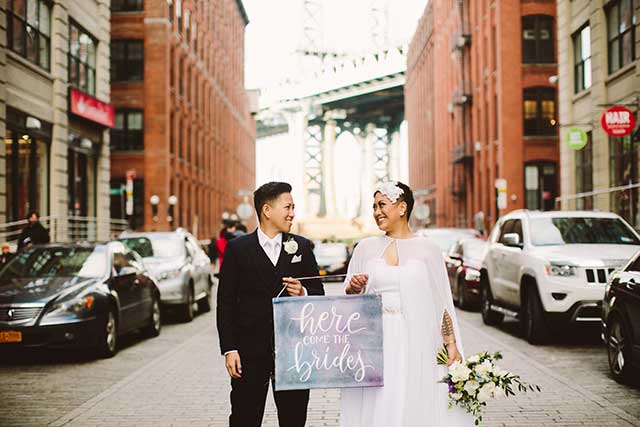 In 2013, the US Supreme Court declared the Defense of Marriage Act (DOMA), which prevented LGBT couples from marrying, to be unconstitutional. Shortly thereafter, Meds proposed. I cried, and of course said yes!
We bought plane tickets to Los Angeles to spend Christmas with my family and to also elope. Meds applied for a tourist visa, and we waited excitedly for her visa interview. But Meds got denied a tourist visa…twice! We were "out" about our relationship and guessed that her visa was denied because of her ties to me, and my ties to the US were strong. So I spent Christmas in LA, while Meds stayed in Manila. The trip felt incomplete without her.
Eventually, we hired an immigration lawyer, who suggested we apply for the K1 fiancee visa. I realized that my "may forever" dream wasn't about living permanently in the Philippines—it was wherever I could be free to marry the one I love.
Our K1 visa journey began in 2014. We finally got married in Brooklyn on January 2, 2016. Our wedding day was magical and absolutely worth the wait.
Lloyd and James
Lloyd: I met James one very busy Monday at work. Little did I know that he would later become an intimate part of my life.
I was his trainer, and he was my mentee. For him and I to date would go against our company's code of ethics; one wrong move and both our jobs would be at stake. Besides our career fears, we were also concerned by how our friends and family would take the news—not because they didn't know of our gender preference, but mainly because we were scared to be judged and ridiculed. But every time I would feel low about these fears, James would assure me that he always had my back.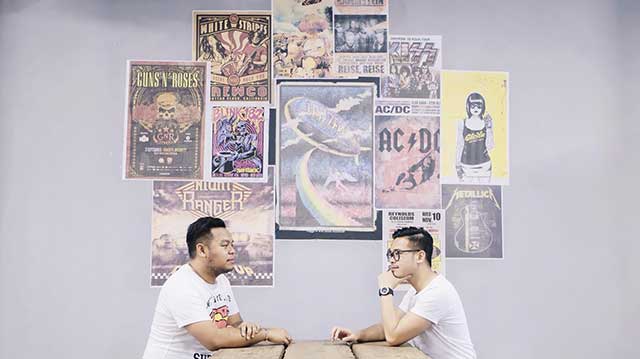 We kept our relationship really discreet, and the effort of having to hide it became really exhausting. So we decided to stop hiding: We slowly informed our friends and some family members about our relationship.
I also started asking friends in the HR department about our situation, and a friend told me that it wouldn't be taboo anymore if we belonged to different departments. So I took the liberty of transferring to another department so that we could go on with our relationship.
Finally coming out as a couple was one of the most fulfilling steps we've made by far. True love doesn't hide. True love is proud.
Eric and Chay
Eric: Chay and I met at a regularly organized Friday focus group discussion. Coincidentally, the topic that night was relationships.
It wasn't love at first sight. Quite the opposite: We irritated each other right from the very start. He was the optimistic one, and I, coming from a four-year relationship gone sour, believed I had had enough love to last me a lifetime. "THAT IS JUST SAD!" were his very words to me, which made me raise my eyebrow. We had a heated argument that night, not knowing that it would be the start of a long life of intellectual debates, petty arguments, kisses, and making up thereafter.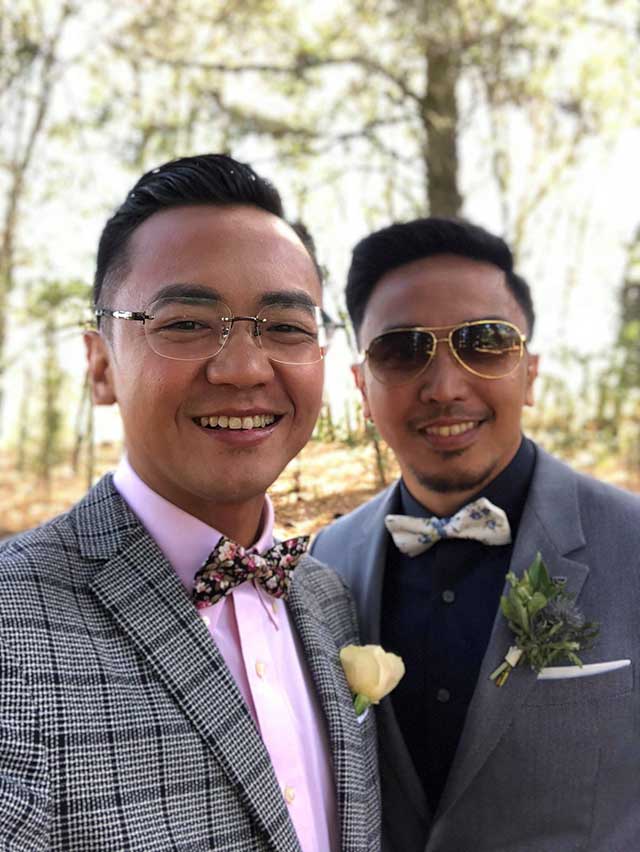 We've been together now for 14 years. The coming-out journey with both our families didn't start out good, as Chay and I belong to tight-knit families with strong religious convictions. But our decision to stay together come hell or high water proved to our families that we were indeed, like any other straight couple committed to love.
After a few years of continuously trying to make them see beyond gender and making them understand that love exists in all forms, we are now both welcomed and loved by each other's families. And now, more than ever, it is from the very love and acceptance of our families and friends that we draw our strength and commitment to keep our relationship intact.
Rencie and Jonathan
Rencie: Jonathan and I met in London on January 9, 2018. It was my last full day in London after having completed my masteral degree and managerial training, while it was his first day of a week-long vacation from France, so I showed him around.
We connected right away, but had to separate just as quickly because I was due to leave for Rome the next day. We kept in touch, but being apart from each other was a big struggle. He ended up cutting short his London trip to follow me in Rome, and then Manila.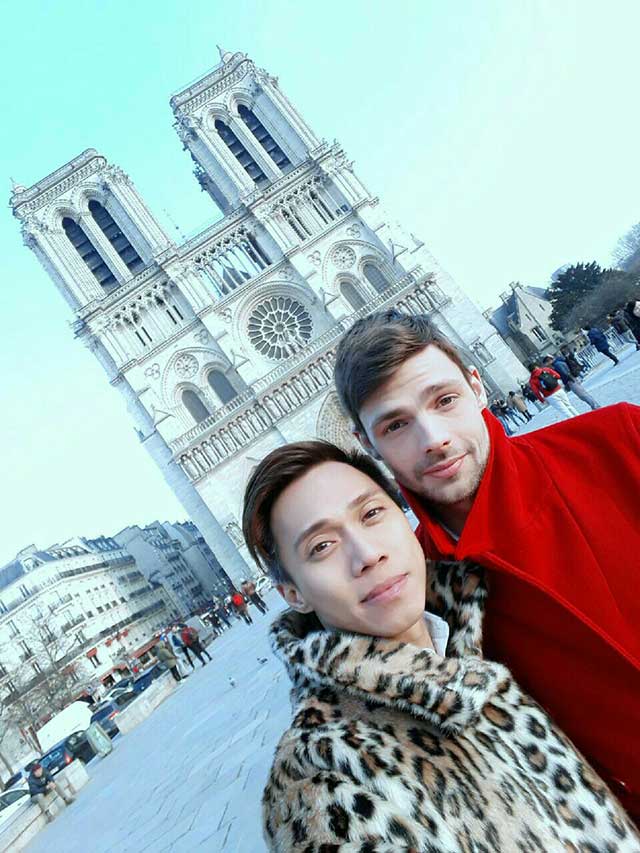 Jonathan proposed to me four days after our first meeting in London. I said yes because I saw through his eyes pure love and his sincerity about wanting us to spend our lives together. I was in London for 15 months, but I never met anyone as promising as him until my last day there—we believe that these chance occurrences have caused our paths to cross.
We had to separate for two months while I prepared my papers for the wedding. There were days we hardly got to sleep because we wanted to be in touch all the time. But through trust, constant video calls, embracing each other's differences, and having something to look forward to, we were able to overcome the challenges.
Now, we're patiently awaiting our wedding day later this month in Brest, France.
Rain and Bill
Rain: I met my husband in San Francisco one Saturday night before Valentine's Day. I was out with my girlfriends at a club, and he was there, too. The night I met him, he was very vocal about how much he adored me; I, on the other hand didn't feel any spark at all. He asked me if he could give me a ride home and be my date for Valentine's, and I decided to give him a shot. But I didn't really expect to see him again after the date.
We ended up seeing each other every day, and after two weeks, we officially became a couple. I saw how romantic and genuine he was. "Our relationship is like a fairy tale," he would always say.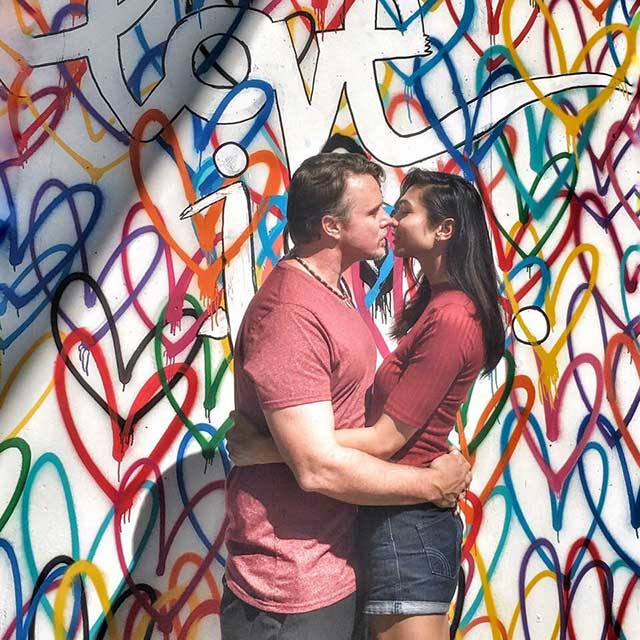 Two months after we met, he had to leave San Francisco and go back to Orlando to see his son. It broke my heart to see him leave. I hugged him tight, because I felt like I would never see him again.
After two months of attempting a long-distance relationship, he flew me out to Orlando to meet his son, ex-wife, and other close relatives. During that trip, I heard him talk to his son about me. He was educating his son about what a transgender woman is like. I fell even more deeply in love with him.
After six months of dating, he proposed, and we started planning our wedding right away. Both our families were at the wedding; I met his brothers for the first time, and his son was his best man. We have been happily married ever since.
Follow Cheekie on Twitter and Facebook.
EXPLORE COSMO