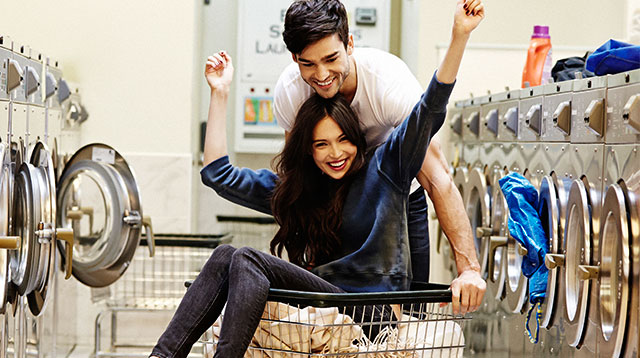 You get butterflies in your stomach.
Cliché as it seems, but this feeling is considered by some researchers as a sign of being hit by the love bug. A team of British neurologists has identified four parts of the brain that react when someone is in love, and one of the newly discovered zones is closely linked to churning feelings in the stomach. 
Andreas Bartels, a postgraduate student, and Prof Semir Zeki at University College London conducted a study, and found that when a person sees his lover four distinct  brain regions are activated–including the stomach. "This could be something to do with butterflies," says Bartels.
You want them to want you.
One-sided love affairs and unrequited love can be painful—it can either make you stronger or break you apart. For an intimate relationship to grow into a healthy, committed, and lasting one, emotional reciprocity is important.

They're always in your mind.
Are you thinking about them all the time? It's difficult to focus on other things when you're in love because a part of your brain, the decison-making part, stops working to give more time and energy to thinking about one individual. This thus gives truth to the saying "Kapag mahal mo na, hindi ka na nag-iisip."
You change your routine.
You used to take the train to work before, but now, you prefer to ride the bus because your close friend (who you happen to like as well), takes the bus, too. Also, you're bound to impress someone more if you like them, and this includes changing a few things about yourself for them to notice you.

But this change is relative to each individual. Some may choose to change their hair or clothing style to fit their target's interest, while some tend to dress like the guy they've been eyeing on.

You want to be exclusive.
Some say that exclusivity is the first step to take if you want a long-term relationship. Both parties have to decide if you want to stay in a monogamous relationship instead of dating other people while you two are seeing each other. Long-term relationships require commitment, dedication, and utter loyalty to one another—now, that's love.

You ignore the flaws.
When you're in love with a person, you see past his imperfections. According to scientific research, when someone is shown a picture of the person they love, the frontal cortex deactivates which leads them to suspend all criticism and doubt. 

Semir Zeki, professor of neuroaesthetics at University College London seconds the motion, "When you look at someone you are passionate about, some areas of the brain become active but a large part is de-activated, the part that plays a role in judgment." So yeah, it kind of makes one stupid! 

This story originally appeared on Femalenetwork.com.
* Minor edits have been made by the Cosmo.ph editors.
Recommended Videos