There was a comment I remember seeing on social media before that I think all of us can relate to. It falls along the lines of, "I refuse to accept the two years that we lost during the pandemic, so everything that has happened since then is not counted in my life experiences."
In an ideal world, this is something we might have a say about. Unfortunately, two years is a long time to be brushed under the rug. Everyone had to undergo many changes—moving homes, adopting pets, changing jobs, and even finding new interests. For me though, the adjustment was a little bit different: All my friends got married.
You might be asking, "Okay, but why is this even a problem?" It isn't. However, I'll admit that it was a factor behind one of the biggest mid-life crises that I've had so far. For single ladies out there, this might be a situation you're all too familiar with. One minute you're young and carefree with your friends, the next second, you're attending bachelorette parties and baptisms. Before you even realize it, you're the only remaining single gal in the squad.
ADVERTISMENT - CONTINUE READING BELOW ↓
To be completely clear about where this story is going, this piece is not meant to paint marriages in a bad light. My friends—who I was blessed enough to have kept ever since high school—are the most wonderful sisters I could have asked for. We've been each others' constants through the biggest events in our lives, whether that's our first job promotions or the first birthday parties of their children. There is nothing in the world that I would ever wish for them other than their happiness, and that will never change.
I felt like I was the only one left unmoving while the rest of the world continued to change around me.
The problem was not the fact that everyone was changing around me. The pill that was hard to swallow was that at one point, I felt like I was the only one left unmoving while the rest of the world continued to change around me.
To be fair, I am proudly confident in the single, independent lifestyle that I've chosen for myself 80 percent of the time. In a perfect world, women who make the same choices are never swayed by whatever it is that society expects and pushes on us. But alas, this isn't the movie world, which means that in reality, the remaining 20 percent sometimes kicks my ass and drags me into a spiral of self-doubt.
ADVERTISMENT - CONTINUE READING BELOW ↓
Recommended Videos
My rock bottom hit one random night while I was staring blankly at the ceiling after stuffing my face with cold takeout. It was a weekend, but I was lying alone in my bed, unwilling to go out and enjoy myself. My best friend is still in her post-wedding high, and my other friends are either having family picnics with their toddlers or shopping for engagement rings. I can't really remember the thought process that led one thing to another, but I remember the realization hitting me out of the blue. All of a sudden, I was hyperaware that I was a woman in my 30s, alone in a big old city with no plans, nor prospects. For the first time, that thought made me feel really afraid.
It was terrifying, so obviously I did the one thing I always do every time I need a re-center. I booked a solo trip and packed my bags for a week-long vacation. My choice of destination? Boracay.
ADVERTISMENT - CONTINUE READING BELOW ↓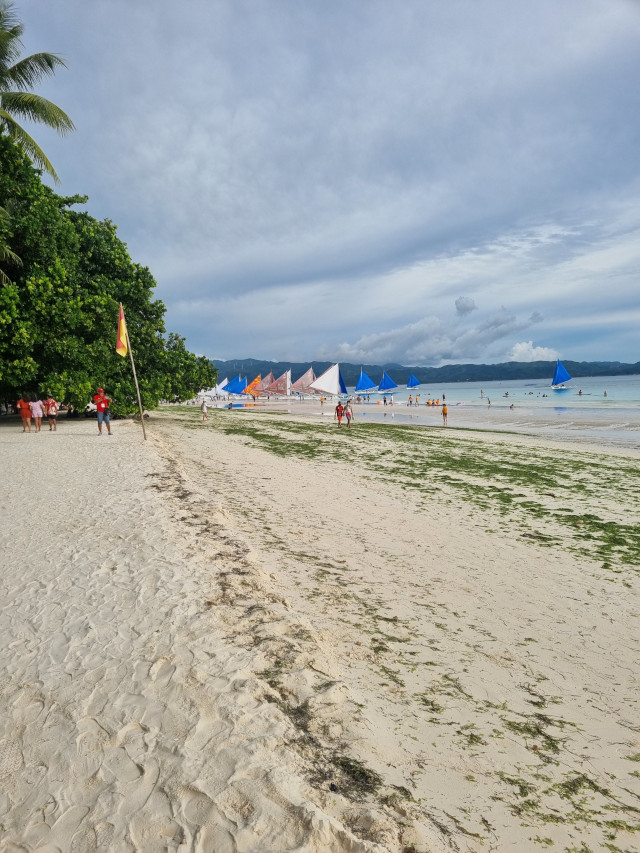 Now, the Philippines' most beloved island beach might not be the top choice for solo travel, but I was also still a little hesitant to go out of the country and thought that a little sea and sand were exactly what I needed. I was also completely aware that the possibility of me feeling left out while surrounded by families, groups of friends, and honeymooners were likely to happen, but I was also desperate to do something out of routine. I didn't have solid plans when I boarded the plane except to do three things: eat, swim, and possibly find a date.
ADVERTISMENT - CONTINUE READING BELOW ↓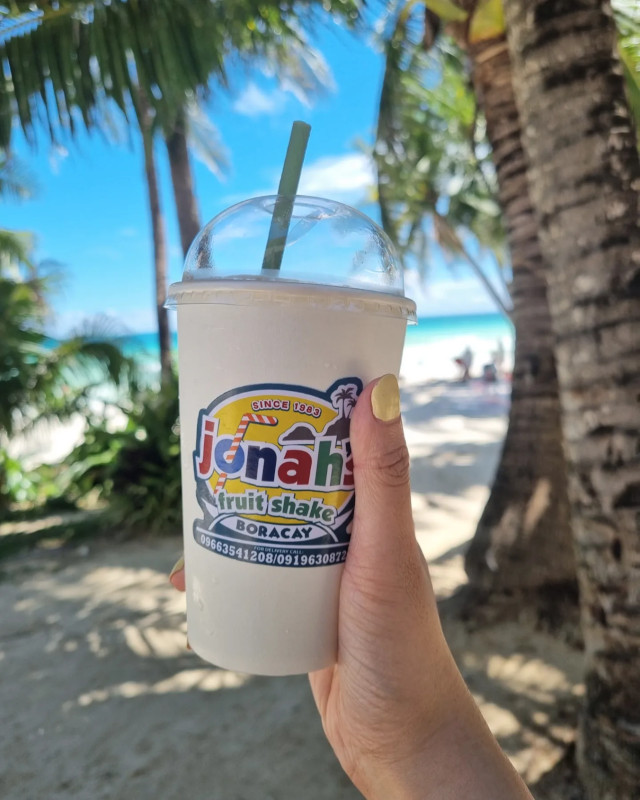 Traveling solo is not something new to me. I've already done it a couple of times before overseas, but I still felt a little culture-shocked when I finally arrived on the island. Two years of being stuck at home brought some newbie nerves to me, and Boracay, as beautiful as it is, can also be overwhelming with its crowd. The good thing was that it's not a very big island, so my only challenge on the first day I landed was to try and figure out how I wanted to waste my time in that four kilometers of white sand.
ADVERTISMENT - CONTINUE READING BELOW ↓
On my first morning, I decided to just take it slow by doing a morning walk by the beach. It was a little awkward at first being surrounded by people, but it didn't take long for me to find a spot in the middle of everyone by the shore where I watched families and groups of friends enjoy the waves. The thing about being on the beach is that it can be everything and nothing all at once—you can waste hours just staring at the waves and not feel bored at all. Before I knew it, two hours have passed and my self-consciousness had melted into an easy relaxation. I didn't accomplish anything grand that morning, which was the plan, but there was also not a single second when I felt lonely.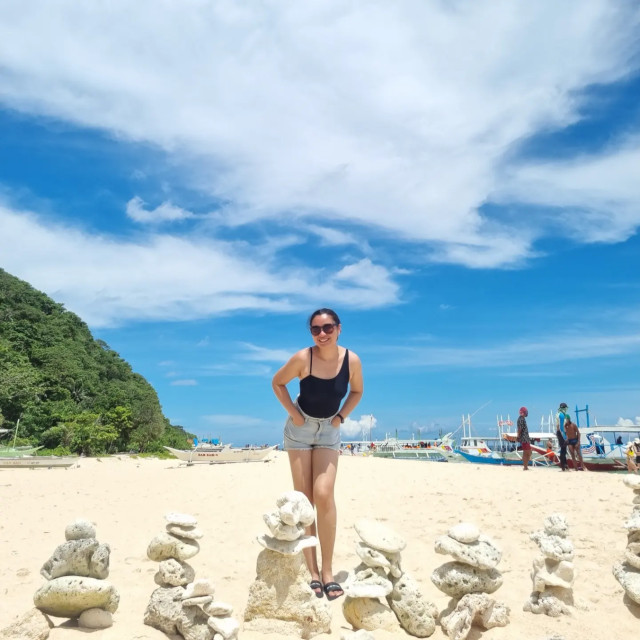 ADVERTISMENT - CONTINUE READING BELOW ↓
That set the pace for the next few days. After realizing that nobody was judging me for being on the beach alone, I became more carefree in planning my activities. I went on a Sunset Tour, a Parasailing session, and an Island Hopping Adventure—where I was the only single guest in the crowd of tourists—in between eating and drinking Boracay's favorites.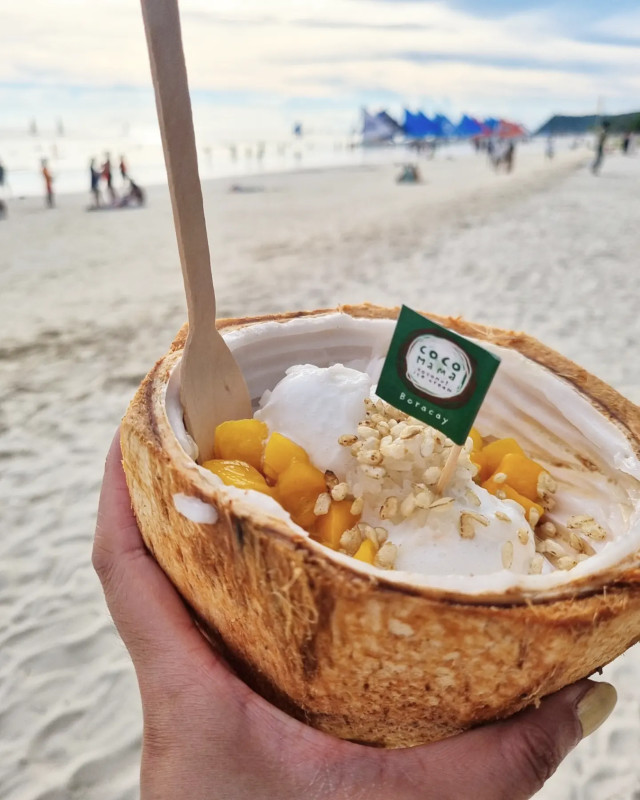 ADVERTISMENT - CONTINUE READING BELOW ↓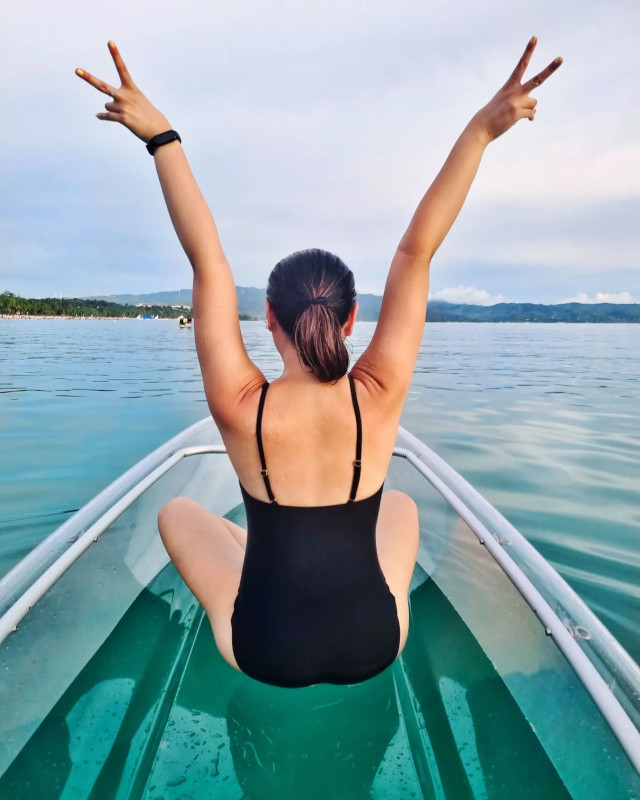 In the afternoon, I would spend hours swimming aimlessly and watching the sunset. Then at night, I would go around D'Mall and navigate the crowds of people so I could take myself on a solo dinner date.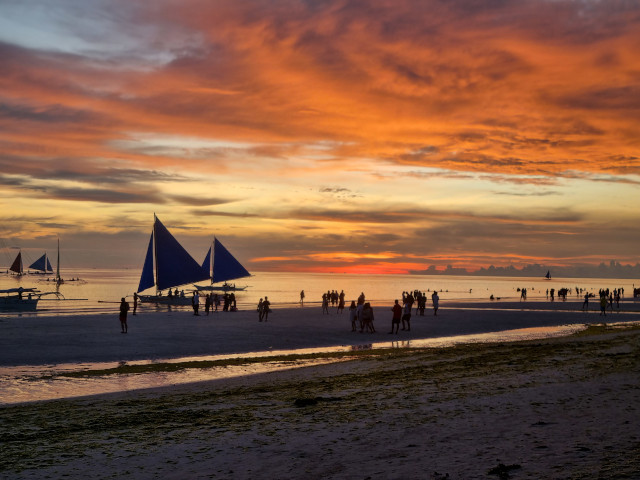 ADVERTISMENT - CONTINUE READING BELOW ↓
On days when I was still in the mood, I would go club-jumping and grab a cocktail from each place before leaving until the throngs of people came to the party. One night, I even found myself dancing on the free beach where a line of restaurants was blasting loud music, smack in the middle of strangers who were also there to just enjoy the vibe. Then I would crawl into my hotel room, tired until the next day starts again.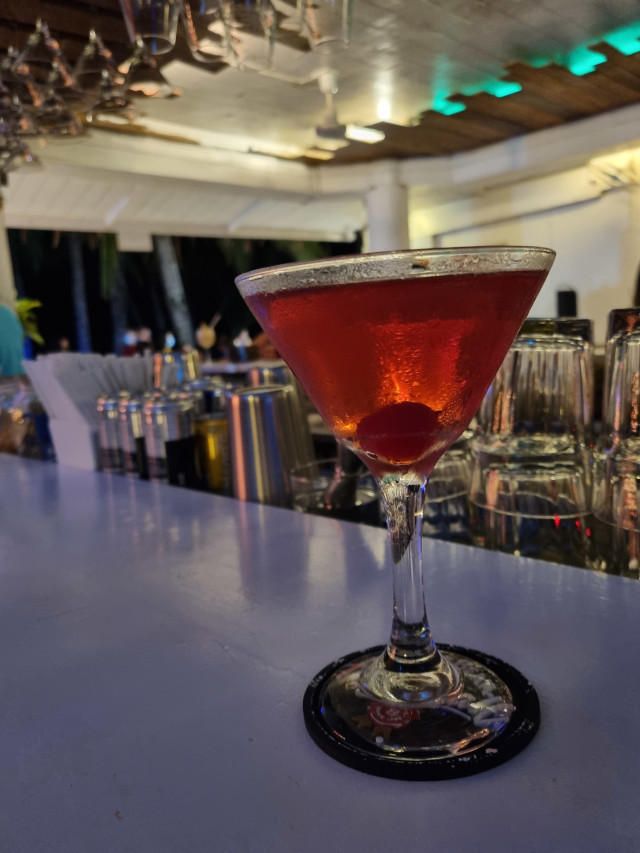 ADVERTISMENT - CONTINUE READING BELOW ↓
I was able to tick off two of my travel goals in Boracay in no time, except for one thing—find a date.
Full disclosure, the pandemic didn't really do any favors to my dating life. When I finally realized I had the choice to either follow through on my original plan or not, there was that huge part of me that wanted to back out just because it is something I haven't done for so long. After thinking about it, however, I also realized that being on one of the most beautiful islands in the country is the best, most poetic time to take the jump again as long I make clear boundaries and kept myself safe if I meet someone.
And I did, two days before the end of my trip where I matched with a guy who just landed in Boracay via a dating app. I was in the same area as he was when we started messaging so we decided to hang out for a bit. He was nice and polite and I felt at ease with him early on, though I still made it a point to make my plans for the night clear before we moved to another bar. I told him I was only there for a drink—which he respected—and I also made sure I kept my friends updated on my whereabouts via a location-sharing app. It was a good 'mini date' overall; he was an aspiring architect who was a month away from his board exams (he passed, by the way!) and he showed me photos of houses with designs he loves. I told him I am a writer—and that he might be mentioned in a possible story I might do for Cosmo LOL—and he listened when I talked. An hour before the island's curfew, he paid for my glass of beer and we parted ways.
ADVERTISMENT - CONTINUE READING BELOW ↓
So what did I get from this whirlwind travel experience? To be honest, I went to Boracay because I was tired of being single, but I surprisingly realized something else. The epiphany came to me while I was reading by the beach on my last day of vacation. The source of it was a paragraph from Clarissa Pinkola Estés' book "Women Who Run With The Wolves," where she talked about the pressure and expectations that society puts on women, and how they can sometimes affect the goals and standards that we put in ourselves. I asked myself: Do you really want what you want? Or do you only want it because it is what other people expect you to want?
I didn't want to find a partner, I simply wanted to belong.
I can't fully explain how powerful and eye-opening that moment was for me. I went to Boracay because I felt hopeless, but there I was, sitting by the beach, feeling more satisfied and happy than ever. I realized that my desperation to make the next move—find a relationship and probably get married—was not something that felt organic to me, but a desire that I started adopting because I felt left out by my friends. I didn't want to find a partner, I simply wanted to belong. I knew it because when I went around the island just doing activities on my own, I was sure I wasn't having any less fun than those who were with their partners or their families. I knew it because when the guy I met offered to grab a drink again before I left, I politely said no because I was enjoying the sunset view on my own and thought nothing else could make the moment even more perfect. Away from the flurry of marriages, engagements, and bachelorette parties, I came to the conclusion that I was... actually okay.
ADVERTISMENT - CONTINUE READING BELOW ↓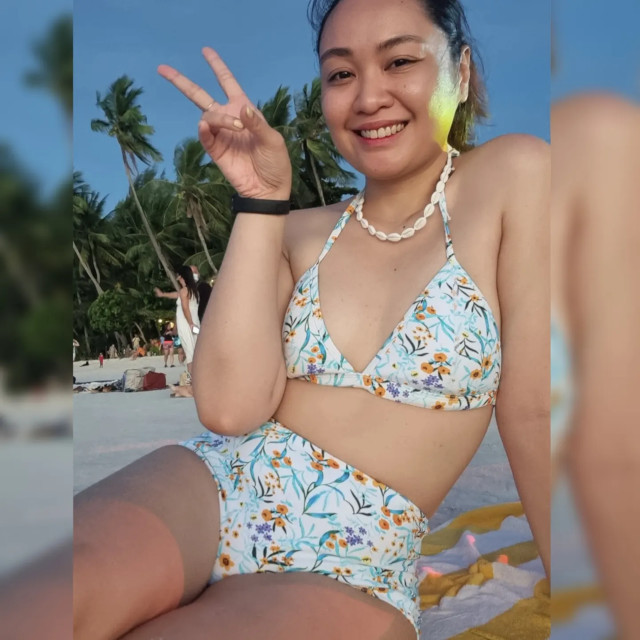 The only thing that made that moment of realization better is how my happily married and committed friends were so supportive of me, too. When one of them asked if I have any plans to go out on my last day and I said I'd rather spend the night alone, none of them said anything about how I should go on a date and use that time to get a boyfriend. When I told them how I realized I am happily single—and how I was just pressured by all the changes happening around me, they told me I wasn't anything less just because I don't have a ring on my finger or a toddler. They didn't assure me that the time will come when I might meet someone, because I might not—but that is okay if I feel okay. Maybe, in the end, I am meant to be the independent jet-setting godmother that all their kids need. Maybe, in the end, I really am going to be the token single lady in our squad, and still kick ass while holding that title.
ADVERTISMENT - CONTINUE READING BELOW ↓
I went to Boracay out of desperation, but I left it with a realization that has made me feel more aligned with myself than anything else. And though I am not entirely swearing off relationships or the possibility of having my own family in the future, I am at least comforted by the fact that I am happy where I am now, despite what some standards expect from me. If there was one big lesson that I really learned from the trip, it's that everyone should always go for the happiness that feels natural to themselves.
Am I single and alone? Yes. But I'm never lonely.
READ MORE ABOUT TRAVELING SOLO:
'I Wish I Knew This Before I Traveled Solo': 12 Useful Tips From Pinays
A Solo Traveler's Guide To Siargao
Here Are The Top 10 Safest Countries For Women To Travel Solo
FYI, You Can Visit These 66 Countries Visa-Free With Your Philippine Passport
ADVERTISMENT - CONTINUE READING BELOW ↓
Cosmopolitan Philippines is now on Quento! Click here to download the app and enjoy more articles and videos from Cosmo and your favorite websites!
EXPLORE COSMO