Tarot cards may seem like a hoax to most folks. Often relegated to scammer gypsies, and psychics trying to make a fast buck, their reputation doesn't offer up a lot of credence. These days however, a 78-card deck of tarot cards can be used as more than just a way of divining your future. A tool that embodies different archetypes encompassing the human experience, drawing a set of cards when you have a question in mind can open you up to your subconscious and connect you to answers you've had within all along.
Here's what's in the cards for you this week, based on your relationship status!
1. Single And Loving It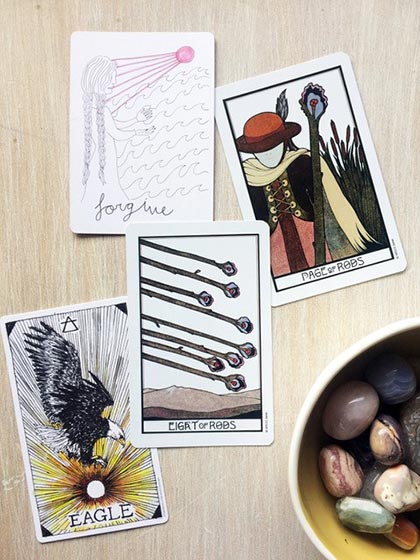 Nothing's more invigorating than a day out in the sun and sea. Do something impulsive and fiery—the Page of Rods never runs out of spontaneous ideas, and is always willing to run with them. The 8 of Rods talks about dynamism and speed—that feeling of going with the flow and hopping into an adventure. Whether you're going solo or bringing along all your other single friends, a spur-of-the-moment day trip to the beach will make a fun, free-spirited date. Reacquaint yourself with your inner power, the way the Eagle takes flight into the sun. And realize that as soon as you're ready to soak up the good vibes and breathe in the sea air, forgiveness for whatever romantic hang-ups you have comes a lot more easily.
ADVERTISMENT - CONTINUE READING BELOW ↓
2. In A Relationship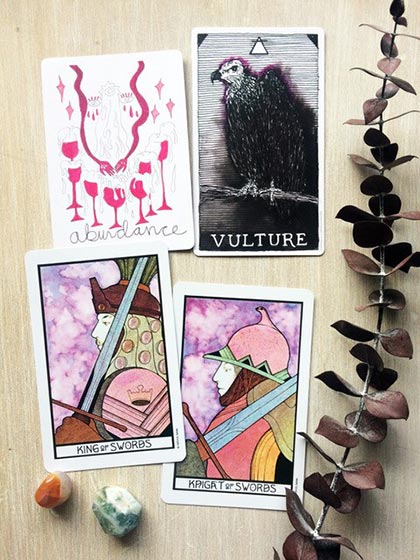 If you're in a relationship, your challenge this week is to take the cliché up a notch. Don't just do dinner—do a fancy degustation and discover the intricacies of your 10-course meal. Do a wine tasting and find out if your preferences match. The King and Knight of Swords are both intellectuals. They put a lot of weight on the mind over the heart, so take the idea of romance up to your cortex and let the banter be stimulating and sexy. The Vulture reminds us of the delicate balance we have to maintain if we're ever to sustain our relationships—languish in the abundance you each share and be willing to look each other in the eye and have an honest conversation.
3. It's Complicated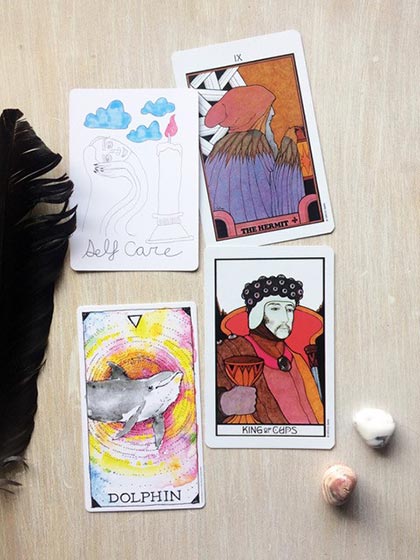 If you're stuck in a complicated are we or aren't we "relationship" this Valentine's Day, it'll do your heart a lot of good to indulge in some Self Care. Whether you're able to score a couple's massage with your partner or find yourself spending the 14th by yourself, take this time out to be tuned in to yourself. The Hermit reminds us to tune out all the noise and chaos going on around us so we can find out what we really want. The King of Cups suggests putting a halt to all the drama for a moment, to understand that things aren't okay but even for just one day, it's possible to be diplomatic and turn your attention to the self first. Ease up on the negativity by treating yourself to some luxurious pampering. Relationships are nothing if we aren't able to indulge in Self Care.