Security can mean different things to different people, especially in a relationship. For many, it's the security of exclusivity—knowing you're the only one they're dating. For others, it's emotional security—that beautiful feeling of finding a safe space in someone else. It can also be financial security—feeling assured that the future with your partner is going to be a steady, stable one. Here, 10 women share the exact moment they first felt secure in their relationships.
Louise & Rico
Louise: I met Rico when I moved to Dubai for work right out of college. When we started our relationship, we both thought that it wasn't going to last longer than a few months because he was already ready to settle down, but I was just starting to figure out adulthood. I was raised to be independent and be able to stand on my own two feet at any given time, and this caused so many problems for our relationship because I felt the need to figure out my problems on my own and not involve him.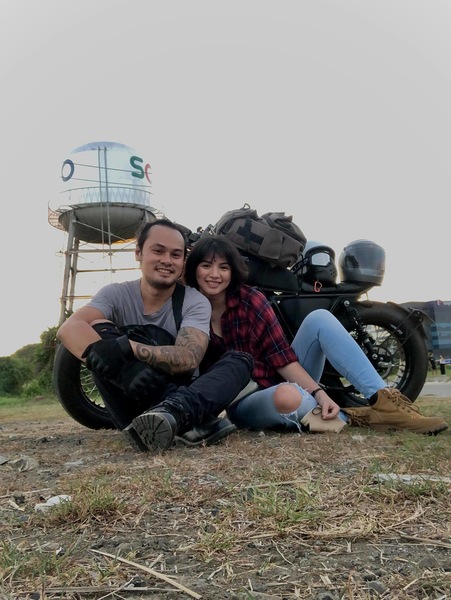 Continue reading below ↓
Recommended Videos
The moment I realized that he was in this for the long run was when he sat me down, talked to me how he wasn't comfortable being left out of what was going on in my life, and that if I really didn't want to involve him, he'll be okay to leave instead of us fighting because I didn't tell him I was going through something. It was something I've never experienced before, and it made me realize that he was truly my partner. The best part about it is that he never tries to fix my problems for me. He often gives me solutions and lets me decide if I should follow them, but he just really wants to know what's going on because we both realized I tend to keep a lot of things to myself. It feels nice to have someone to share my anxious thoughts with throughout the day—and to know that I'll be spending the rest of my life with that person.
Trish & Ian
Trish: It takes time to feel secure about anything. To me, I really do believe that consistency is key. I've been with my hubby for 14 years now, and all I can say is that we have been consistent from Day 1. Consistent in making each other a priority. Consistent on being open with each other. Consistent with always choosing the other one first.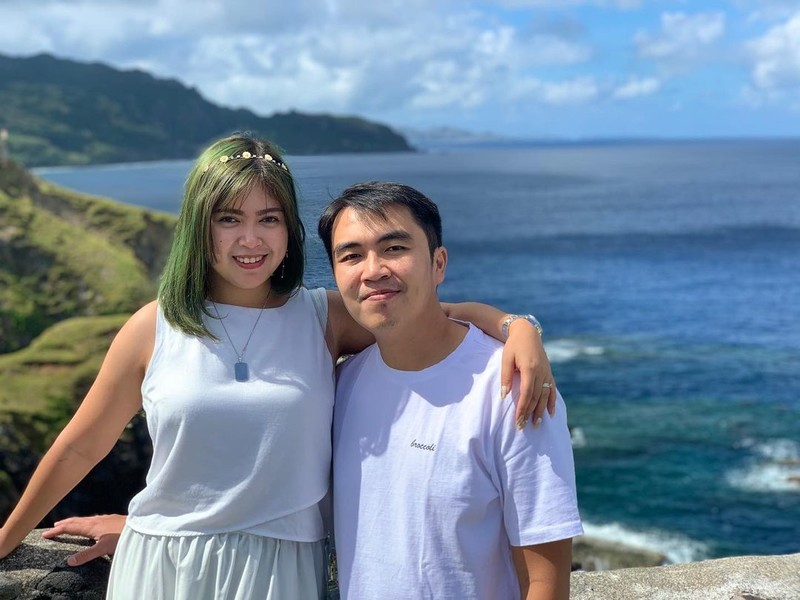 One of his shining moments was when he was still working at a call center agency on the graveyard shift. He would arrive home at 7:00 a.m. and sleep at around 8:00. He'd wake up at 11:00 a.m. to go to my office in Makati (he lives in Mandaluyong) just to have a one-hour lunch break with me, then go home and continue his sleep. He'd wake up again at around 6:00 p.m. to have dinner with me at 7:00 p.m., then he'd go to his 9:00 shift. He kept this schedule for several years. The dedication to that is just amazing. (Sa totoo lang, ang haba ng hair ko, haha!) If that's not consistent, I don't know what is.
Security doesn't come in a day. You feel it over time. It doesn't need grand gestures to be felt, but rather in the small things that both of you can carry out not just for the first three months of dating, but hopefully for the rest of your lives.
Mary & Giano
Mary: Giano and I had a pretty nerdy meet cute. We met because of collegiate debating in 2014. He was the judge in one round my team debated in (we lost), and we started talking to each other often afterwards. We just exchanged messages and phone calls for a couple of months because he was in Leyte then, and I was in Laguna. But life happened, we got into different relationships, and he worked abroad. Five years after we first met, though, things just worked out and we got together in Manila.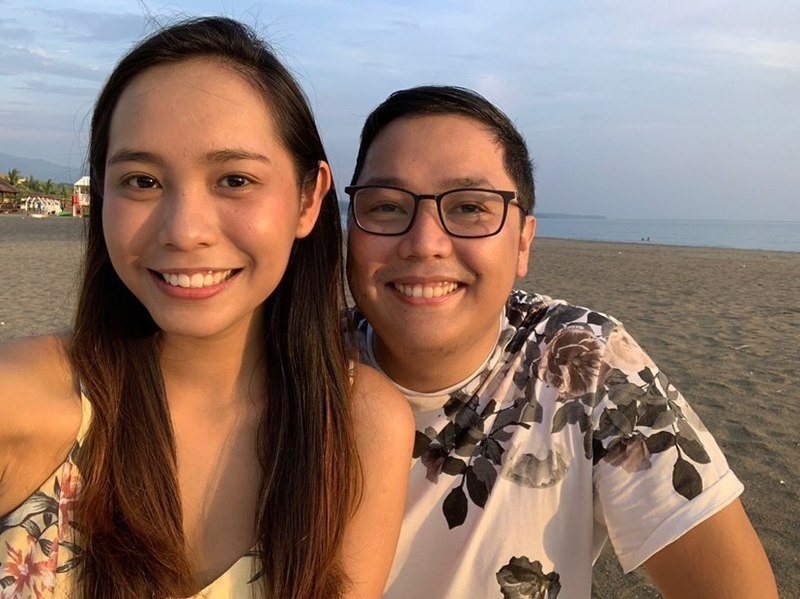 Because we had a connection years before we officially started dating, I've always felt a good level of security in our relationship. But if there's one thing that I think made me trust our relationship even more deeply, it would be that he encouraged me to work abroad even if we had only been in a relationship for three months back then. He was even the one who introduced me to the company that I now work for. He told me that if it were up to him, he would want me to stay close (especially because he had also just moved back from abroad and probably expected us to be near each other). But I vividly remember him telling me that the years I will spend abroad are just a fraction of the many decades we have ahead of us, so I should go ahead and pursue growth—even if it meant being apart for a while.
Alex & Carlo
Alex: Our relationship actually began on TikTok—what a 2020 way to start one, right?
One rainy evening, I decided to make a TikTok just for fun. I posted it on all of my social media accounts, just for my friends to see that I was trying to embrace new trends. I got a notification and was intrigued. Who is this guy? Little did I know, this guy would be the start of something amazing and exciting.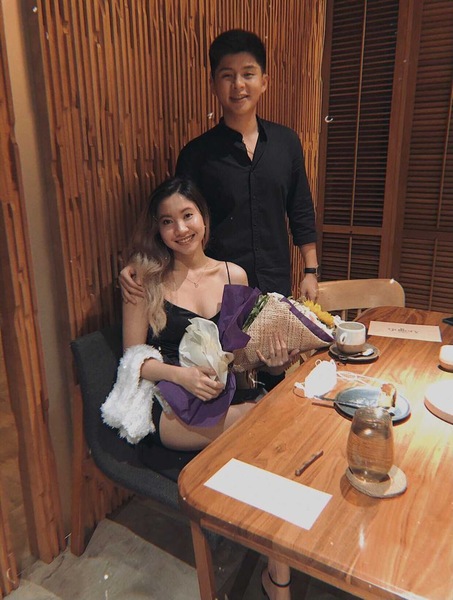 It took a couple of months before we finally decided to meet. It was a little bit awkward at first, but as time went by, we became comfortable with each other. We talked about anything, didn't feel the need to be "perfect" all the time, and even got comfortable enough to make fun of one another. And that's when it hit me—I was falling deeply in love with this guy. His presence was bringing me so much happiness, and I didn't want to lose him. I knew our relationship was secure the moment he looked into my eyes and told me, "Ikaw lang. Mahal na mahal kita," while putting a promise ring on my finger. I was safe.
Danielle & Arion
Danielle: We met in Spain more than two years ago (matched on Tinder, actually!) when we were each going through pivotal times in our lives. I can't pinpoint *the exact moment* I felt secure. Looking back, I think there were several mini-moments that led up to it. Maybe the most vivid instance was when he told me, a few weeks into dating, that he still spoke occasionally to his ex—whom he broke up with only a few months prior. When he said that, to my surprise, I didn't feel any jealousy or anxiety or anger. I even replied with something comforting. I took my reaction as a good sign that I didn't have anything to worry about.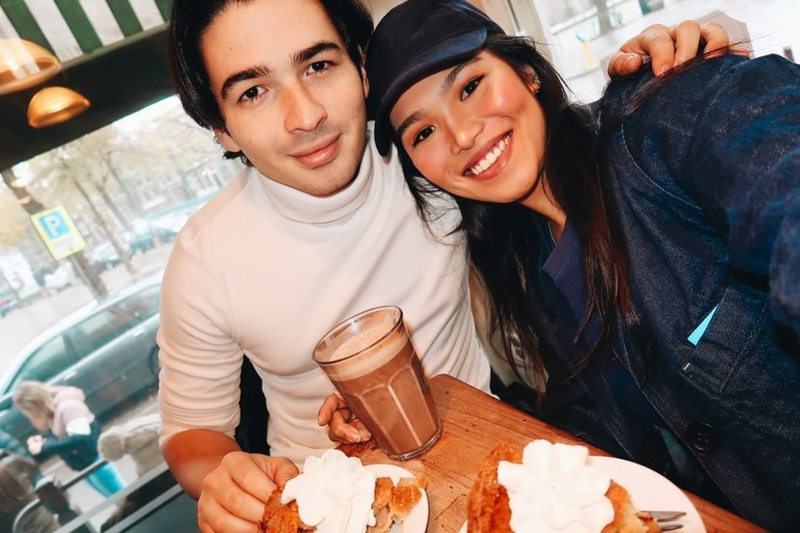 Arion is also the type to spoil you with compliments, and since my love language is Words of Affirmation, I always felt appreciated. The other instances were because of his directness. No matter what questions I'd ask him, he'd always give me a straight answer. We were super honest and vulnerable with each other from the very start. He never left me guessing, and I always knew where we stood. Currently we're a year and a half into a long-distance relationship (COVID sucks), but despite that, I feel as secure and confident in our relationship as ever.
Anya & Aeus
Anya: I met my husband at our previous company where we both worked as brand managers for our respective magazines. We became close when I got transferred to the same team (men's titles), especially during those times where we went to client presentations. I never expected us to happen at all, until small sparks flew as our friendship progressed. The stars aligned because when those sparks came he was single na, and I was that friend who was always there to support him. Boom, we just happened! Right there and then I knew na he was 'The One', because I always felt that I'd end up with someone who was a good friend.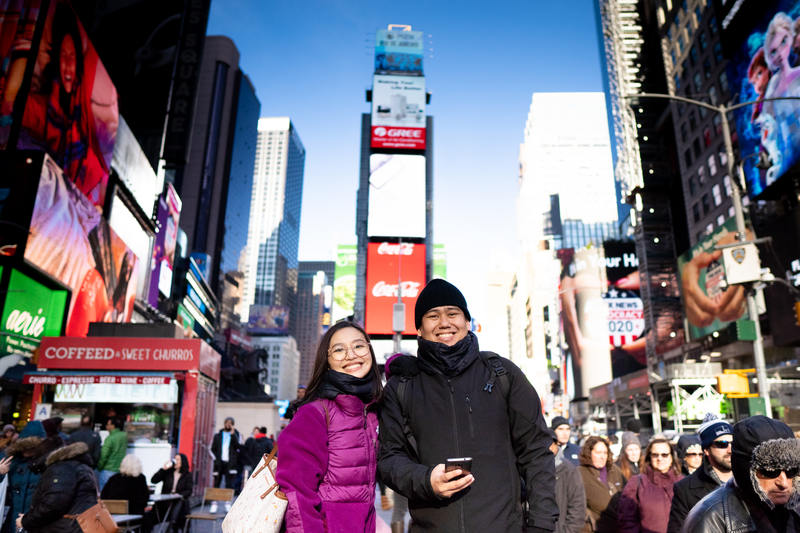 For me, the moment [I felt secure was when] he decided to take out a home loan so he could purchase the house & lot one house away from our current house. He did this before we got married, so that's when I felt secure financially. The plan is to continue living in his childhood home with his parents (he's an only child, so he will inherit this house one day), then have the other house rented out para self-liquidating yung loan, then eventually it becomes a source of passive income.
Agatha & Greg
Agatha: Greg and I first met in college. We were both taking Advertising Arts in UST but were in different sections. We became block-mates during our second-year NSTP class. It was completely unexpected. Had I enrolled on-site, I would have ended up in another section together with my friends. But for the first time, I chose to enroll online because I had a badminton tournament that day. That's how I ended up meeting him.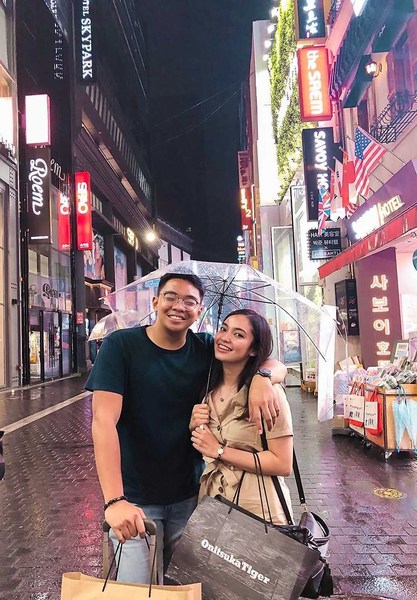 Since then, we became inseparable. At first, I thought it would be weird because we were polar opposites. You could say I was anxious, grade-conscious, and a little bit of a control freak. On the other hand, Greg was a chill, free-spirited guy. Because of his character, every time I got overwhelmed and anxious, he never failed to make me feel like the things I worried about didn't matter as much as my head was making them out to be. I always feel safe with him. I also never felt the need to impress him or take him on extravagant dates. We are happy lounging around and doing nothing on weekends. After seven years, I can say that our relationship is far from perfect. But I will always choose happiness and contentment over perfection.
Steph & Ken
Steph: [We met] on Bumble! Kasi sa Bumble, the girl has to be the first to message the guy after you match, right? I think what I said to him was: "Nice photo. How are you?" The rest is history.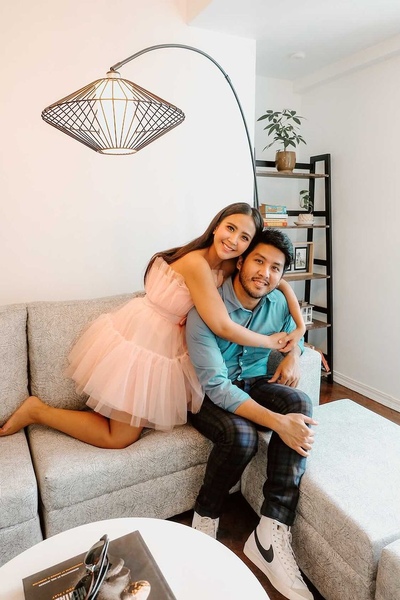 To be honest, I didn't realize I was so secure in my relationship with Ken until he asked me to marry him. As a woman, I didn't see marriage as a path I needed to take. I always told myself that I will get married when I want to not because I need to. I wasn't afraid to grow old alone. So when he asked me to marry him—I was so sure of myself, of our relationship. I said "yes" in a heartbeat.
KC & Stefano
KC: We knew of one another in college. But we only got past introductions when we bumped into each other at a party, and as cliche as it sounds, we just clicked. We've been together for over two years, and I can say for sure that this is the most secure, safe, fulfilled and loved I've ever felt in a relationship.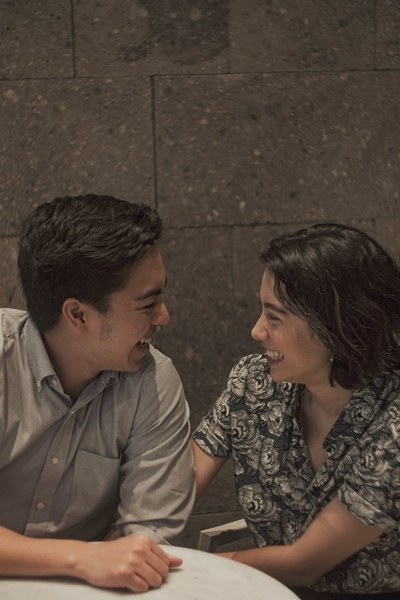 The first time I felt a sense of security with my partner was when I opened up to him about a time in my life where I felt so defeated. I was nervous because being vulnerable isn't my strong suit. But to my surprise, he didn't butt in or interrupt me as I explained how I felt. He never once invalidated my feelings or swept them under the rug. And he never ever made me feel like I was some damsel in distress in need of saving. Instead, he was there for me: He helped me in every way he could, but he also reminded me that I had to take the wheel and go through the crossroads of my life as my own person. It's safe to say that I am a much stronger person now because of him. We both are. To be able to share a life together and be unapologetically yourself at the same time—that's something special. Being with my partner made me realize that feeling secure in a relationship is waking up and being reminded that you are your own person, and that you are more than enough.
Alyssa & Jan
Alyssa: I think the moment I felt secure in my relationship was when I discovered my own independence and strength in it. It's not that I was never independent, or that I wasn't allowed by my partner to do certain things. Coming from exclusive all-girls/all-boys schools, I honestly would feel so jealous of literally any girl who would talk to him, hold his arm, or show even the smallest bit of interest...and it would always be a point of argument between us. Even two years into our relationship, I was so scared that we'd break up when he decided to go take a semester abroad. However, it was this time apart that I realized I was developing this sense of self-sufficiency and reassurance.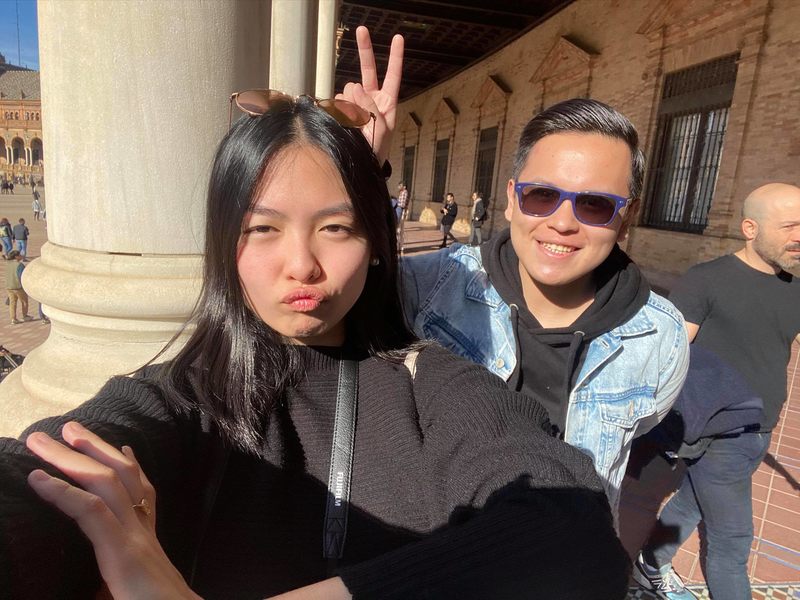 We've never been the type of couple to see each other every day, unlike a lot of couples in college. Time and wonderful fortune came for me to do my own term abroad, and there was never a moment I actually missed home. I discovered so much about myself and how capable I was of being on my own. It was at this point that I realized I could go days without talking to my partner, months without seeing him because without question, he lets me be whoever I want to be, and I aim to do the same for him.
CUTE COUPLES:
10 LGBTQIA+ Love Stories That Prove That Love Is Love (2021 Edition)
I'm In Manila & My Boyfriend Is In Korea: This Is How We're Dealing With Our Unintentional LDR
After 13 Years, I Reconnected With My Busmate And Now We're In A Long-Distance Relationship
***
Cosmopolitan Philippines is now on Quento! Click here to download the app and enjoy more articles and videos from Cosmo and your favorite websites!
Follow Chandra on Instagram.
Cosmopolitan Philippines is now on Quento! Click here to download the app and enjoy more articles and videos from Cosmo and your favorite websites!