In a country where family ties stay strong well into adulthood, how your parents and siblings feel about your partner is an important factor that could make or break a relationship. Below, we got five Pinays to share what it's like being with partners their families don't approve of, and what advice they can give other women who find themselves suffering from similar family drama.
"To all women, trust your judgment and follow your heart." -Elisse, 30
"We met in college, although it wasn't until 10 years later that we'd become a couple. He was always there for me but it took me a while before I finally gave him a chance, and maybe that's the reason why he proposed to me just two months after we got together.
My mom didn't like him because she wanted someone else for me. She tried everything to break us apart. She would lock the door of our house and not let him in whenever he would visit. She even talked to him and asked him to break up with me. When I got engaged, mom and I stopped talking so it was very difficult for me.
I felt the need to breathe, so I accepted a job offer in another city and told my then-boyfriend that I needed to think about things. Distance did not stop him, and he proposed to me again after a year. I said yes, but told him that I couldn't take care of the wedding because I was very busy. He assured me that he would take care of everything.
ADVERTISMENT - CONTINUE READING BELOW ↓
I told my family about our decision to push through with the wedding. Meanwhile, my then-boyfriend planned everything while I was away, such that I went home just 10 days before the wedding.
Maybe mom saw all his efforts, because things started to get better after the wedding. My family saw how he took care of me, how responsible he was, and how much he loves me. Now, I can say that everything between them is perfectly okay.
I used to be very segurista when it comes to love, so 'pag may konting problema, give up agad ako. But he never gave up on us. Never niya pinakita na nahihirapan siya. He was always assuring me that everything would be okay.
To all women, trust your judgment and follow your heart. Find the man who treats you best, someone who makes your happiness his priority, and allows you to comfortably be yourself. Find him and keep him."
"In the end, it's always your choice. No one else's." - R, 29
"Joseph and I met in film school. Everyone in my family loved him, or at the very least, tolerated him, except for my mother.
My mom had so many bad things to say about Joseph and how he was not making me a better person but the opposite, and that I could do better. She did think Joseph was a good guy; she just didn't think he was for me.
Joseph would always be invited to family outings, and my family was cordial to him. But my mom, who is an OFW, would always try to set me up with her foreign male coworkers who were my age—even when Joseph and I had been in a relationship for years by then.
She finally stopped trying to set me up with other men when I got pregnant. Her opinions about Joseph have not changed, but she now tolerates him better and is more careful with what she says.
It's hard to have to choose between your love and your family. You shouldn't have to choose. That's a rock and a hard place. But the best that you can do is try not to take sides, and be the common ground for the opposing parties. If you already know that your parent dislikes your partner, make the extra effort to show care or sweetness to the parent whenever you guys are together. Wala naman talaga silang magagawa kung talagang siya ang pinili mo. Just make them feel better about it na lang.
In the end, it's always your choice. No one else's."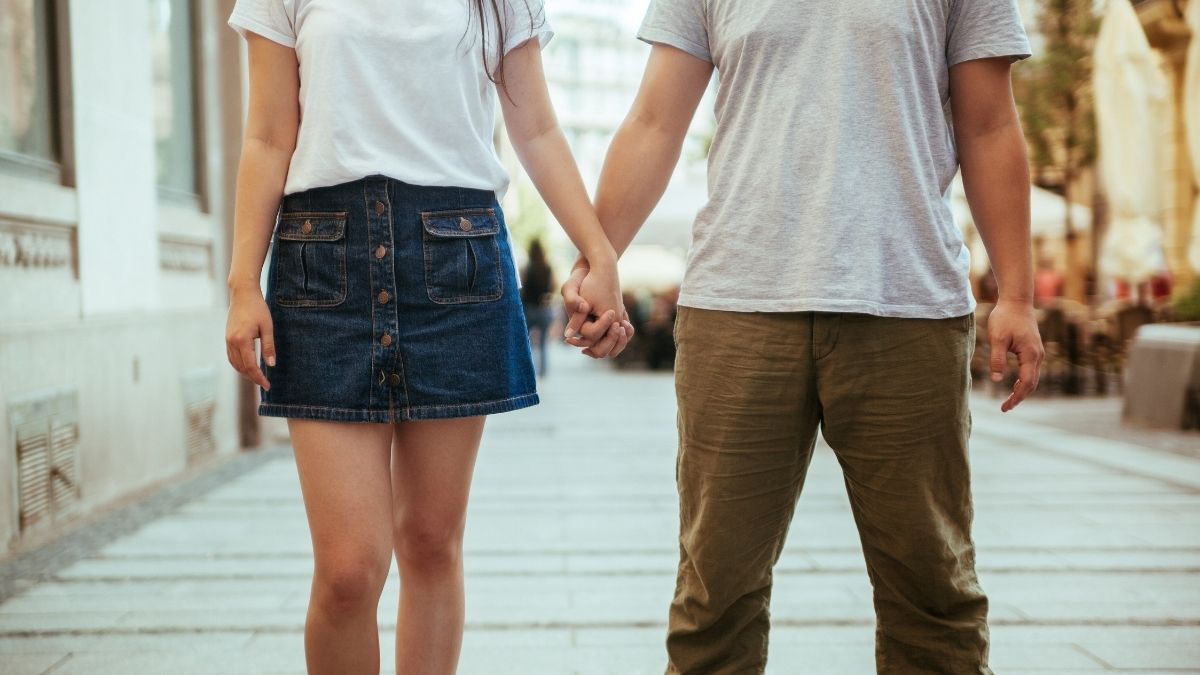 "Defying the odds in favor of true love led me to a happy and content life." - Yeng, 35
"I met my boyfriend after passing the dentistry licensure exam, ironically through our parents. While his parents approved of our relationship, my parents did not because they doubted my boyfriend's intentions toward me. So we had to resort to lots of secret rendezvous, and I had to make up excuses just to meet up with him.
ADVERTISMENT - CONTINUE READING BELOW ↓
In 2011, my dad and I had a huge fight partly concerning my boyfriend. I was then forced to move out of our house. A year later, my boyfriend and I secretly got married. My parents were heartbroken when they found out.
Fast-forward to 2017, my now-husband and I are living on our own. My mom eventually came to terms with our union, and she and my husband have been cordial to each other since then. I am still estranged from my dad, although I am hoping that one day he would accept the decision I made five years ago.
Our relationship has weathered many storms. I do not, however, regret most of the choices I made. In retrospect, I see that defying the odds in favor of true love led me to a happy and content life. Indeed, love wins."
"You have to stand your ground, even if it is hard." - Clarissa, 26
"My parents have always been conservative. Growing up, my sisters and I were discouraged from having boyfriends until we had graduated from college, so we ended up keeping our relationships a secret from them.
It was hard enough getting my parents to accept the fact that I had a boyfriend the first time. When I had my second boyfriend, it was [more difficult] for them to accept because I had gotten pregnant before I got up the courage to introduce him to them.
My parents were torn between not wanting me to end up with this guy they barely knew and wanting me to marry him right away so that our child would not be illegitimate. They wanted us to either break up or get married, and my boyfriend and I couldn't get behind that. We just wanted to stay together to ensure that our baby's entry into the world would go smoothly, but without pressuring ourselves to rush into marriage before we were ready.
It took a while, but my parents eventually accepted my decision to stay unmarried, yet stay with my boyfriend. They still haven't embraced him as part of my life, but I am hopeful that in time, they will.
I learned that you have to stand your ground, even if it is hard. In the end, you are the one who will have to live with your decision, so you have to make the choice na kaya mong panindigan."
"At the end of the day, your family will always love you no matter what you do." - Tala, 30
"We've known each other since fourth year high school. He tried to court me for two whole years, but we ended up just having a very close friendship. After five years of being friends, we just felt like there was more than a platonic connection between us. So we tried dating, and went on to date for five years before eventually getting married.
My family didn't like him, mainly because we come from extremely different backgrounds and upbringings. I'm the Catholic schoolgirl with traditional and conservative parents, and he's a self-proclaimed rock star who's unapologetic about who he is. At the time, his hair was longer than mine, he wore dirty-looking clothes, and had a tattoo—far from the ideal boy-next-door or professional guy my parents wanted for their daughter.
ADVERTISMENT - CONTINUE READING BELOW ↓
They didn't necessarily say or do something to break us up, but he wasn't welcome, and was in fact ignored, in our home. He wasn't the ma-PR type and was often compared to my in-laws or the boyfriends of my sisters who were pleasing enough for my family.
When I got pregnant, it was my parents who wanted me to marry him for the usual traditional reasons. I also believed that we should be together for our baby and our future as a family, so I didn't object.
Since then, my family has warmed up to my now-husband and vice versa, and I also want to give credit to him because he made the effort to somehow change himself to make my family feel that I was in good hands. My family also realized that they had to stop judging and start accepting people for who they are.
My advice? Stick to your decision. Family comes first, but if, with all your mind, heart, and soul, you believe that this guy is worth fighting for, then go for it. Because at the end of the day, your family will always love you no matter what you do. And eventually, the guy, if he truly loves and respects you, will also embrace your family as his own."
***