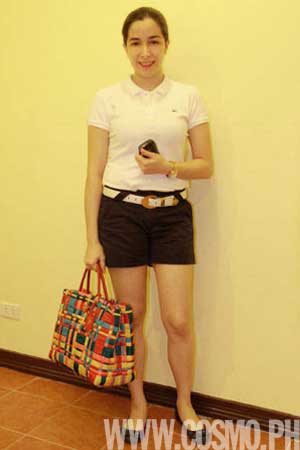 Shalani Soledad admits that a stylist chooses her glamorous wardrobe for TV5's early evening variety show Wil Time Bigtime. When she's not in front of the camera, however, she says that she's most comfy in casual clothes. When we caught up with her at her first fashion shoot for the cover of Preview Magazine's May 2011 issue, she was sporting a pair of simple shorts and a Lacoste shirt.

The Valenzuela councilor and TV host said this was actually the most comfortable getup for her. "I'm a T-shirt and jeans person. I'm comfortable wearing jeans," says Shalani.

During the shoot, the 31-year-old politician looked shy when she started putting on the monochromatic outfits prepared for her by the Preview staff. She admitted that she's not really used to wearing high-end outfits.  

"Ninenerbyos ako. It's not something na I would wear on a day-to-day basis so, ninenerbyos ako," she admits in an interview after the shoot.

Shalani also had the same feelings when she first appeared on TV as Willie Revillame's co-host. In fact, many viewers criticized her for her too simple and sometimes old-fashioned choice of clothes.

But now, the TV host doesn't have to worry about her daily outfits anymore. She now leaves the job of choosing the right clothes for the show to her stylist. "We do have a stylist for the show. And the show requires me to wear dresses every night," Shalani told Cosmo.ph.

She does display a taste for fabulous bags, as we can see in the colorful Prada bag she brought with her to the magazine shoot. Launch the gallery to find out what Shalani keeps in it.
Continue reading below ↓
Recommended Videos
1281