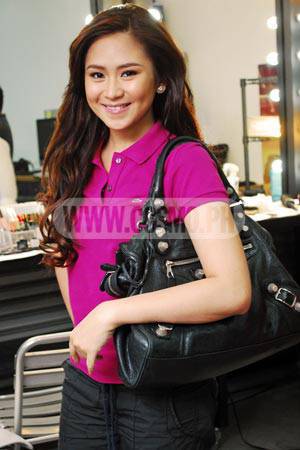 Well-loved singer and actress Sarah Geronimo is the perennial good girl of showbiz. She's been in the industry for eight years and has maintained her solid reputation as a show-stopping performer and blockbuster queen. You always see her in the limelight, but we're sure you're wondering what she's like on a regular day, when she's not recording an album, shooting a film or TV commercial, or attending movie premieres.

We got a glimpse of the real Sarah at the shoot for her December 2011 Cosmo cover, which took place at the Edge of Light Studios in Quezon City. Sarah arrived in a simple fuchsia polo shirt and pants, but what stood out was her fab Balenciaga bag. She was all smiles while we were prepping her for the shoot, and she candidly opened up about matters of the heart in her magazine interview (which you can read when you grab a copy!).

We noticed that Sarah does have a penchant for designer accessories, as you will see in her bag contents and even the glamorous shoes she brought to the shoot, which we included in our cover wardrobe gallery. We did find typical kikay stuff a 23-year-old girl carries in her purse.

Launch the gallery to find out what Sarah's daily personal essentials are!


Grab a copy of Cosmopolitan Philippines' December 2011 issue with Sarah Geronimo on the cover to read her exclusive feature entitled "Sarah When She Sizzles" (flip to pp. 32-36)! Click on this link to view the e-magazine teaser!
1688
Continue reading below ↓
Recommended Videos