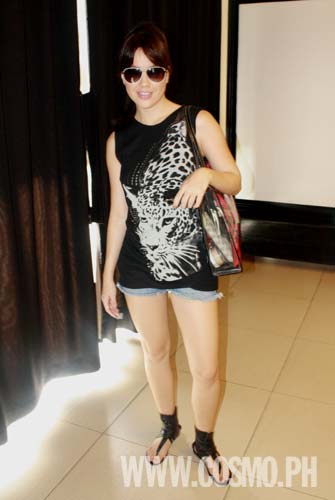 Amber Davis is known in the local music scene as the multi-awarded R&B singer/songwriter who is an advocate of original music--and a dead ringer for Mandy Moore. Despite her caucasian looks, Amber is Pinoy and proud of it. This 25-year-old Filipino-American singer has written numerous singles for local artists and ABS-CBN. In fact, she's the person behind ABS-CBN's 2008 Summer Station ID "One Team, One Summer" and 2009 Christmas Station ID "Star Ng Pasko."

At a Cosmopolitan fashion shoot last month, Amber arrived in a street chic outfit showing off her sexy legs: short denim shorts paired with a black graphic sleeveless tee and black sandals. While hairstylist Nhot Bituin was making her hair glamorous for the shoot, Cosmo.ph asked Amber if we could raid her bag. The singer told us that she didn't bring her real bag but offered to let us "check my car if you want."

Still, once her hair was done, Amber went to us carrying her cute transparent Victoria's Secret tote and told us, "This is all I have." She admitted that she just grabbed some random bag from her closet and stuffed her things inside for this shoot. Whoops!

Cosmo took photos of the things inside Amber's "temporary" bag, and found that she's very organized--she has pouches for everything! Looking through her stuff, we realized that she's a beauty junkie like any girl and has a sweet tooth: Amber has a stash of candy and granola bars in her bag. To see what else she brought with her to the shoot that time, launch our gallery by clicking the button below.
Continue reading below ↓
Recommended Videos
906