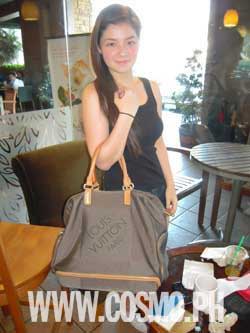 It's not only the temperature that's rising this month where Andi Eigenmann is concerned. The teen actress' star status is definitely on the rise, too, with her first starrer in ABS-CBN, the fantaserye Agua Bendita, currently doing well in TV ratings. Cosmo simply had to meet her and get to know her style more for you, our curious readers.

We've already asked her about her summer style; during the interview, the chic actress/swimmer came clad in a comfortable tank top, shorts, and a pair of cute sneakers. She also had her huge Louis Vuitton bag--which she calls her "shooting bag" or what she brings to shoots--in tow. The 19-year-old revealed that this LV is the very first thing she splurged on with her earnings (and the first luxury item she owned).

We know you're all eager to know what the young actress (more popularly known now as her characters Agua or Bendita) stashes inside her enormous bag. So we asked Andi if we could look through the contents of her LV to see her "shooting essentials."

Launch the gallery by clicking on the button below.



350
Continue reading below ↓
Recommended Videos