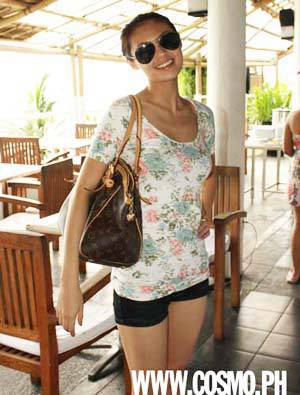 When you're a busy girl like Cosmopolitan Magazine's April 2011 cover girl Sam Pinto, you've got to be ready for anything. You don't have to be a model-actress like her to know there are sudden affairs you've got to attend (regardless of how haggard you were all day), spur-of-the-moment gimmicks you have to go to with your friends (because with your busy schedule, you otherwise won't see them), and last-minute trips you've got to pack for quickly.

Of course, you've got to look your best for each of them. So, what kikay essentials must you bring in your classy tote that will take you from day to night? What travel beauty loot can't you leave town without?

Let's take a look inside Sam's posh Louis Vuitton handbag, which she was toting at her Cosmo cover shoot in Nami Resort, Boracay. Sam took time out from a super hectic schedule to spend an entire day with Cosmo, and we were so curious about what things she packed with her on this quick but super packed trip. Even while she looked laid-back and beach-perfect in her shorts-and-top ensembles, she always looked so pretty! We do know she didn't have to pay overweight charges, so what did she wisely pack for that Boracay trip that kept her looking always ready for a closeup?

Launch the gallery to see Sam's summer travel essentials now.


Grab the April 2011 issue of Cosmopolitan with Sam Pinto on the cover, in stands now!
Continue reading below ↓
Recommended Videos
1066