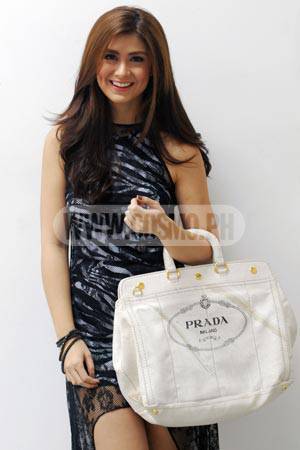 Back in 2009, we introduced you to then showbiz newbie Carla Abellana when she appeared on the cover of Cosmo for the first time. Two years later, the beautiful 25-year-old actress has become an even bigger star after garnering praise for her many film and television roles, and now makes her Cosmo comeback.

Carla arrived on the set of her second Cosmo cover shoot at the Edge of Light Studios in Quezon City bare-faced yet fresh-looking. She cheerfully chatted with the team as we prepped her for the shoot, so we took the opportunity to ask her if we could sneak a peek into her bag once again; she brought a white Prada handbag this time. If you'll recall, she also had a designer bag last time--a very organized Louis Vuitton tote. We checked out what new stuff she now brings daily, and we discovered that she no longer had any of the items we saw in her bag two years ago.

For instance, she didn't have her makeup kit, unlike last time, since she knew there would be a makeup artist at the shoot. The only personal care products she brought were her perfume and hand sanitizer. You've got to admire her ability to get by with just the basics!

Launch the gallery to see Carla's bare essentials, and watch for behind-the-scenes photos from her cover shoot, soon!


Grab a copy of Cosmopolitan Philippines' November 2011 issue with Carla Abellana on the cover to read her exclusive feature entitled "Bolder And Braver Than Ever" (flip to pp. 28-32)!
ADVERTISMENT - CONTINUE READING BELOW ↓
1606