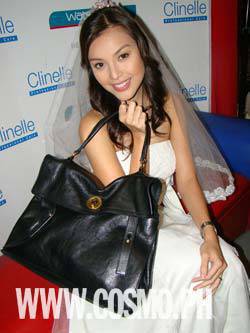 British-Chinese actress Carmen Soo was wearing a wedding dress when Cosmo.ph asked her if we could take a peek inside her bag. Carmen revisited the country recently to attend the official launch of the new beauty line she's endorsing, Clinelle.

Her Malaysian manager handed her a small white bag that matched the wedding dress, but Cosmo.ph insisted on looking at the contents of her own bag.

"My bag doesn't match my outfit!" she told Cosmo, as we took a photo of her carrying her black YSL bag that she bought during one of her trips outside her home country Malaysia.

As she opened her bag, the 32-year-old Malaysian-based actress turned red and immediately asked Cosmo.ph and SNN, which was also taking videos at that time, to turn off our cameras because she didn't want us to see what's inside her bag—the undergarment she wore prior to the event!

Check out the other stuff inside Carmen Soo's bag by clicking on the "view gallery" button below.


358
Continue reading below ↓
Recommended Videos