ICYMI, Filipino designer Michael Leyva just shared a photo (and video!) of a *gorgeous* sky blue gown he made for Miss Universe Philippines 2022 Celeste Cortesi. The fully beaded Swarovski gown has a halter neckline that extends into a midriff cutout, perfectly placed to highlight Celeste's arrow ink sternum tattoo. The eye-catching statement gown also features sexy side cutouts from her ribs all the way down to her hips, and the frontal figure-eight design emphasizes her curves. The pièce de résistance is definitely the diaphanous light blue cape, split into two along the back to give a more ethereal train effect.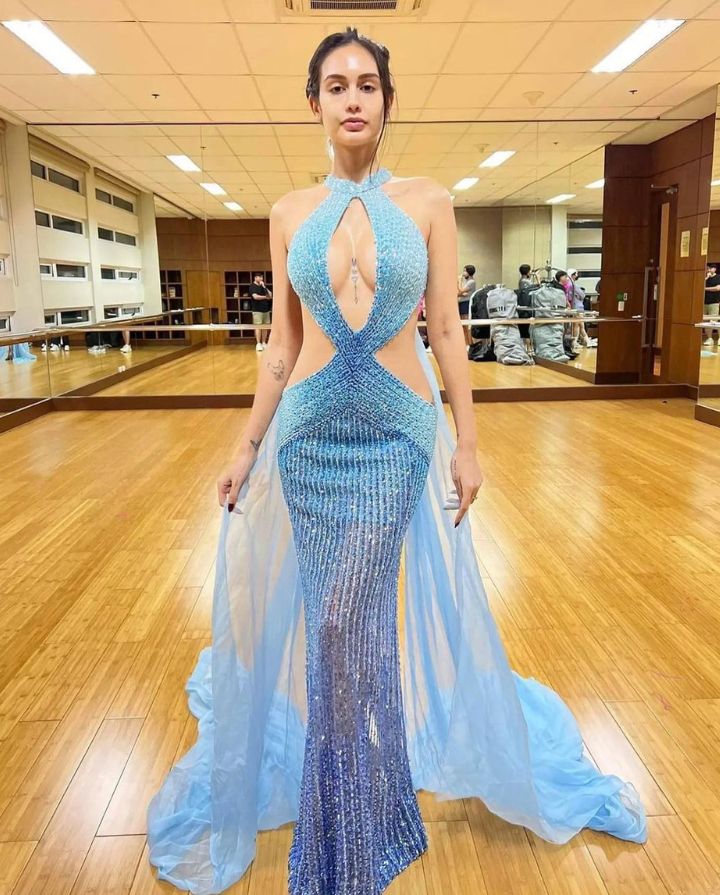 ADVERTISMENT - CONTINUE READING BELOW ↓
Overall, this stunning design reminds us of Celeste's evening gown worn during the national competition prior to her being crowned MUPH. Designed by Val Taguba, the "amazing creation" made Celeste's dream come true.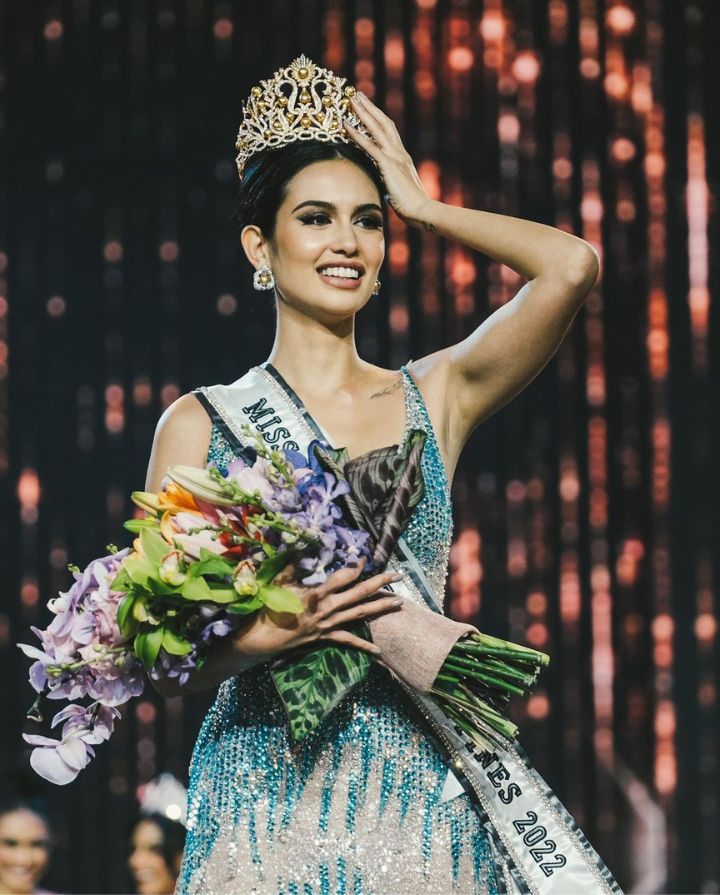 "'Celeste' in Italian means heavenly, sky blue...My dad would always tell me the wonderful story on how he chose to name me Celeste. After I was born, while he was holding me in his arms, he looked at the sky then he immediately knew my name would be Celeste. Celeste is the color I wanted to wear on the final night, in honor of my dad. In every step on that stage I would feel his presence right beside me, my guardian angel."
ADVERTISMENT - CONTINUE READING BELOW ↓
It's fitting that one of her gown options came in the color that inspired her the most! Cosmopolitan Philippines was lucky enough to have an exclusive chat with the designer, Michael Leyva, about the creative process behind the gown:
How long did the design process take, and was Celeste involved?
"Yes. We started in November with initial fittings, and the gown took two months to create. We chose the celestial sky blue color because it's her favorite, and I went with a sexy silhouette to accentuate her hourglass figure. I chose classic beading to compliment her naturally beautiful face and body because I wanted to give her a modern, youthful, not-your-typical pageant look. It should look very different from the rest [during] the evening gown competition."
What was the most difficult part about creating this piece?
"The time crunch. We had to schedule fittings in between her preparations [for Miss Universe 2022] before her flight to the U.S."
ADVERTISMENT - CONTINUE READING BELOW ↓
What is your favorite feature of the gown?
"Its sexy silhouette. For me, a gown's silhouette is make-or-break, if you put them in something that doesn't flatter [it's over]."
Can you share a fun piece of trivia about the gown for beauty pageant fans?
"The cape was originally going to be ombré, but then we went with one tone [light blue] so it didn't overpower [the delicate beadwork]."
If you could name the gown, what would you call it and why?
"'Celestial,' because she's a goddess."
READ MORE HERE:
Wow! Celeste Cortesi Wore A Darna-Inspired National Costume At The 71st Miss Universe Preliminary Competition
The New Miss Universe 'Force for Good' Crown Costs P316 Million
These Miss Universe 2022 Candidates' Stunning Gowns At The Preliminaries Were Made By Filipino Designers
Follow Andie on Instagram.