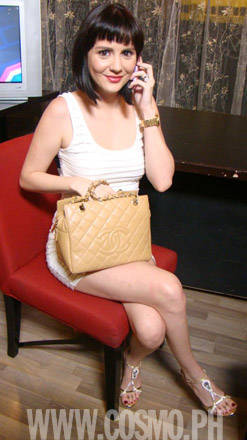 Cheska Garcia believes that motherhood should not keep women from taking care of themselves and feeling good about their bodies.

After giving birth to her daughter Kendra last year, the wife of basketball star Doug Kramer still managed to maintain her figure. Cheska says she doesn't have any special fitness secrets; she just follows proper diet and exercise.

"I eat and I enjoy my food but I don't over-indulge on foods I eat," says Cheska. "I eat ice cream pero konti lang. Hindi ako masyadong mahilig sa ice cream, same with cake. Basta I watch my weight in terms of that. It's not a conscious thing pero ganun lang talaga ako."

The Us Girls host also points out that her active lifestyle helps her stay in shape. She says, "I don't eat pork. I eat beef but minimal, not too much. I make it a point that I eat my vegetables and I have my fruits. I'm a soda drinker and I eat a lot of rice. Pero somehow, because I'm working and active naman kami dito sa Us Girls, lakad kung saan-saan tapos siyempre I have my daughter, kapag may mga afternoon walk, parang exercise na rin 'yon."

When it comes to keeping her relationship with her husband hot, Cheska makes sure that she still has time to go out on a date with Doug. During her interview with Cosmo.ph, she mentioned that she was dressed up because she would be going out with her hubby after the Us Girls press conference where we caught her.

She says, "I dress up for him, that's why I'm dressed up today because later we'll go out on a date. We dress up for each other. Siyempre, you have to spice it up a little, 'di ba? So, I make it a point [to] dress up for him, look nice for him. And siyempre, 'yung lambing, 'di ba?"

Cheska also stresses, "There's no problem [with] focusing your time [on] your baby and your family. But you also have to focus your time on yourself. You also have to feel good for yourself. If you feel good for yourself, you feel good for your baby, you feel good being with your husband."


Cheska was toting a gorgeous Chanel bag when we interviewed her, and she graciously let us go through its contents. Click through to the Gallery below to see what she had with her!
Continue reading below ↓
Recommended Videos
706