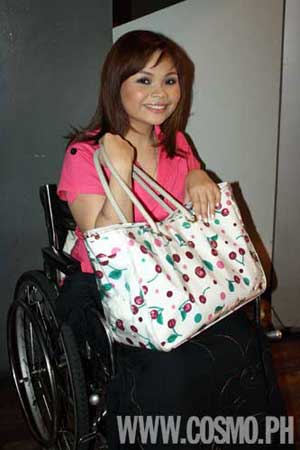 Raissa Laurel has been an inspiration to all of us here at Cosmo. Her survival story has touched the hearts of so many people, and her determination to finish law school despite losing both legs at the bar exam blast last year makes her an even bigger role model to admire.

It just so happened that her Fun, Fearless Female Awards shoot took place on a weekday, so Raissa toted with her a large carry-all containing all her law books and school stuff. Her practical (and adorable) cherry-printed rope strap bag is from online seller Bags In The City. After setting aside her school stuff, she allowed us to peer into the cute bag and see the kikay stuff she carries every day.

From eyeshadow palettes to shimmer waves, Raissa is definitely a makeup lover and girly-girl at heart. This is most evident in the Hello Kitty items we found hidden in her purse! Launch the gallery to see all the pretty things we discovered in Raissa's bag.
1204
Continue reading below ↓
Recommended Videos