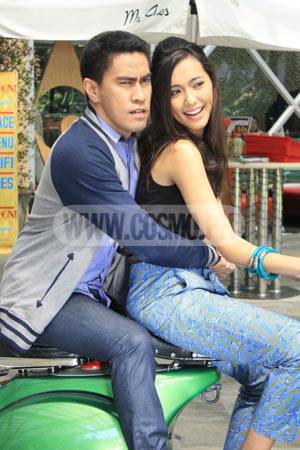 He's made you laugh with his numerous TV, radio, and hosting gigs, but now it's time to see another side of Ramon Bautista: We nabbed him for our January 2012 fashion editorial "Mod About You" (pp. 116-123), where he got to show off his modeling chops while posing alongside fellow funnyman Lourd de Veyra (watch for our exclusive interview with him!) and hot model Michelle Panemanglor.

Shot on location at Mr. Jones restaurant in Greenbelt 5, the editorial revolved around sixties-inspired fashion that are wearable even in 2012. Photographer Jo Ann Bitagcol captured the comedian in action as he rode a Vespa, engaged in a foosball battle, and "competed" with Lourd for the "attention" of Michelle.

After the shoot, we chatted with Ramon about his modeling stint, his personal fashion sense, what he looks for in women, and his thoughts on the New Year. Read his funny interview below!

How does it feel to be part of a fashion editorial?

I feel great being part of the fashion ed 'cause I'm really a fashion icon, myself. It's a big honor for me to be part of Cosmo because it's like a bible for those who are into fashion--like me.

What was it like working with your co-models, Michelle Panemanglor and Lourd de Veyra?

It's a memorable experience with Michelle. She's very sweet, thoughtful, and loving. I think she's my ideal girl. Lourd is also very cool. He's very witty, he's funny, he's fun to be with. And I find him physically attractive, like me. I think he's an ideal guy also.

How would you describe your personal style?

My personal style is this (gestures to his outfit). I like to wear winter clothes, especially here in our climate. In the high noon, I wear long sleeves and warm clothes. I think it's comfortable.

Which celeb do you look to for style inspiration?

My celebrity style icon is Ramon Bautista. Oh--that's me. Gotcha there!

What fashion item do you collect?

I collect bacon briefs because they're easy to wear. It's fun to wear and I feel right at home in them, at home and outside my house.

What kind of outfits do you like seeing on girls?

My shirts, after we do it. It makes me feel very close to them. It's very personal and I find it very sexy.

What kind of outfits do you not like seeing on girls?

What I don't want to see on them are other men's clothes because I feel like it's dirty, you know? It kind of makes them malandi and slutty. Girls, stop that.

Would you let your girl dictate your style?

Yeah, of course! I'd let a girl dictate my style if she reads Cosmo Magazine 'cause she's reading the right stuff.

Name the top three traits you look for in a girl.

Number one: I like it when they smile with dimples, especially if they smile at me. Number two: If they're confident and not trying to hide their assets. And the third and last trait I look for in girls is that they should like me. If they don't like me, I don't like them either. The feeling is mutual, baby!

What's the sweetest thing you've ever done for a girl?

Being myself. I think changing yourself is a very big deal.

Give five confidence-boosting tips for Cosmo chicks.

Number 1: Stay away from a pangit boyfriend 'cause these guys, they pull you down to their level and make you feel like you're pangit also.
Number 2: Stay away from pogi guys 'cause you'll lose more self-esteem.
Number 3: Stay with guys like me. I'll make you feel good and feel good about yourself.
Number 4: Don't be afraid to wear what you're comfortable in, like the perfect shorts [that are] very short. It's okay. There's nothing to be ashamed of.
Number five: If you have big boobs, don't be afraid to show them. It's something to be proud of!

What's your New Year's resolution?

I don't have New Year's resolutions 'cause I have promises to be made everyday.

What was your best memory of 2011?

There are many to mention, and maybe the fireworks display is the best I've ever seen. I'm just thankful to be alive for 2012.


Launch the gallery to see behind-the-scenes photos from Ramon's fashion shoot!

See Ramon in the "Mod About You" fashion editorial in Cosmopolitan Philippines' January 2012 issue with Bea Alonzo on the cover--in stands now! Watch for our feature on Lourd de Veyra, soon!

ADVERTISMENT - CONTINUE READING BELOW ↓
1759
ADVERTISMENT - CONTINUE READING BELOW ↓
Recommended Videos
EXPLORE COSMO