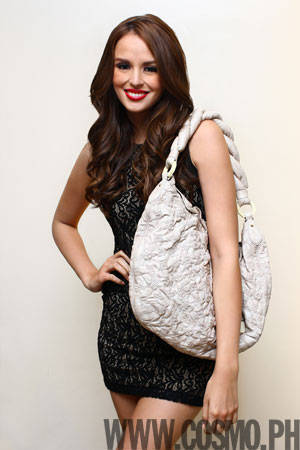 We snagged yet another opportunity to take a look inside the bag of former Cosmo cover girl/model/VJ Georgina Wilson. It's her third What's In My Bag? feature, but we know we'd always find loads of pretty new things in this "it" girl's designer totes.

Her bag that we first peered into is a Louis Vuitton Epi Leather Speedy 25 bag, back in January 2010, at a music video shoot. Then we got to check out the contents of her brown Balenciaga purse on the set of her December 2010 Cosmo cover shoot. Now, we'll show you what's inside the white Louis Vuitton tote she brought to her Haagen-Dazs photo shoot with Phil Younghusband at SM Megamall. (FYI, Georgina and 2011 Cosmo Men cover guy Phil are the ice cream brand's first Philippine ambassadors!)

Georgina was running in and out of the dressing room during the photo shoot, trying on different outfits and getting dolled up. The it-girl is a self-confessed makeup enthusiast--which is proven by her well-stocked two kikay kits!

As a treat, we'll show you what's inside both makeup pouches and the rest of the contents of her designer bag. Launch the gallery to find out if Georgina carries the same photo shoot essentials as she did last year, and see what the new items are.

And, if you haven't already, check out our list of 20 most popular celebrity bags featured on Cosmo.ph since 2010! We think Georgina's bag is a strong contender for next year's fave bag list, do you agree?
Continue reading below ↓
Recommended Videos
1509