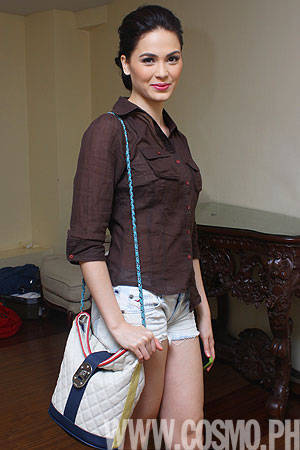 Kristine Hermosa has taken time out of the spotlight since her pregnancy was announced last May, as she and husband Oyo Sotto await the arrival of their firstborn. But, before the news broke, Cosmo was able to catch up with the 27-year-old actress, not just for her June Cosmo Bride feature, but also to give you a second peek at the things she can't leave home without. Have her essentials changed along with her priorities (and status)?

The first time we got to check out Kristine's belongings was in August 2009, when she carried a simple and practical Tod's bag that contained loads of lip products and nifty gadgets. This year, when we saw her at her Cosmo shoot, she had a fun and playful tote that showed off more of her colorful personality.

She lets her bag take center stage by pairing it with her simple polo-shirt-and-denim-shorts combo. Take a styling cue from Kristine by adding a standout piece—like a colorful purse or statement-making shoes—when you want to keep the rest of your outfit basic and/or neutral. It's a great way to look hip and trendy--as Kristine does.

Looking at the contents of her nautical quilted bucket bag from Mango, we spotted a trend in Kristine's daily stash. A pair of chic sunglasses, an up-to-date digicam, a reliable lip balm, and a pocket fragrance are still must-haves in her purse, though she's switched things up in the last couple of years. She's also still very much a gadget gal, having upgraded her old iPod Nano to a handy iPhone.

Launch our gallery of items inside her current bag and see how this hot momma-to-be upgraded the contents of her old purse. Maybe your bag and its contents could use an update, as well!

Continue reading below ↓
Recommended Videos
1413