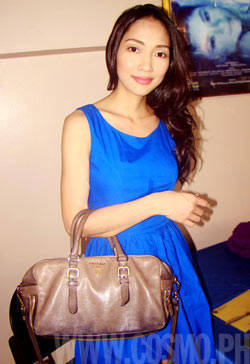 A reporter should always be prepared for any scenario, given the extremely fast-paced nature of her job. This is probably why showbiz reporter Marie Lozano makes sure she has all the essentials for her job (including a camera and cell phone) inside her bag before she leaves the house.

The TV Patrol Star Patroller was busy covering a summer party organized for the Agua Bendita cast when Cosmo asked her if we could raid her Prada handbag.

She agreed without hesitation but, of course, we had to let her do her job first. She had to interview Agua Bendita stars Andi Eigenmann, Jason Abalos, and Matteo Guidicelli for the primetime news telecast on that day.

When she was done chatting with the stars, Marie let us go through her bag while she freshened up. (She got a bit wet while interviewing Andi in the pool.)

Marie told us she uses her phone and camera to document all events she attends for her personal files. She also keeps basic makeup products, which are important for quick touch-ups before she goes on-cam. She also keeps Advil capsules, in case of emergencies.

To see the other things a reporter like Marie brings to work each day, click on the 'View Gallery' button below.
Continue reading below ↓
Recommended Videos
422