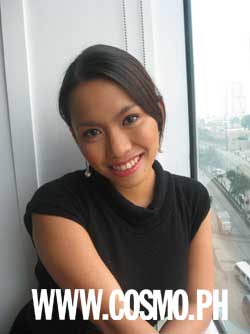 In her
winning entry for Cosmo's Make Over Your Life year-long campaign
,
Amie Perez
gamely spoke about wanting to learn how to look hot and have nice, flawless skin. She also opened up about wanting to fall in love again. So for her first Make Over Your Life activity, Cosmo asked makeup artist Al de Leon of the Makeup Forum to give her tips and tricks for doing
her own date makeup
--not only to possibly help her snag a hot date in time for Valentine's day, but more importantly to arm her with the right tools and beauty tips she can use everyday.

We've shared with you her how-to video, and we've even posted her reaction to her first makeover activity, complete with behind-the-scenes snapshots. Now, we'll share with you what makeup tools Amie now totes inside her look-fab date kikay kit, which she brings with her everyday. Just in case.
ADVERTISMENT - CONTINUE READING BELOW ↓
295