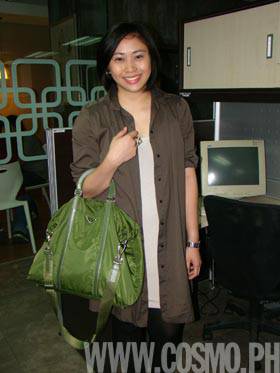 A lot of you have been asking for a look inside the bags of members of the Cosmo team, and this is us giving in. Since November is fashion month in Cosmo, we asked Cosmopolitan's associate fashion editor Happy Lopez to open up her bag to us first.

We were surprised when we saw the number of things she always carries in her bag--they are a lot! According to her, most of these are her essentials.

At that time, Happy was lugging a huge green Prada bag. However, she was quick to clarify that she isn't really fond of buying designer bags or bags in general. In a year, she said, she buys an average of just three bags. She usually shops in Charles and Keith, which she considers her source of "everyday bags."

When buying a bag, Happy says she looks for "style and size. Mabitbit ako. I bring a lot of stuff everyday, so kailangan malaki siya. Then, I can just dump all my stuff in."

Happy also considers functionality every time she checks out bags in the malls. She adds, "I go for classic styles that I can use for a long time. That's why I don't buy bags as much as I buy clothes or shoes kasi I usually pick styles that are classic and hindi masyadong trendy."

See what items Cosmo's associate fashion editor brings to work everyday when you launch the gallery by clicking the button below.
Continue reading below ↓
Recommended Videos
803