It takes a second to spot a regal gown and instantly recognize that it is from Michael Cinco's atelier. Though the designer has developed a signature style that's easy to spot, his creations have one thing in common: They all astonish. A favorite among Hollywood stars, local celebrities, and society darlings, the Dubai-based Filipino fashion designer has demonstrated a 'go big or go home' attitude through his couture creations, featuring intricate beading and exquisite materials in most of his masterpieces.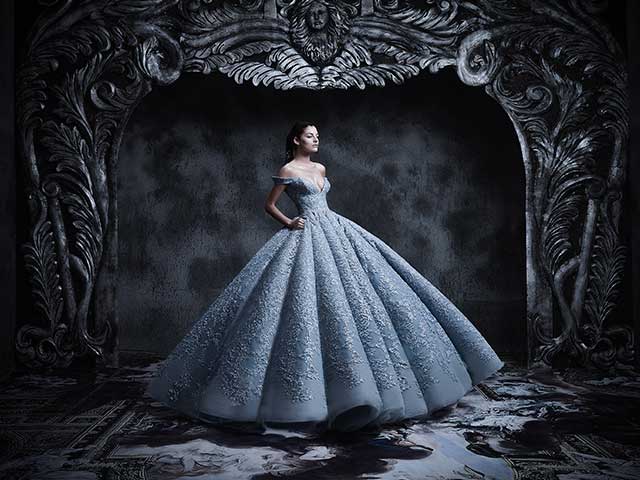 ADVERTISMENT - CONTINUE READING BELOW ↓
His portfolio is a dream for many fashion designers. Among the people he has dressed are musical heavyweights Jennifer Lopez, Lady Gaga, Rihanna, and Beyoncé, actors Sofia Vergara, Aishwarya Rai, James McAvoy, and Nick Jonas. In 2014, he was among the distinguished awardees honored by former President Benigno Aquino Jr. for his contributions to the fashion world and was given the Presidential Award for Outstanding Filipinos Overseas.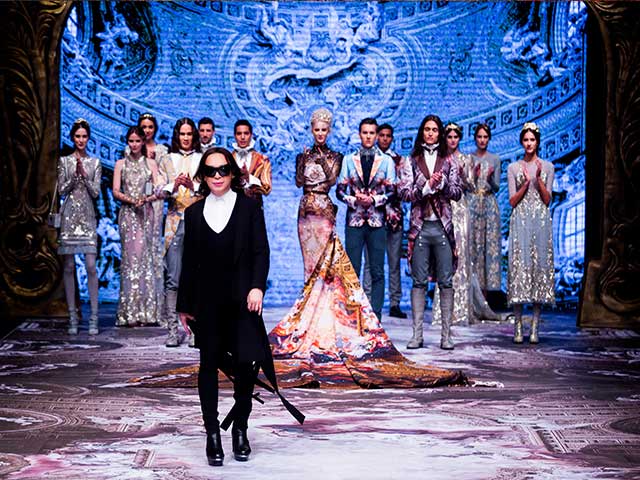 Cinco's foray into fashion design began when he moved to the Middle East. "[It] was a big leap for me," he said, "the region is a haven of haute couture. In my first job in Dubai, I reinvented the image of a slightly staid fashion house and succeeded in injecting new fashion nuances." He chased bigger dreams by traveling to the fashion capitals of Paris and London in 2002. It was London that captivated him and made him realize his desire to keep seeking inspiration and honing his craft. Immediately after completing a program at Central Saint Martin's College of Arts and Design, Cinco returned to Dubai refreshed. He established his eponymous label in 2003.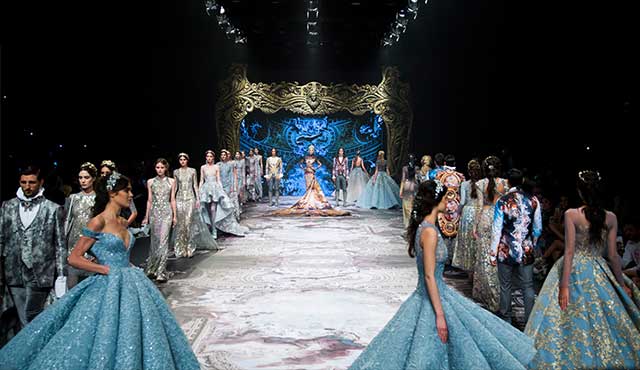 ADVERTISMENT - CONTINUE READING BELOW ↓
Cinco says his inspiration typically comes from different cultures and histories. "I travel a lot and I love visiting museums to be inspired by the arts, paintings, architecture, and people on the street," he adds. "I'm also inspired by the beautiful costumes in classic Hollywood films and my love for opera music." As Cinco was growing up on the island of Samar, he frequently watched iconic Hollywood movies and found muses in their actresses, namely Marlene Dietrich, Grace Kelly, Joan Crawford, and Audrey Hepburn.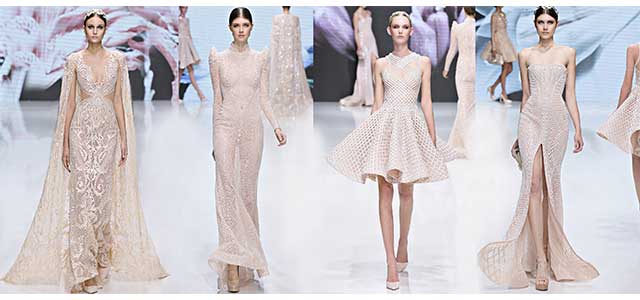 ADVERTISMENT - CONTINUE READING BELOW ↓
While he's designed hundreds of stunning gowns, the one that holds a special place in his heart is the wedding gown of Victoria Swarovski, the Swarovski crystal heiress who tied the knot in a romantic ceremony in Trieste, Italy in 2017. The Cinderella-esque gown, which was decked in layers of Swarovski crystals, would go on to be remembered as one of the most expensive wedding gowns in history.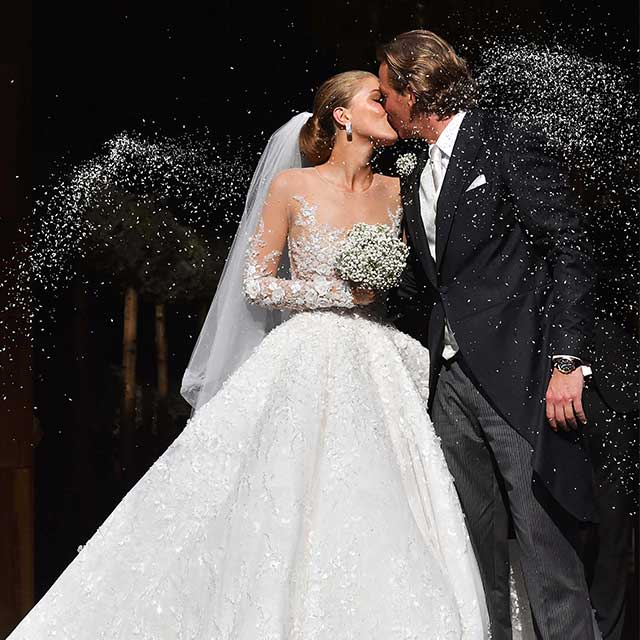 ADVERTISMENT - CONTINUE READING BELOW ↓
Another exciting project was commissioned by Bollywood actress Aishwarya Rai, who donned a butterfly-patterned train to the Cannes red carpet premiere of Les Filles du Soleil in May 2018. The show-stopping number featured a 20-foot long cape embellished with his favorite Swarovski crystals. He recalls that it took him 3,000 hours to finish the gown.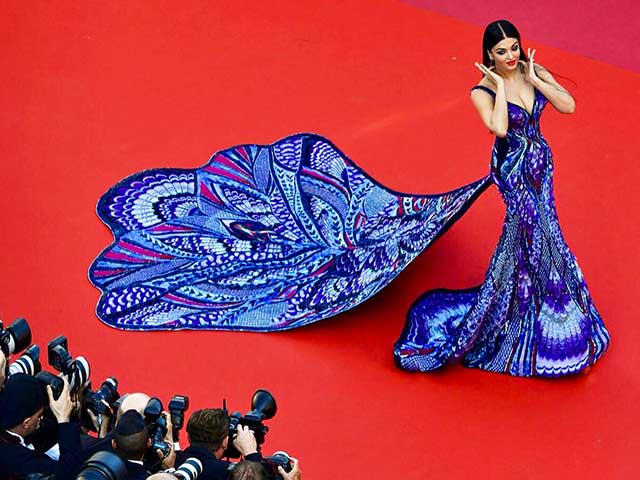 ADVERTISMENT - CONTINUE READING BELOW ↓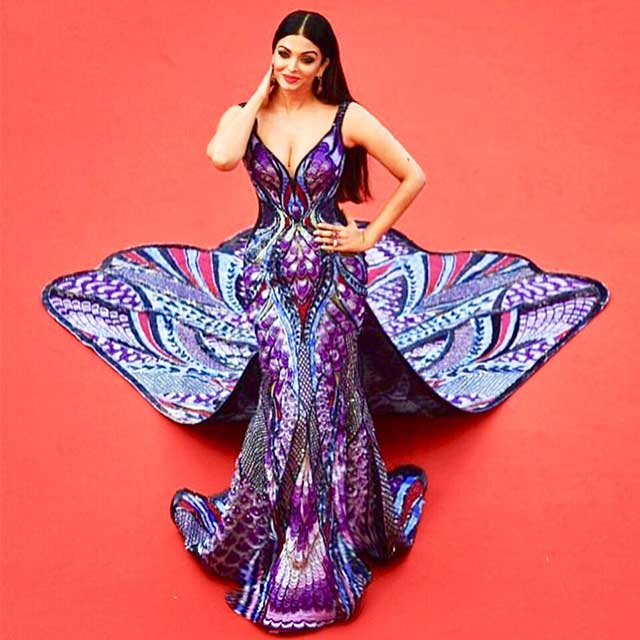 Every Michael Cinco gown is a masterpiece in its own right. However, some pieces stand out. "These are special because each piece is made from high-quality, expensive, and often unusual fabrics. They are sewn with extreme attention to detail and finished by some of the most experienced and capable sewers through time-consuming and hand-executed techniques."
ADVERTISMENT - CONTINUE READING BELOW ↓
Beyoncé's Cape in Unwanted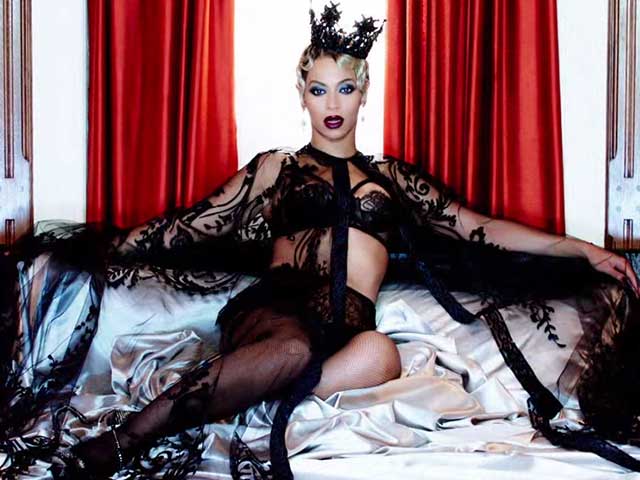 Who says Cinco's forte lies in gowns alone? In 2013, he created this customized piece for Beyoncé, which eventually appeared in her music video for Haunted. The black cape also came with a crown decked in crystals. The sheer cape was later sold at auction for $4,687.
ADVERTISMENT - CONTINUE READING BELOW ↓
Lady Gaga's Costume in American Horror Story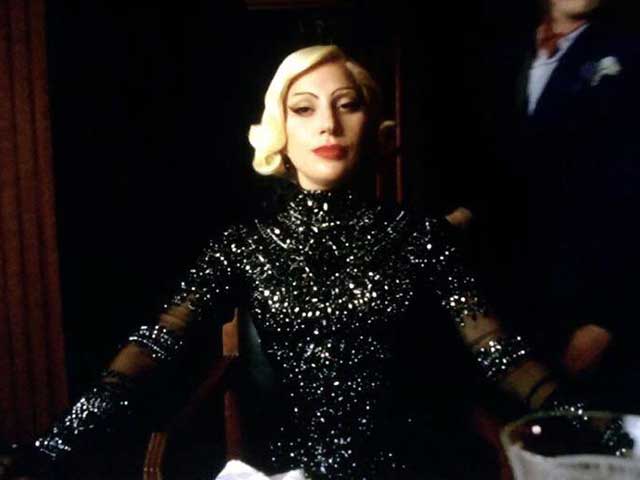 Lady Gaga wore a Michael Cinco creation, not just once but twice. The singer chose a red haltered gown from Cinco's fall-winter 2016 collection to wear to the New Year's Eve jazz concert in Las Vegas. She was also dressed in a stark black but glittering creation in an episode of American Horror Story.
ADVERTISMENT - CONTINUE READING BELOW ↓
Rihanna's Harper's Bazaar Arabia Cover Shoot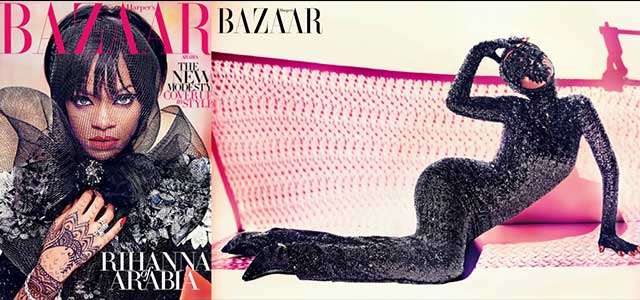 When Rihanna graced the July 2014 cover of Harper's Bazaar Arabia, she sported a black second skin dress on its inside pages, which came with a mask that covered almost her entire face.
Jennifer Lopez's Stained-Glass Window Dress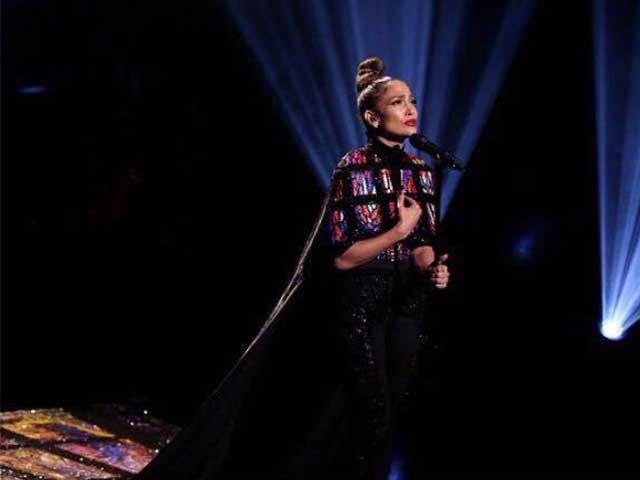 ADVERTISMENT - CONTINUE READING BELOW ↓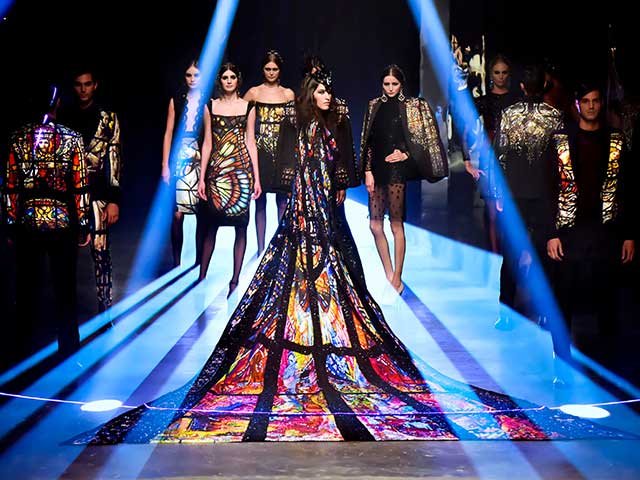 The versatility of a Michael Cinco creation was put to the test when Jennifer Lopez donned one of his couture gowns with a 20-foot cape to her performance on The Tonight Show in July 2016. The whimsical cape featured a likeness of the glass windows at the Sainte Chapelle in France, one of his sources of inspiration for his spring-summer 2016 collection. The figures on the cape were hand-painted, according to a post by Cinco, and took a total of six months to complete. About a hundred people worked on the gown and they sewed over 10,000 Swarovski crystals onto its cape.
ADVERTISMENT - CONTINUE READING BELOW ↓
Mila Kunis' Wedding Gown in Jupiter Ascending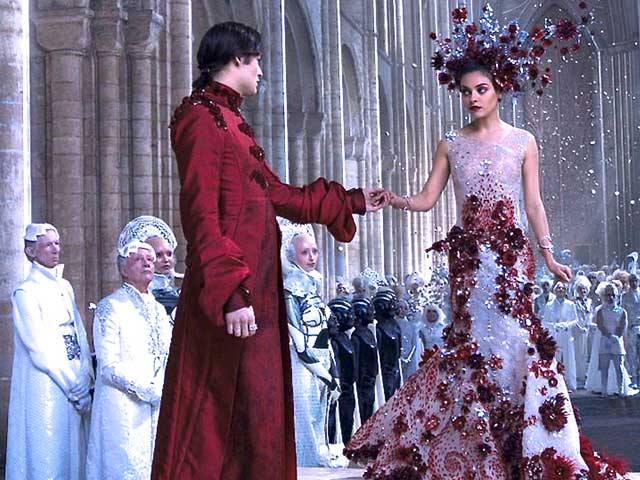 Cinco got to work with the production of Hollywood film Jupiter Ascending, which premiered in 2015. He said in a past interview that he was approached by the film's costume designer in 2012. The couturier submitted six design drafts and then three were selected. Mila Kunis wore a red and nude gown embellished with red ceramics and crystals. 
ADVERTISMENT - CONTINUE READING BELOW ↓
Mariah Carey's Party Attire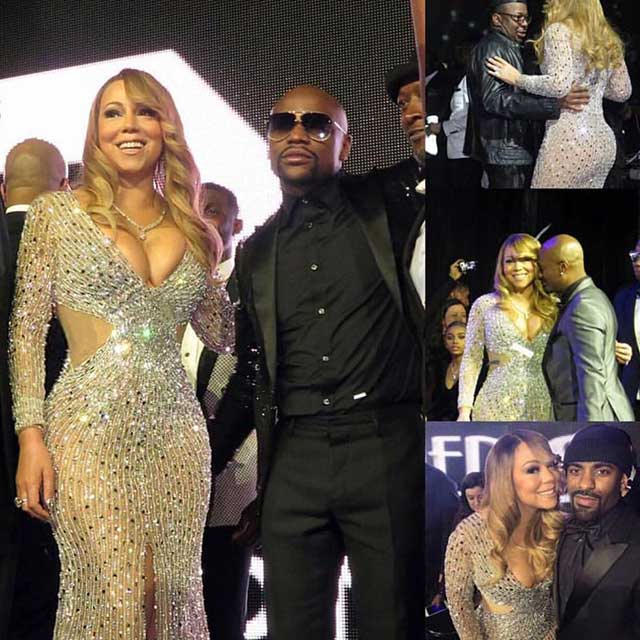 For athlete Floyd Mayweather's birthday, Cinco dressed Mariah Carey in a body-hugging floor-length gown. The risqué design featured a low neckline and a high slit. "I was so scared and shy to meet her. Thank God she was so nice and humble in person," Cinco said in an Instagram post.
ADVERTISMENT - CONTINUE READING BELOW ↓
A Qatari Princess' Wedding Gown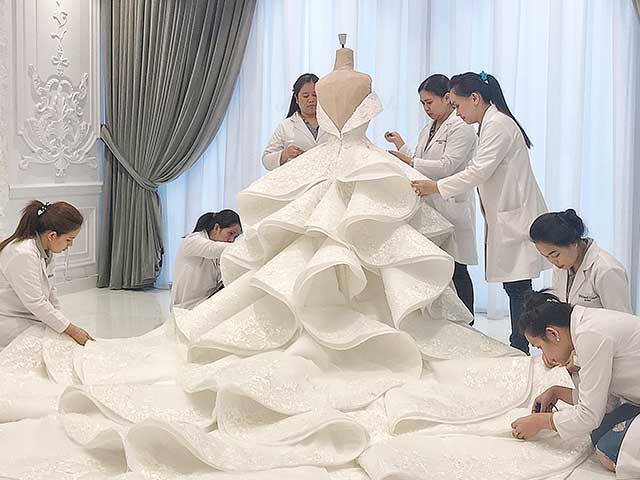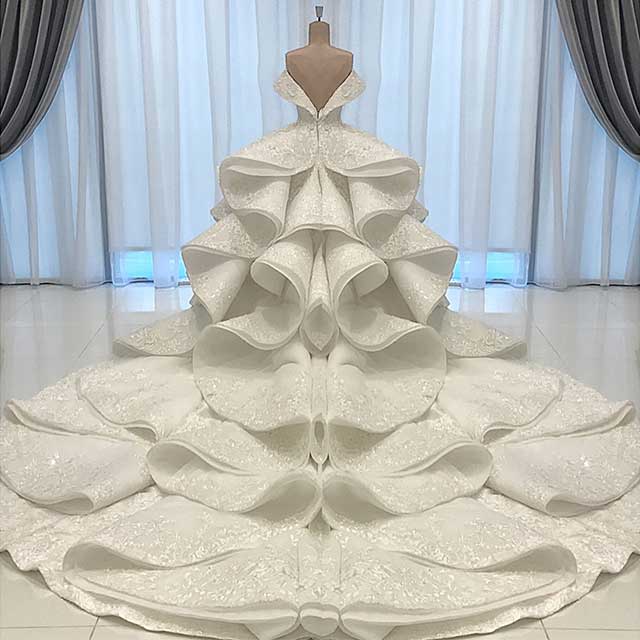 ADVERTISMENT - CONTINUE READING BELOW ↓
Cinco made a princess from Qatar's dream come true by providing her with a gown fit for royalty. The sleeveless gown had layers and layers of ruffles trailing behind it. Those frills were embroidered with white floral details, all hand-sewn by a team of seven seamstresses. 
At the moment, Cinco is working on a collection for his upcoming shows in Russia and Montenegro. We'll also get to see his work come September, during a gala show for Ballet Philippines.