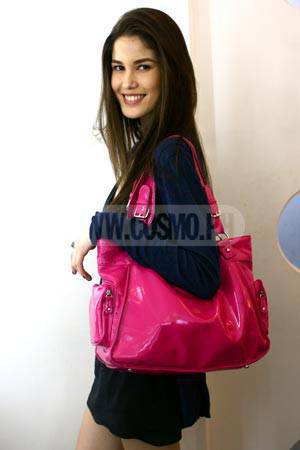 Though she's one of the most sought-after models today, in a lot of ways Pauline Prieto is still a typical 19-year-old girl. The half-Spanish beauty is currently studying interior design, and she says she hopes to one day have a design career and do modeling at the same time.

Like most students, Pauline carries a large bag to hold all the personal and academic items she uses daily. The bright pink Nine West tote bag that she brought to her "Cosmo's 8 Sexiest" shoot at the Summit Studio is functional and roomy enough for all her supplies and beauty items, and at the same time chic enough to make her stand out in a crowded hall full of students.

We asked if we could look inside her bag in between shooting layouts for the magazine, and she let us photograph her belongings and some of her school items.

Launch the gallery to see what we found in this model/student's bag! College Cosmo chicks, tell us when you comment which of Pauline's items you have in your bag, too!


Grab a copy of Cosmopolitan Philippines' November 2011 issue with Carla Abellana on the cover to see Pauline Prieto in this year's "Cosmo's 8 Sexiest" fashion editorial! Watch her video here.

1669
ADVERTISMENT - CONTINUE READING BELOW ↓