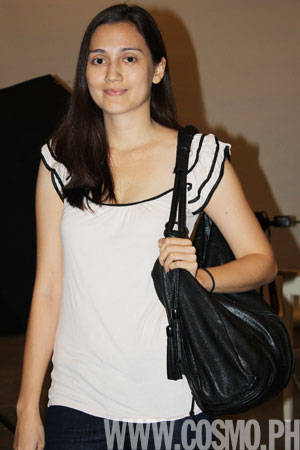 Who better to capture the beauty of a leading lady than a fellow woman. That's why we turned to photographer Sara Black for our June 2011 cover shoot, featuring Heart Evangelista. The color-block-themed shoot was even held at Sara's studio in Makati.

Sara is the woman behind the lens of the fashion and beauty magazine spreads you admire, the billboards you pass on the road, and even the portraits of some of the most influential figures in the country. She started out in the industry as a photography studio assistant, and also spent time in front of the camera as a model. This explains her knack for capturing the natural grace of her subjects, particularly women.

She doesn't confine herself to shooting celebrities, though. Sara is known for advocating diverse beauty through her photography book of real girls with facial imperfections. It's really inspiring to see someone use her talents to spread a positive message!

As we chatted with Sara at her studio during Heart's shoot, something on her equipment table caught our eye. There was a DSLR lens that looked a bit strange, and we found out it's actually a coffee mug in disguise! She happily showed us the novelty item, which made us curious about other unique things that Sara owns.

She let us rummage through her Forever 21 hobo bag, in which we found personalized things like an engraved pen and a "Sara" keychain! Our favorite item was the cute pocket notebook from her mom; she calls it her "inspiration notebook" because she always has it with her for jotting down thoughts throughout the day!

Click through the gallery to see what else this inspired fashion photographer carries with her to her photo shoots! Tell us what you love most!
Continue reading below ↓
Recommended Videos
1419