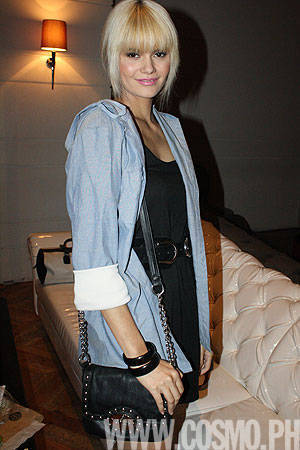 Sanya Smith is not your average model. With her striking bleach-blonde locks and occasional fondness for wearing white contact lenses, the 27-year-old model/DJ/host lives life on her own terms. As the daughter of rock legend Pepe Smith, her fearless rock star attitude comes as no shock, nor does her knack for having fun in any situation.

Her laughter raised our spirits at the "It-Girl Style" shoot, as she gleefully danced and played around with her co-models and DJ partners Mia Ayesa and Ornusa Cadness. The "Zombettes," as they call themselves, were a blast to work with, and they even offered you tips on how to look and feel great—the model way.

Sanya told us during her interview that "It's okay not to be brand-conscious....you don't really need a Prada bag—it can come from anywhere. As long as [the bag] looks cool and it holds the things you need, it's fine." We found out that she practices what she preaches when she showed us her studded cross body bag from Landmark department store.

The tiny purse packed a surprisingly large amount of loot, from silver glitter eyeliner to shimmery lip gloss. One of her beauty essentials is oil blotting paper, and we spied a purple pack in her bag, nestled next to a rather unusual item: a purple kazoo! Sanya tells us that she got the toy instrument from her sister. Looks like music is something Sanya literally carries with her wherever she goes!

Launch the gallery to see all the quirky and fun items we found in Sanya's bag!
1467
Continue reading below ↓
Recommended Videos