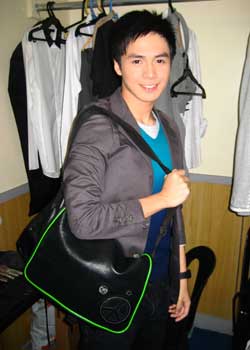 You read it right, and we'll say it again—we're having our first What's In My Bag? Guy Edition. For the moment, we're veering from the usual routine, which is (more often than not) seeking female celebs and regular (college or working) gals, raiding their stylish bags, and sharing our finds with you, Cosmo readers. This time, Cosmo brings you something new, something we've never done before.

For sure, most of you are curious about what male celebrities stash inside their bags, too. That's how we felt when we saw Sam Concepcion's Bench body bag lying on the floor in his dressing room during one concert he was part of. And so, while he waited for his turn to go on stage, we asked the young singer-actor on the spot if we could raid the contents of his bag. Luckily, he was really game for it.

Seventeen-year old Sam even assisted us while we did our WIMB routine, and he posed for the camera carrying his bag from Bench, which he endorses. A consummate music lover, Sam always brings with him his CD case filled with countless writable CDs, which according to the Gigger Boys member, he listens to before his shows.

Click the view gallery button below to see what other things Sam brings along everyday.
544
Continue reading below ↓
Recommended Videos