There's no doubt about it: Sandara Park is definitely booked and busy! The 2NE1 member and our pambansang krung-krung has shaken up the city of lights in the recent iteration of Paris Fashion Week.
Making her presence known in at least 11 shows, Dara upped the ante each and every time with an array of ensembles that speak to her eclectic sartorial range. Need further proof of that? Below, we pin down her fashion show ready-looks that have fans and Parisian paparazzi vying for more.
Sandara Park's looks at Paris Fashion Week runway shows
1. Courrèges
For her first show of the week, Dara rang in her packed sched at Courrèges with an edgy all-black biker motif, featuring a square neck mini dress with vinyl thigh-high boots. In her arsenal was the staple leather jacket, along with a statement pair of goggles-shaped sunnies.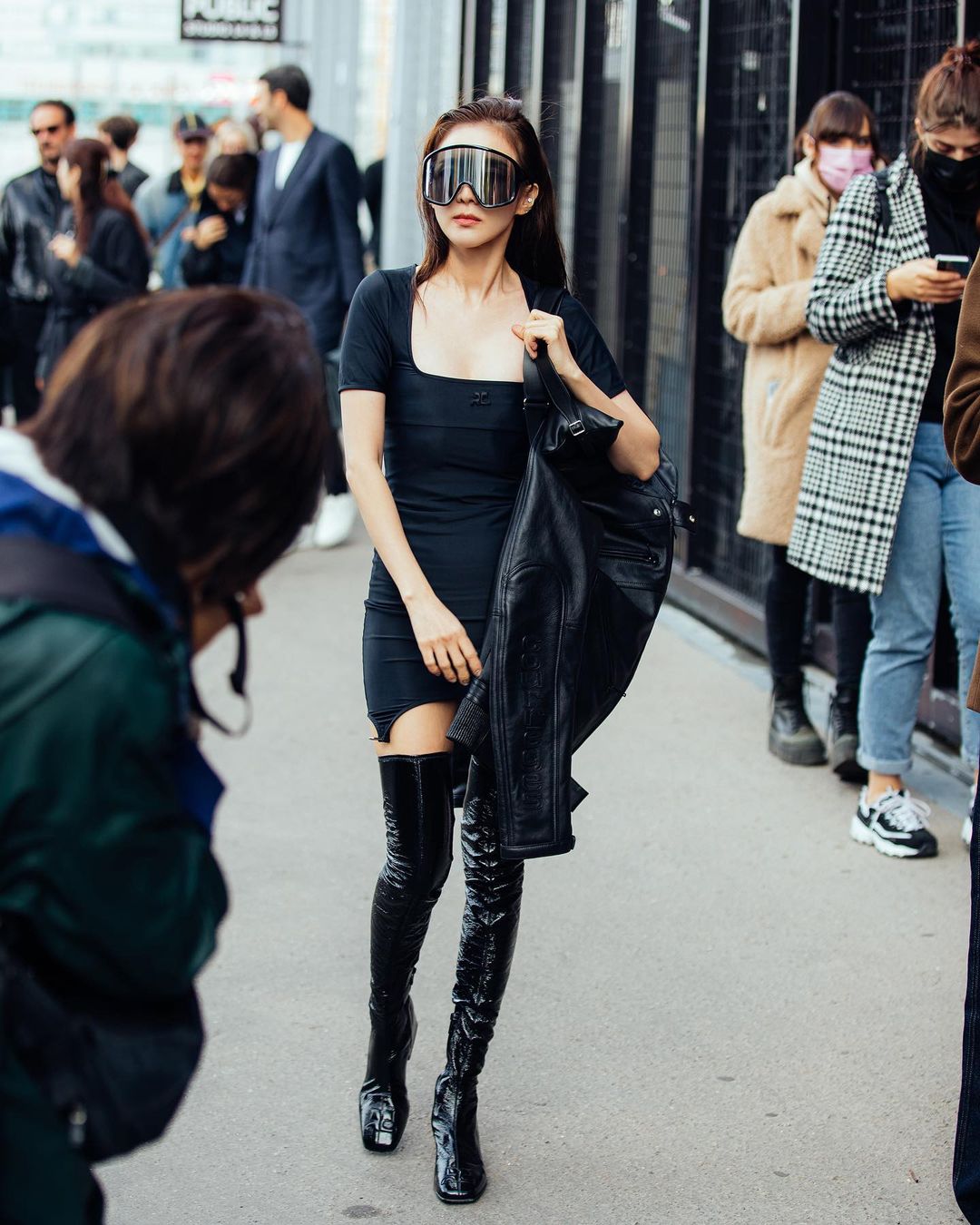 ADVERTISMENT - CONTINUE READING BELOW ↓
2. Balmain
Once the night hit, the K-pop idol made her way to Balmain in the luxury brand's favorite fascination, the modern armor. The utilitarian look was fused with a side of femininity, thanks to the hint of ruffles and ethereal eye makeup.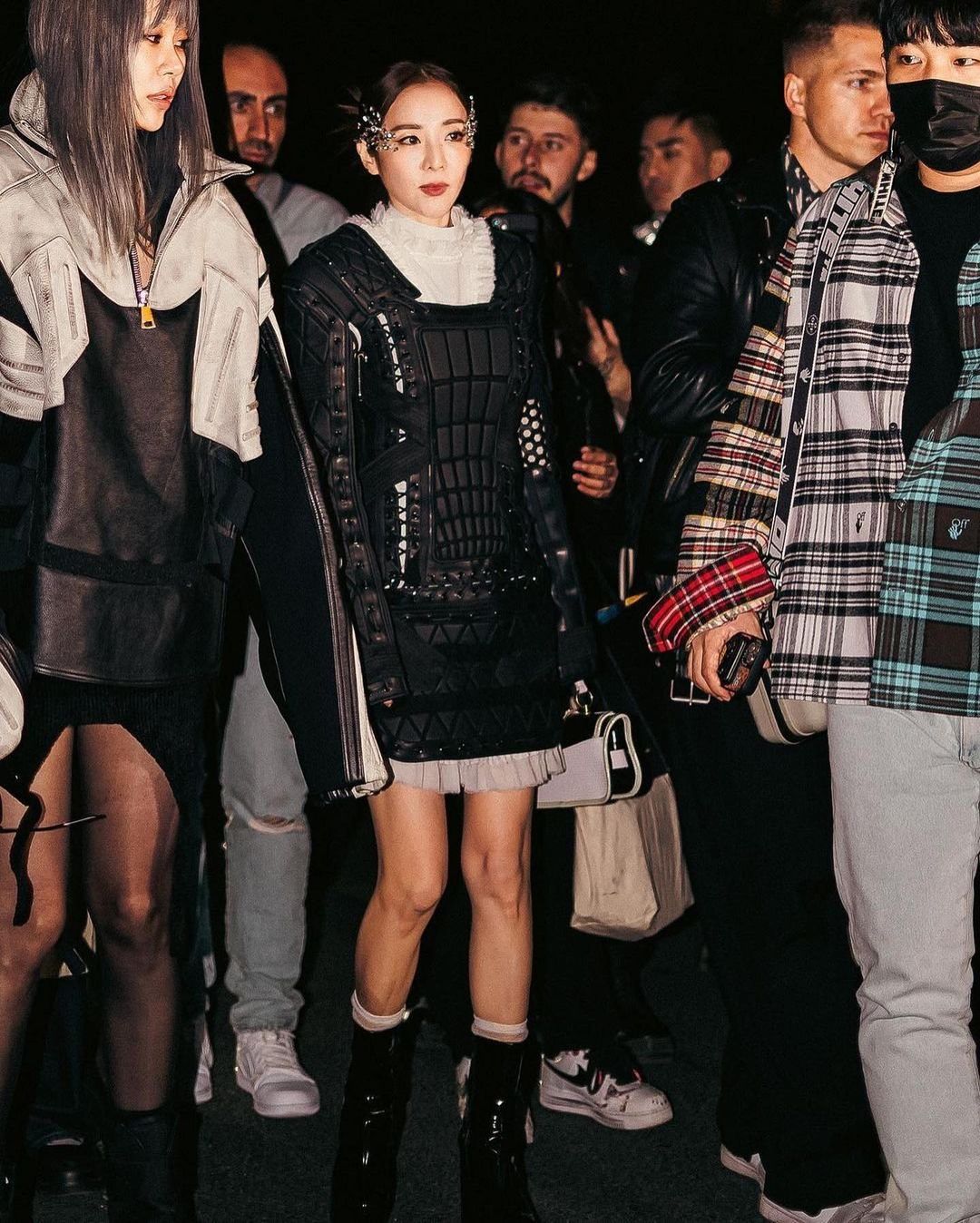 3. Chloé
Nothing says autumnal Paris more than the classic trench. The next afternoon, Dara swept the Chloé show in a full-length cape with a neutral-toned turtleneck and long skirt underneath. In her arm was a white Deveaux purse, while a pair of leather cowboy boots donned her feet.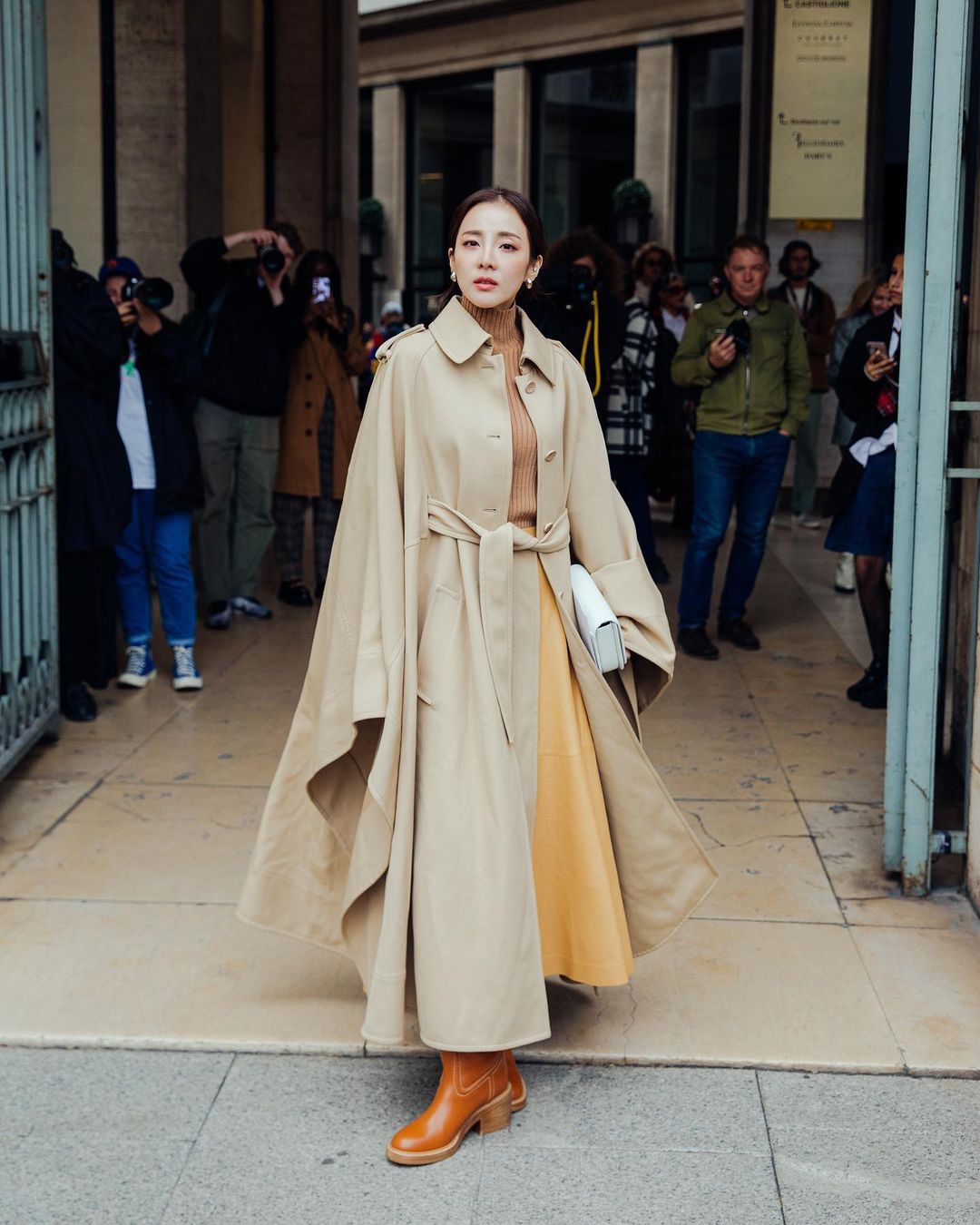 4. Rick Owens
Dara resumed her agenda of sweeping silhouettes with a layered look worthy of a sci-fi film. The international star was a monochromatic vision in Rick Owens, all-decked out in a flurry of grays. Spot the brand's woven dagger robe with draping skirts, spider wraps, and platform boots.
ADVERTISMENT - CONTINUE READING BELOW ↓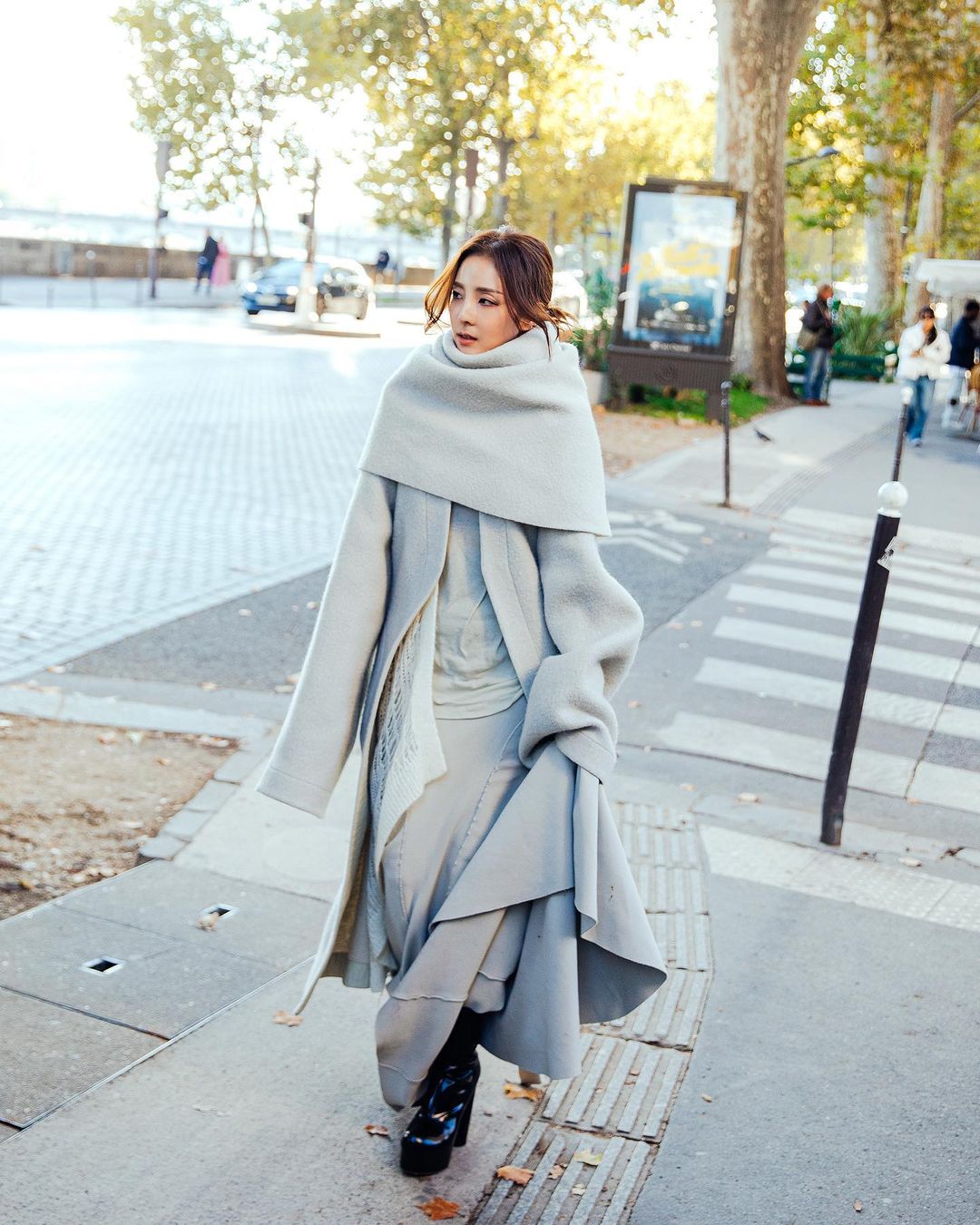 5. Off-White
As expected from the streetwear queen, Dara didn't sell short for her appearance at Off-White. The neutral turtleneck tee made for a versatile piece with a utilitarian cargo jacket and high-cut leather sneakers. Serving the pop of colors and textures were the neon green buckle, red knits, and chunky socks.
ADVERTISMENT - CONTINUE READING BELOW ↓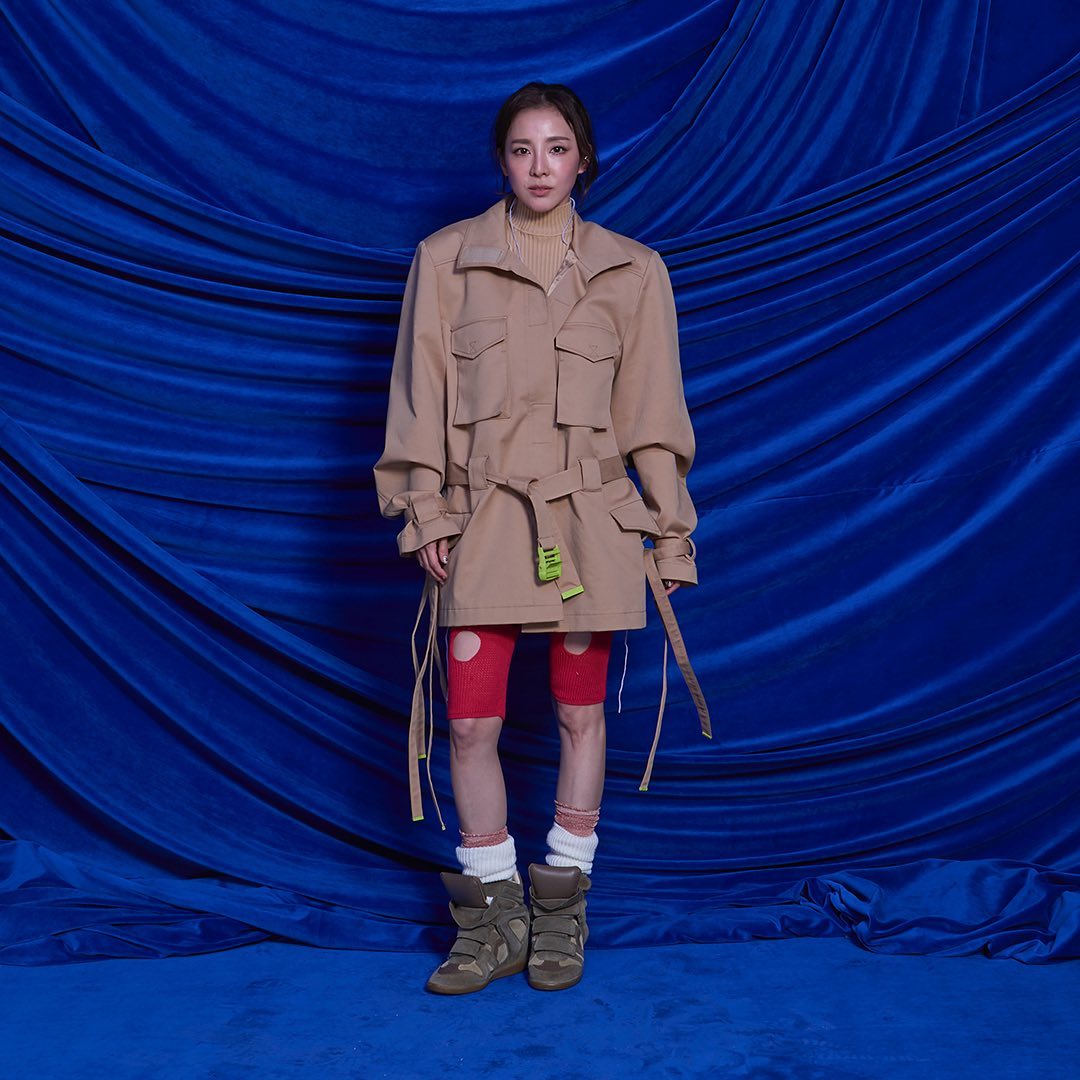 6. Giambattista Valli
After a series of hard-edged ensembles, Dara channeled her daintier side for Giambattista Valli with a bubblegum pink dress reminiscent of delicate rose petals, along with the designer's leather-embossed mini handbag. Giving the outfit a touch of black, the dress was cinched at the waist with a dark belt.
ADVERTISMENT - CONTINUE READING BELOW ↓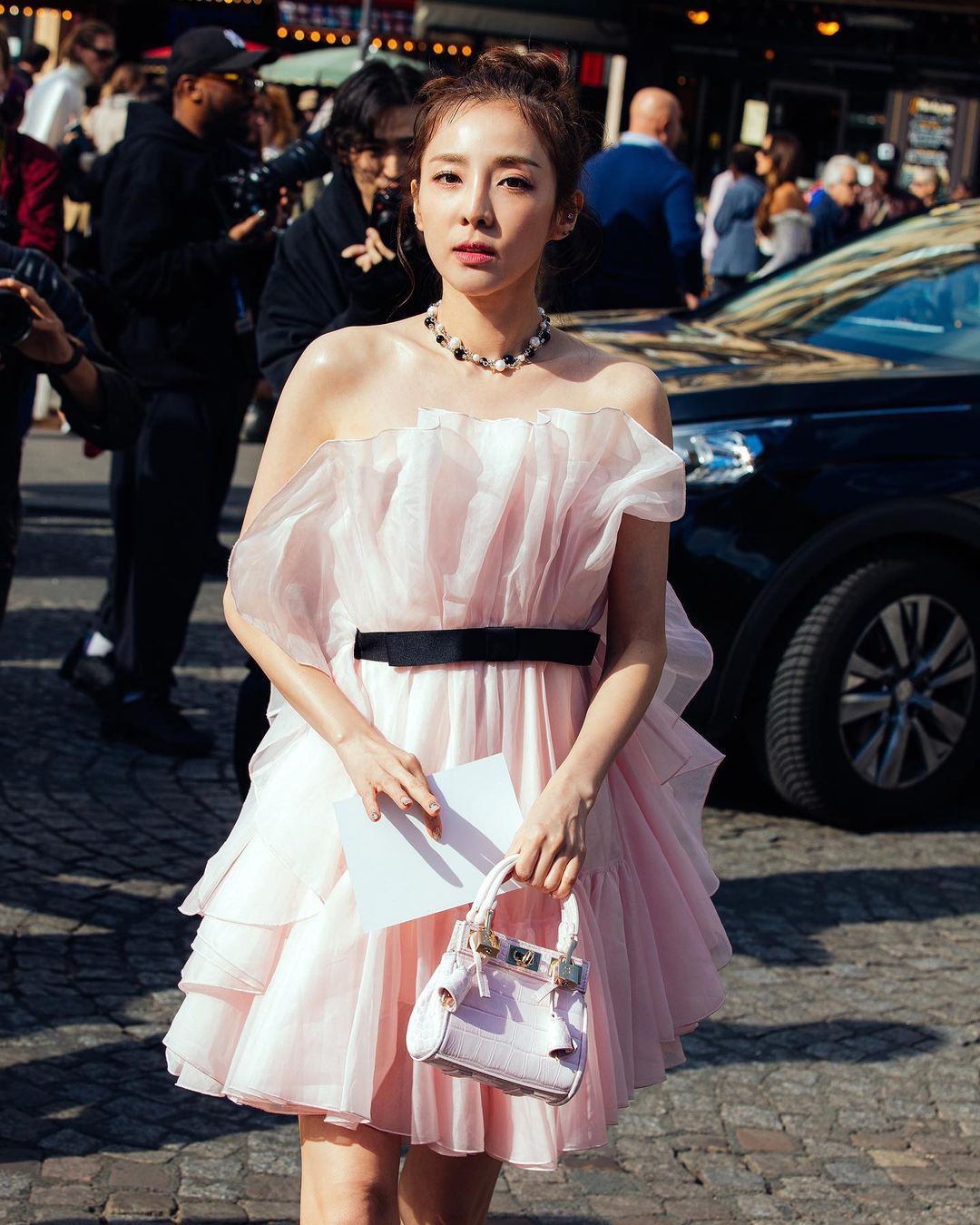 7. Yohji Yamamoto
In a complete 180-degree flip, the Hallyu star strutted down the French capital for Yohji Yamamoto in a darker getup. Wearing a sleek-parted 'do accented with black cherry lips, Dara layered her white self-tied button-up with a black mock neck jacket.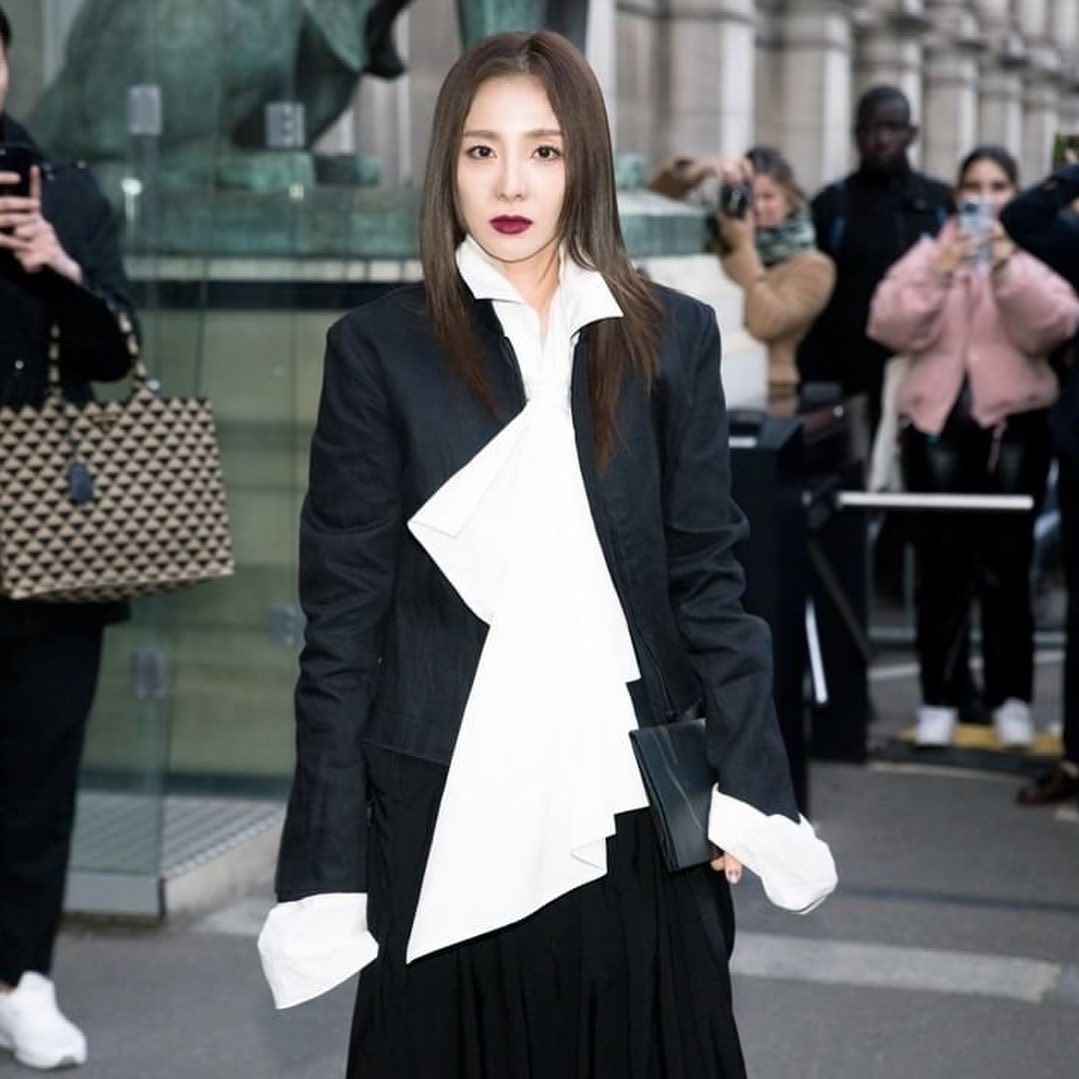 ADVERTISMENT - CONTINUE READING BELOW ↓
8. Vivienne Westwood
Dara's iconic sky-high hairdo makes an appearance yet again, this time for Vivienne Westwood! The star, who appeared in the same hairstyle for Coachella and 2NE1's "I Am The Best" music video, was as striking as ever in a mixture of textures. Only Dara could pull off black tinsel, gold metallics, vinyl boots, and strings of pearls in one go!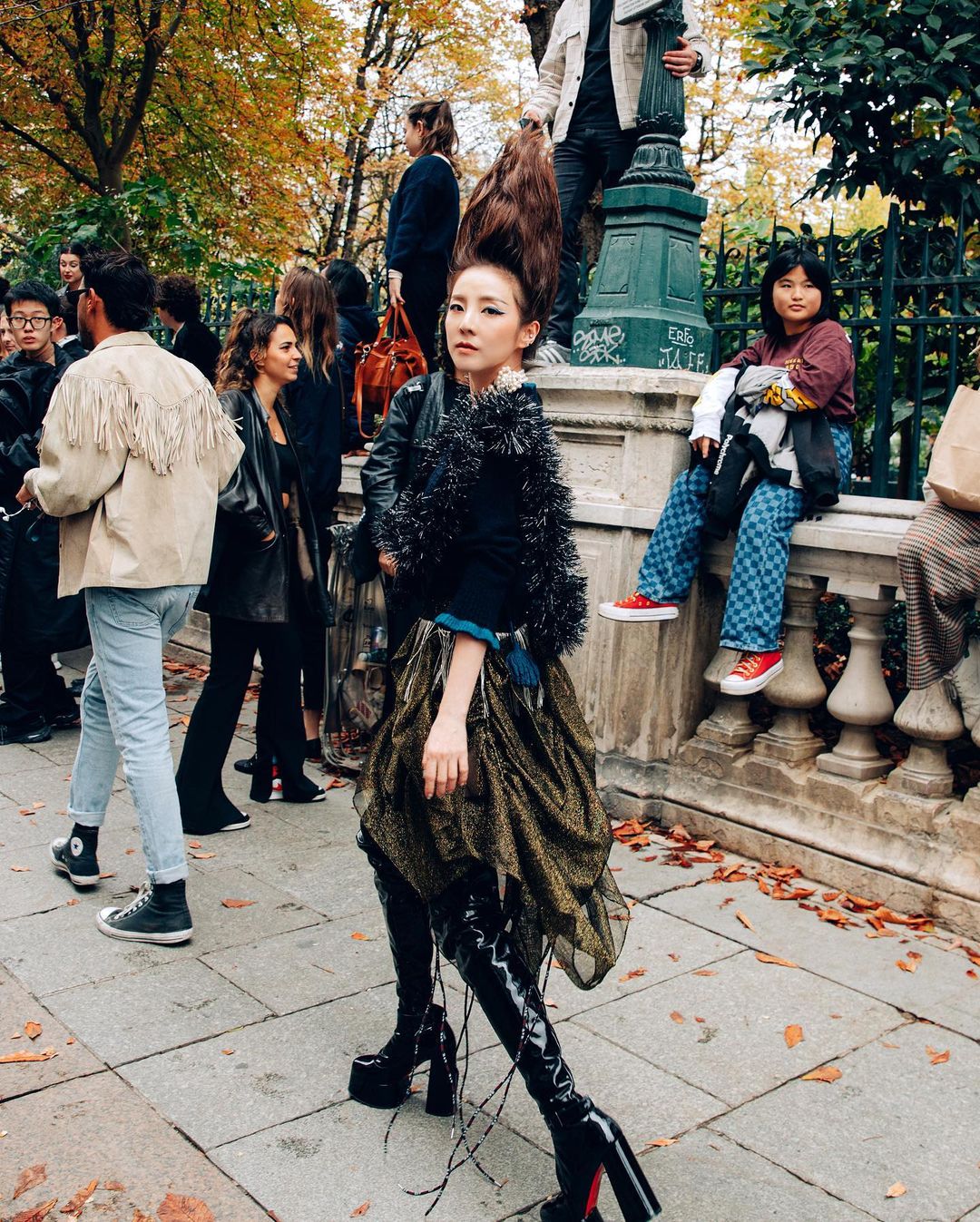 ADVERTISMENT - CONTINUE READING BELOW ↓
9.  Kenzo
A guest among other fashion-forward musicians like Pharrell and Nigo, Dara took on Kenzo's university theme by sporting a button-up vest with a blue floral print and an oversized denim newsboy cap with her jean skirt. The hues of red can be spotted in her choice of tie and bucket bag, made all the more decorative with its flower designs.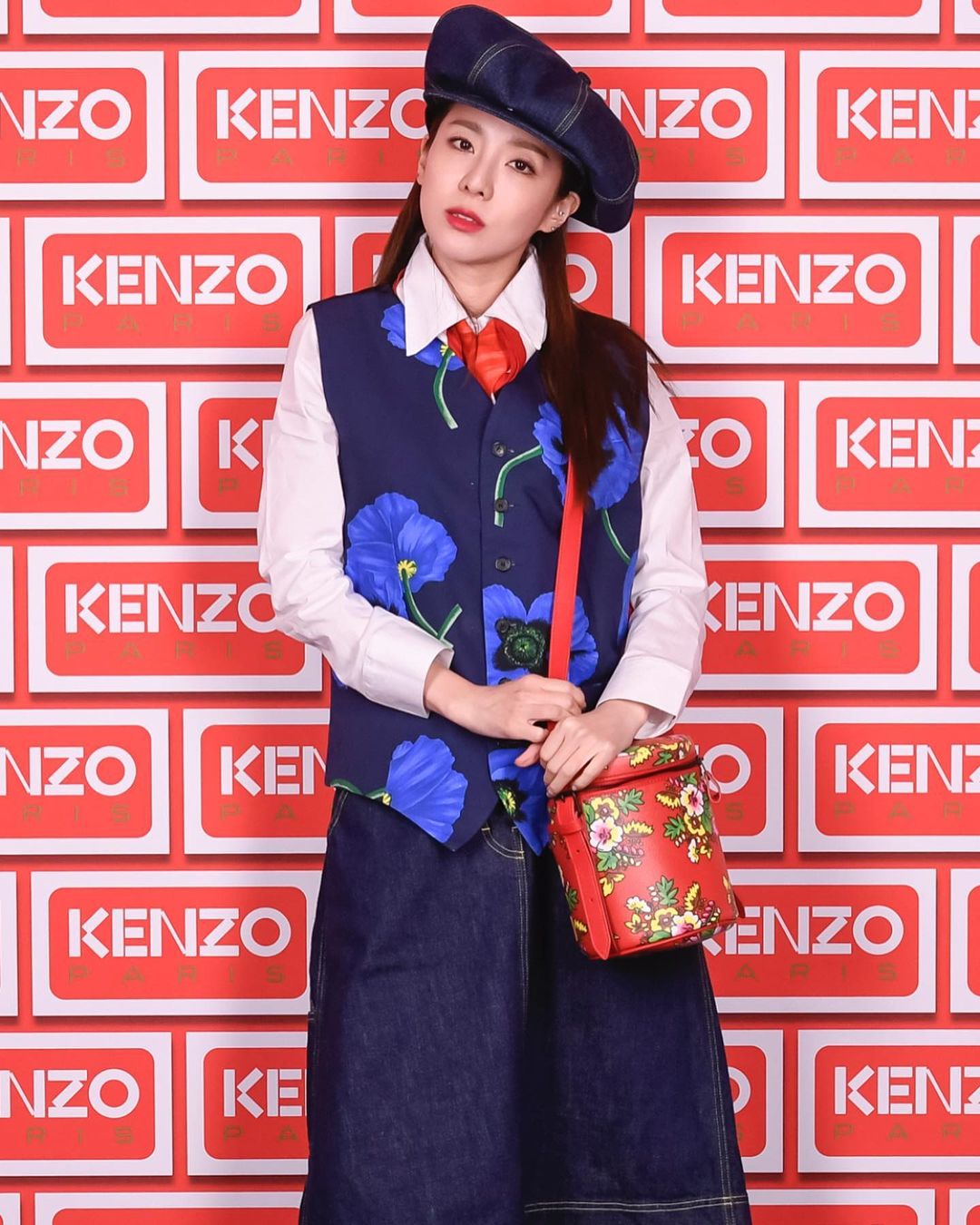 ADVERTISMENT - CONTINUE READING BELOW ↓
10. Christian Louboutin
For the Louboutin show atop the Eiffel tower, Dara went down the school girl route with a long-sleeved white button-up–oversized necktie included–and a black midi skirt. To spice it up, she slipped on a pair of Louboutin strapped pumps and finished off her look with a deep red velvet embellished clutch.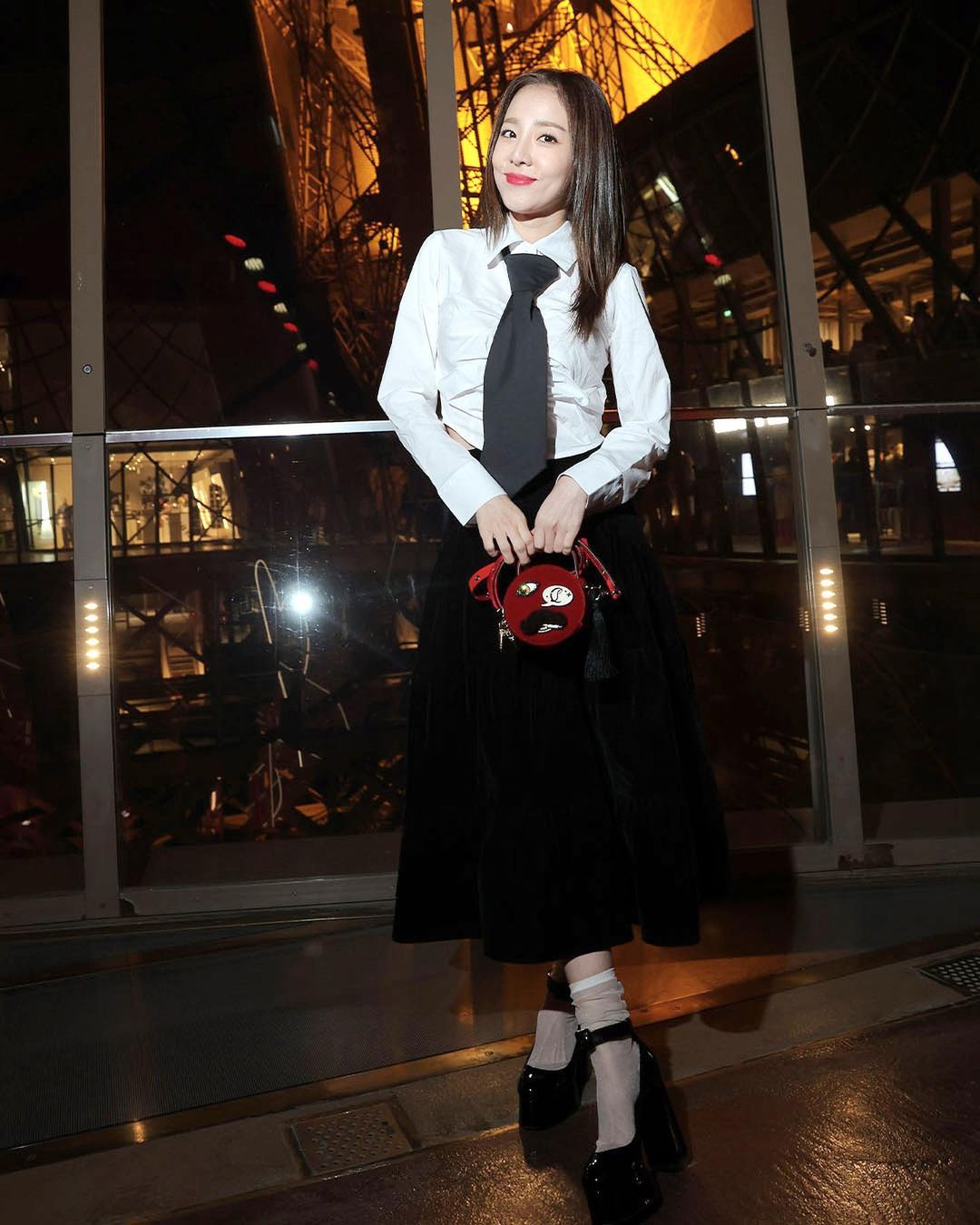 ADVERTISMENT - CONTINUE READING BELOW ↓
11. Ann Demeulemeester
To cap off the day's long string of events, Dara opted for an outfit worthy of the night in a noir-inspired look. Dressed in head-to-toe Ann Demeulemeester for the designer's show, the celeb was ready for a Parisian evening in a leather dress and a floor-length tailor coat, accessorized with a dapper velour fedora.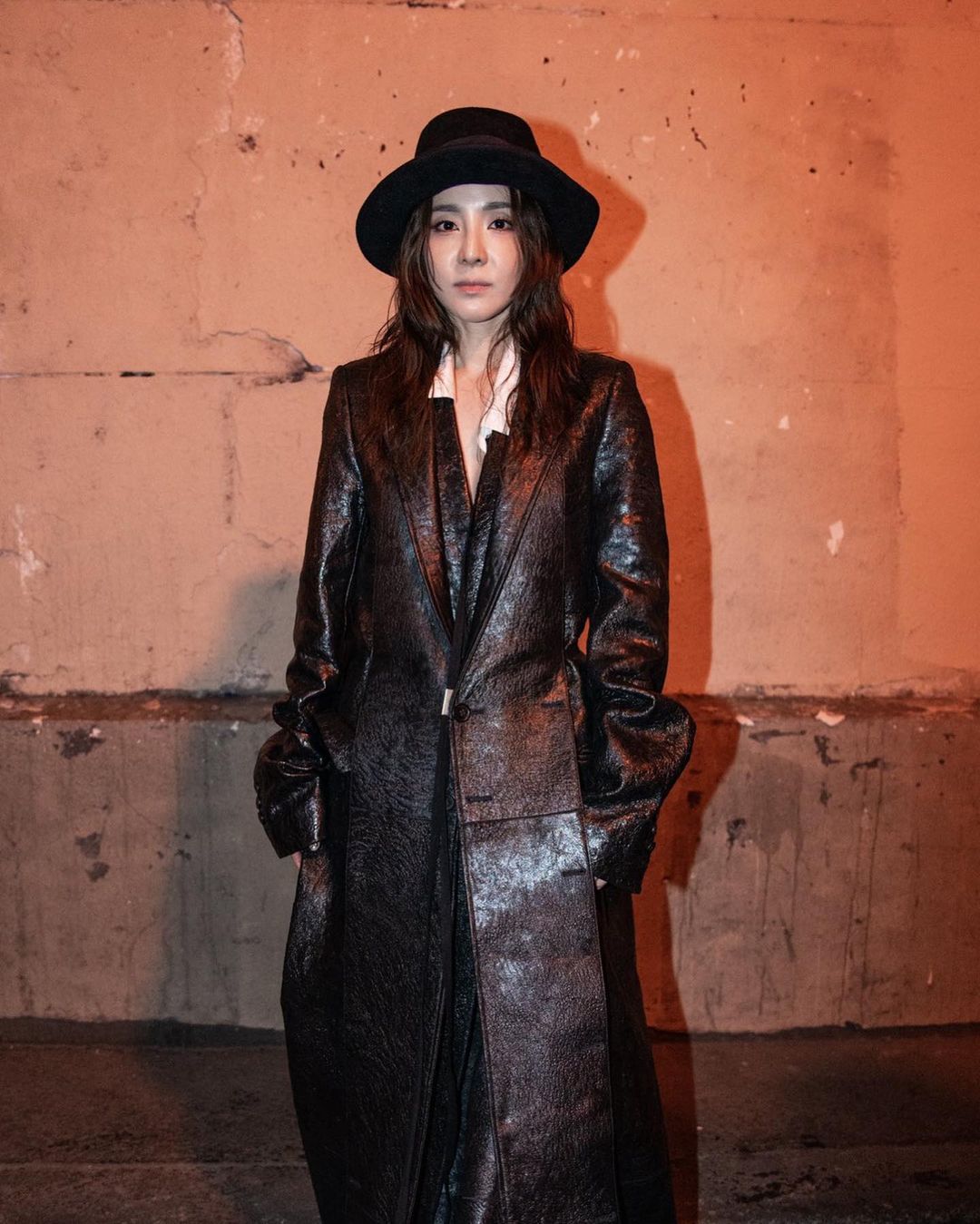 ADVERTISMENT - CONTINUE READING BELOW ↓
***
This article originally appeared on Preview.ph. Minor edits have been made by Cosmo.ph editors.