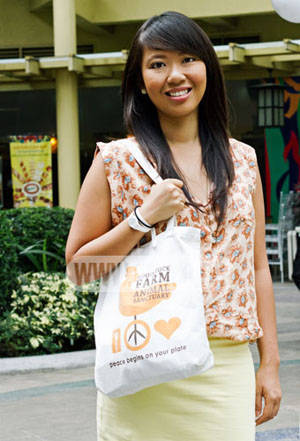 Marie Gonzalez doesn't just talk the talk; she walks the walk! The chef who made it to our list of Fun, Fearless Female Awardees for 2012 stays true to her rep as a healthy lifestyle advocate not just by running vegan food company Kitchen Revolution, but by being a living, breathing role model of the green revolution.
When we raided Marie's bag at her shoot as one of this year's Fun, Fearless Female Awardees, we discovered eco-friendly beauty and personal care products, healthy snacks, and a bunch of literally green items! She stashed them all in a canvas tote bag she got from the Woodstock Farm Animal Sactuary, a non-profit organization in Woodstock, New York that seeks to protect farm animals. "I went there in 2010 for my birthday," Marie, ever the veganism proponent, says.
Launch the gallery to see all the green goods Marie carries with her!
Watch behind-the-scenes footage of our shoot with the vegan culinary queen on CosmoTV!
2043
Continue reading below ↓
Recommended Videos