Last April 23, Wrangler Philippines launched its newest denim collection, Denim Spa Jeans, at The Spa Wellness Center, Bonifacio Global City. During the launch, Manila's top bloggers and fashionistas like Camille Co, Patricia Prieto, Lissa Kahayon, Laureen Uy, and Nicole Andersson got a first glimpse of the hot new line.

The verdict? They absolutely loved it! Check out what these fashion-forward ladies had to say:

1. They're super comfy.
Don't you hate it when you can't move around in your jeans? Camille shared, "Jeans normally restrain my movements too much, which is why I was not really into wearing jeans. But Denim Spa really brings a new level of comfort and you can really feel it move with your skin."

2. Your legs get a spa treatment all day long!
The Denim Spa Collection comes in three finishes: The Aloe Vera and Olive Extract, which soothe sensitive skin, and the Smooth Legs, which contains anti-cellulite agents that have been proven to lessen the appearance of 'orange peel' skin.

"While it does an amazing job moisturizing my legs, it doesn't make me feel sticky or gross at all," exclaimed Patricia. "I'm beyond impressed that it lives up to its promise and does what it does the best."

Continue reading on the next page.[nextpage]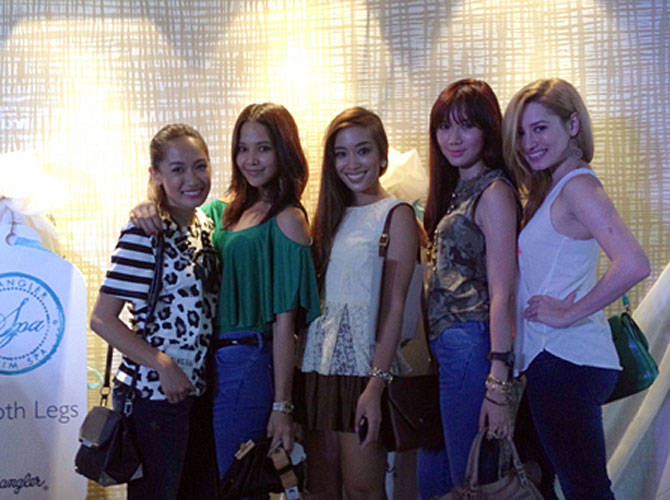 3. The Denim Spa Collection makes wearing jeans in the summer bearable.
Jeans in the summer used to be a big no-no. But now with this new innovation, you can rock your denims without breaking a sweat!

"Every woman needs a comfortable piece of clothing to rely on especially during the scorching months of summer," said Lissa. "I'm not one to wear jeans in this kind of season, but with Denim Spa, I'm definitely making an exception."

4. They're the perfect pair for girls with sensitive skin.
Denim Spa has microcapsules packed with high-performing skin care ingredients embedded in the fabric which are activated on contact. "With sensitive skin like mine, it's comforting to know (and feel) that I can easily slip into my Denim Spa jeans as I carry on with my day's agenda," shared Laureen.

5. Manila's hottest bloggers and fashionistas can't get enough of it!
These ladies can't wait to slip into their own pair of Denim Spas.  "Jeans have been around for years, but this new line by Wrangler is revolutionary and not to mention exciting," concluded Nicole.

The Wrangler Denim Spa Collection is available in three stylish fits: low jeggings Alec, low skinny Molly, and low slim Jane Hip Up.

For more information, visit Wrangler on Facebook and Twitter. To learn more about the Wrangler Denim Spa Collection, click here (for desktop users only).
Recommended Videos