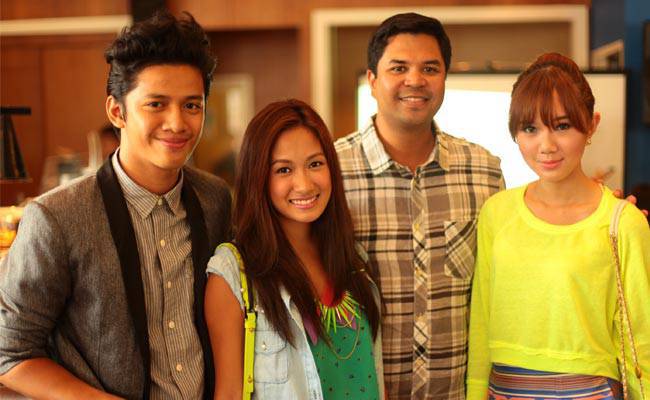 Crocs ambassadors David Guison, Laureen Uy, and Camille Co with Six Degrees' Vice President Franco Limjuco
Following the success of Crocs' New Crocs New You regional campaign last summer, which generated nearly a thousand local contest entries, this fall, New Crocs New You (NCNY) is back with a bigger take on fashion in its second chapter.

The NCNY campaign breaks the Crocs stereotype as a one-shoe company, proving that the brand offers a variety of models beyond the clogs line. This movement has put the brand in the limelight, garnering comments like, "Really, these are Crocs?" from the time it introduced its hip and stylish sandals, heels, wedges, and the rest of its casual footwear line.

Fashion blogger and stylist Laureen Uy rejoins the team as the Crocs ambassador, helping send the message that fashion has finally touched Crocs, without scrimping on the comfort its shoes are known for. Laureen swears by these shoes and agrees that fashion need not hurt.

In its second phase, NCNY will kick off by launching the campaign side by side with the latest Crocs Fall collection. A digital-driven campaign, the NCNY II has an interactive minisite that aims to find its fans' fashion identity through the help of fashion pundit Laureen.

The minisite comes with perks and promos, too. Fans stand a chance to win a weekend getaway for two at Shangri-La Hotel, a chance to score the new iPad, plus discount vouchers at the end of their online style journey!
Crocs' Fall collection has over 100 models and colors designed to satisfy the fashion cravings of every Filipino--male or female. Having the all-time favorites like the flats, heels, sneakers, and boat shoes, and now with the addition of boots, Crocs couldn't be more proud to launch its latest shoe line.
"Our fans and the soon-to-be Crocs converts will definitely like our latest collection. The world knows our brand as a go-to comfort footwear, but we want to tell everyone that Crocs are now designed with fashion in mind," says Franco Limjuco, Vice President of Six Degrees, Crocs' local distributor.
Crocs is committed in its take on fashion. It started with Laureen Uy as ambassador, and is now expanding the team to include two new trendsetters, Camille Co and David Guison. To get virtually awed by the new Crocs and to join the contest, log on to www.newcrocsnewyou.com.

"We're ready to surprise everyone, and still want to hear more comments like 'Really, these are Crocs?'" Franco added.
Visit www.crocs.com.ph and Crocs Philippines on Facebook and @CrocsPH on Twitter for additional information. Launch the gallery to view photos from the Crocs NCNY II launch!
2217