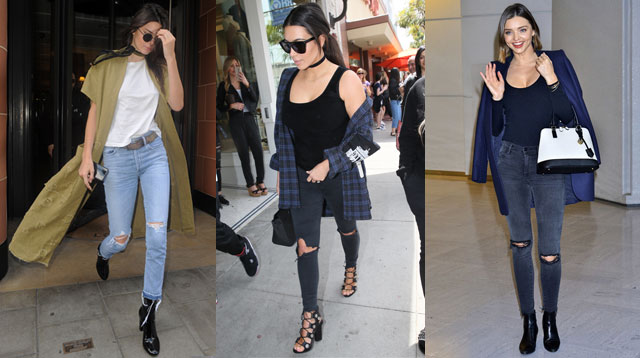 Distressed jeans are always in style, but they're really having a moment right now, so I gathered a few tips from my earlier years of denim DIYing for this video tutorial. Here are five different techniques you can use to distress your jeans. You can choose one, two, or all of the tips at once to destroy your jeans to the degree you desire. 
1. Fade the dye.
I prefer the look of jeans that have really been put through the wash a few times. You can achieve this by washing the jeans for two years straight, or do what I did: I made a mix of 50-50 water and bleach. I painted the bleach water on the jeans with a paintbrush to give it a streaky look and focused most of the bleach water at the knees, where jeans tend to fade the most. I let the bleach water set overnight to make them really light (I recommend checking on them every hour or so to make sure your denim isn't fading too fast for your liking), and then an hour before I washed and dried them, I painted the seams (where jeans tend to hold on to color the most) one last time for an even fade all over. 
2. Fray the pockets and edges.
One of the quickest ways to fray denim is with a regular disposable shaving razor. These are particularly helpful when going over the zipper area, waistband, and pockets. Just scrape the razor back and forth until you get the look you want. You can also use razors to make frayed patches on the jeans. 
3. Use bobby pins to make smaller holes.
These are good for subtle distressing. Use a bobby pin with a blunt metal edge to pick and scrape at the denim and create tiny holes. 
4. Cut and pluck for big threaded holes.
This is my favorite way to distress jeans because the finished look is always so cool. To start, cut horizontal strips half an inch apart. Make the strips as long as you want the hole to be. Take a pair of tweezers and pluck all of the blue threads out of the strips. In denim, the white threads run horizontally and the blue run vertically. By removing the blue threads, you can create that horizontal white threaded look. I also tore some of the white threads to make my hole a little messier. 
5. Rub with sandpaper for softness.
To make your jeans look (and feel) more lived-in, rub them down with some sandpaper. This won't create holes or anything (unless you rub them for, like, hours) but it'll make the denim super-soft, like you've had them for ages.  
***
This article originally appeared on Cosmopolitan.com. Minor edits have been made by the Cosmo.ph editors. 

Recommended Videos