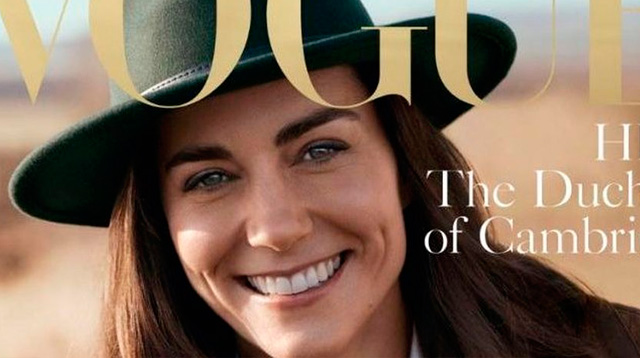 PHOTO: Vogue
British Vogue is a magazine that has seen its fair share of celebrity cover stars. These include women like Emma Watson, Beyonce, Jennifer Lawrence, and Taylor Swift—plus Kate Moss, who has fronted the magazine on 30 (yes, 3-0) separate occasions.
This time, however, a different Kate gets the cover girl treatment for Vogue's June issue.
In what is certainly a milestone for the fashion glossy, the magazine celebrates its—whoa!—100th anniversary by putting the Duchess of Cambridge on her first ever Vogue (British or otherwise) cover. Unlike other publications that have relied on official photographs and paparazzi shots of Kate Middleton, the cover image and the accompanying editorial were shot exclusively for the magazine by Josh Olins.
According to Fashionista, Kate's cover outfit consists of a Burberry coat and shirt, and a hat from London vintage retailer Beyond Retro. The entire spread was shot on location at Queen Elizabeth II's Sandringham Estate in Norfolk, England, where Kate, Prince William, and their little family reside.
In an official statement, a representative for the Duchess shares that Kate has "never taken part in a photography shoot like this before… She hopes that people appreciate the portraits with the sense of relaxed fun with which they were taken." We definitely love seeing her in this new light!
Follow Patricia on Instagram.