Aside from having the electric fans or air-conditioning on full blast, sipping refreshing beverages, or taking a dip in the pool or beach, wearing breathable clothes is another way of battling the Philippines' unbearably hot and humid tropical climate.
Linen is one of, if not the most breathable and comfortable fabrics your wardrobe needs to have. The material is lightweight, durable, and dries faster than cotton — perfect for your summer trips and beyond. We list down 10 linen dresses that'll keep you cool and fresh during the warm weather.
Check out these 10 shops that sell linen dresses and clothing in Manila:
1. Saint-Tropez Dress (P750) from Wanhinyan Clothing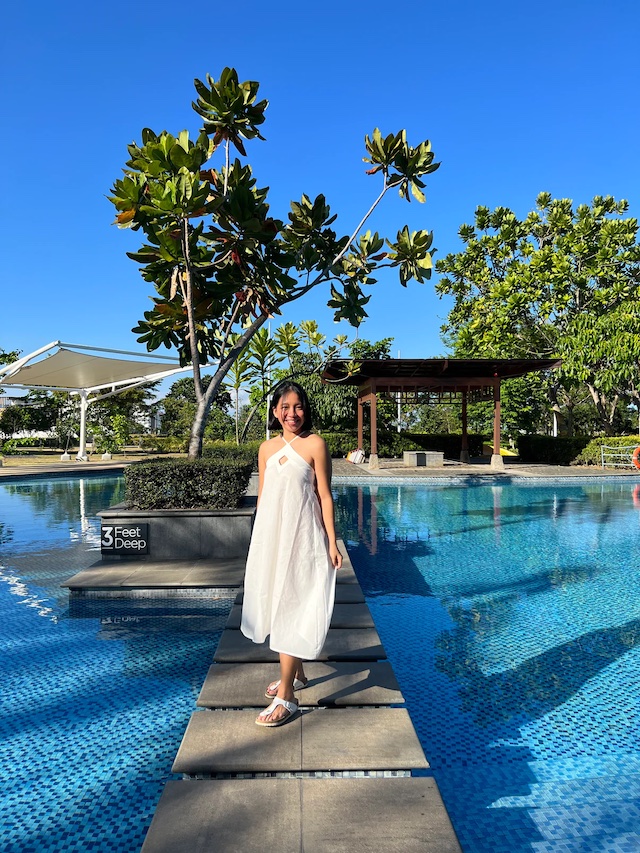 ADVERTISMENT - CONTINUE READING BELOW ↓
Looking for linen dresses that combine comfort and style without breaking the bank? Look no further because the online store Wanhinyan Clothing is full of 'em. You can shop a selection of summer dresses in various styles that fit every occasion starting from P750. We've got our eyes on this simple and versatile Saint-Tropez Dress, with a halter neckline that sets it apart from the other pieces. It's made of breathable and comfortable cotton linen, and it comes with two functional side pockets.
Available online.
Shirring Dress (P2,490) from Uniqlo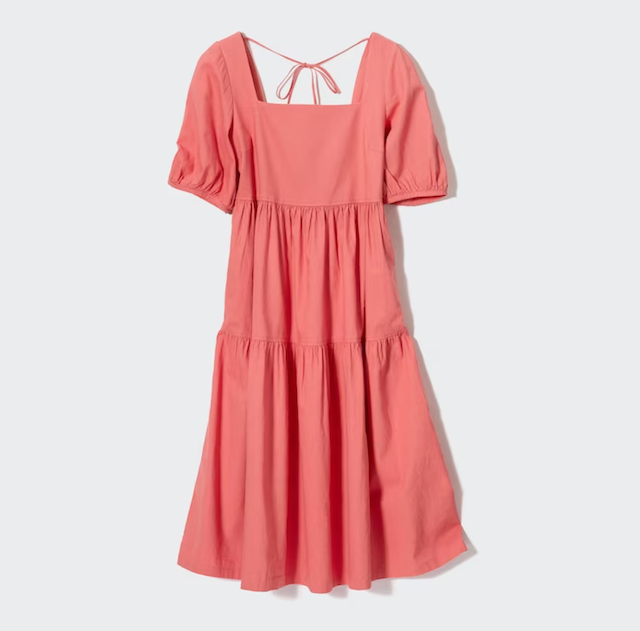 If we're talking about being comfortable in what we wear, what better example than Uniqlo and its selection of lifewear? They have casual pieces made with and of linen fabric that you can add to your wardrobe-take for example the Linen Blend Volume Sleeve Shirring Dress. The dress, made of a lightweight linen blend, has a square neck with volumed sleeves that give it an elegant vibe. Not to mention the neck strap design detail for that added oomph. It'll be a reliable go-to for brunch dates with friends or during smart casual events.
Available online and in Uniqlo stores nationwide.
Hudson Maxi Dress (P430) from Linen Café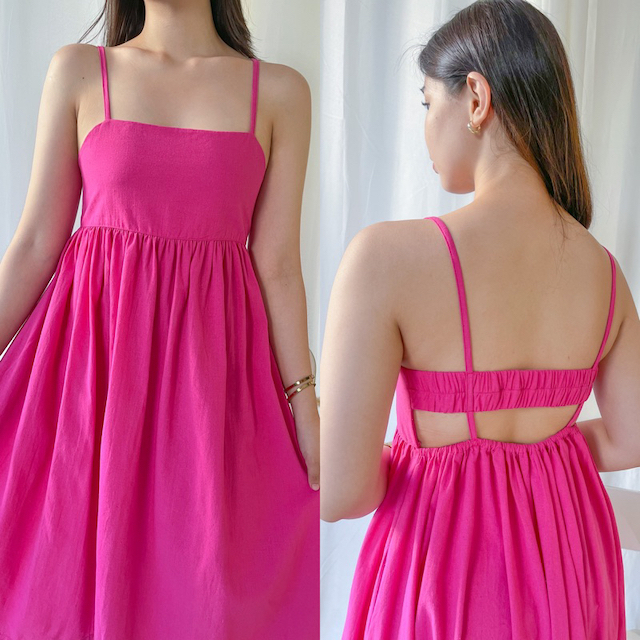 ADVERTISMENT - CONTINUE READING BELOW ↓
You can get loads of bright-hued and breathable pieces made of linen fit for your summer wardrobe in the Linen Café, from tops, bottoms, and dresses, to coordinates. This Hudson Maxi Dress is one of them. What we liked about this piece, aside from the linen material, is the garterized detail in the back as well as the wide range of color options.
Available on Shopee.
Bituin Two-Way Dress (P2,600) from Laya MNL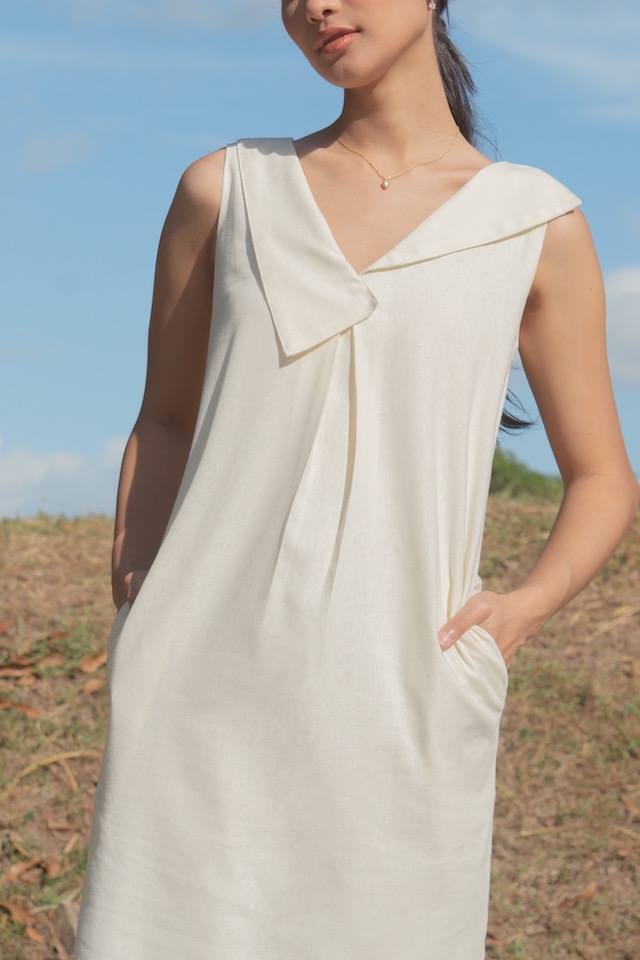 ADVERTISMENT - CONTINUE READING BELOW ↓
Laya MNL has minimalist and versatile pieces for your everyday ensembles. For example, this Bituin Two-Way Dress which, just by the name, can be worn two ways-bang for your buck. It sings classic notes in a v-neck design with an overlapping collar and yes, side pockets you can slip your phone and other trinkets in when not in use. The dress is available in a wide range of colors, from neutrals to pops of color.
Available online.
Luisa Linen Dress (P2,050) from Callelily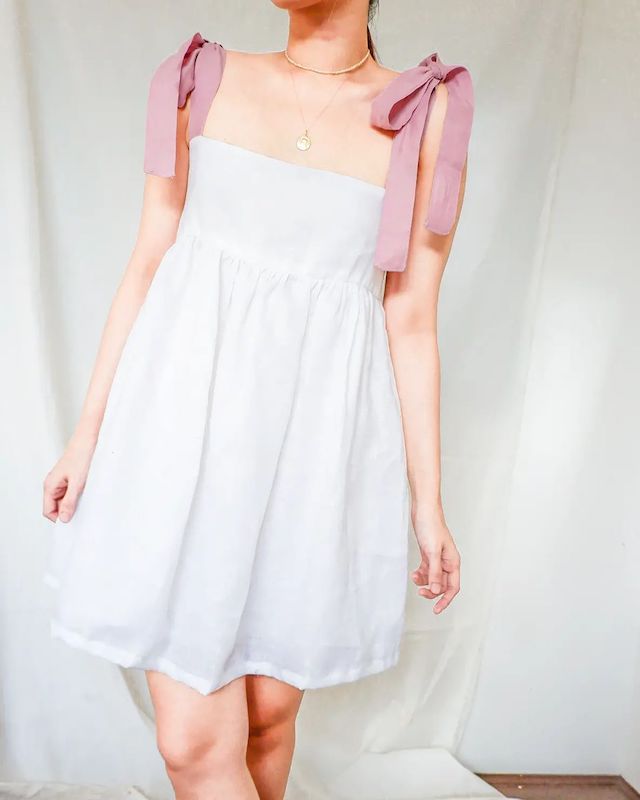 ADVERTISMENT - CONTINUE READING BELOW ↓
Premium linen apparel is what Callelily promises. And true enough, they have tops, bottoms, and dresses in playful and dainty styles and colors that can breathe life and add personality to your wardrobe. The Luisa Linen Dress is a prime example. What caught our eye is its ribbon strap you can tie and style however you want. It has a top counterpart, the Luisa Linen Top, available in irresistible pastel candy-color options. Another fave is the Belle Linen Top, made from grass linen with cute ruffle layers.
Available online.
Maria Midi Dress (P1,889) from Out and About MNL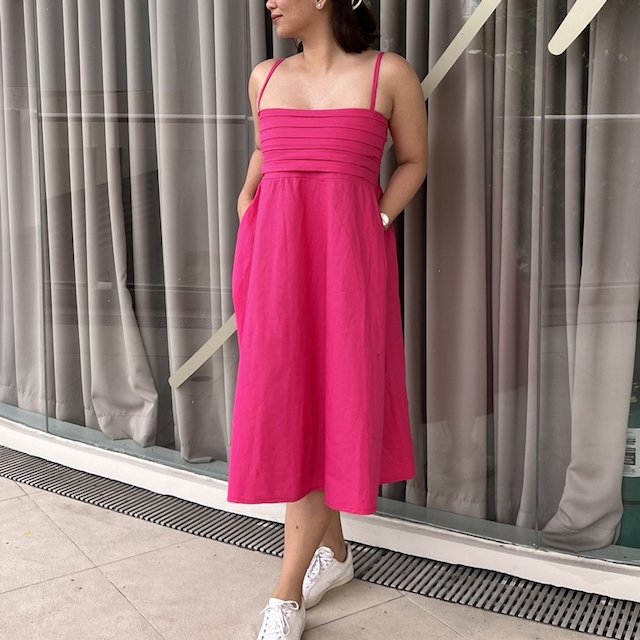 ADVERTISMENT - CONTINUE READING BELOW ↓
If you think we're done raving about Out and About MNL and their Maria Dress, you thought wrong. This silhouette is one of many colorful linen pieces found in the online store. You can score other linen pieces in bright hues and playful combinations, perfect for when you want to add that pop of color and uniqueness to your wardrobe. The Maria Dress, with its out-of-the-box bandage-like top design, is our top pick.
Available on Shopee.
Miranda Dress (P2,450) from Cariño the Brand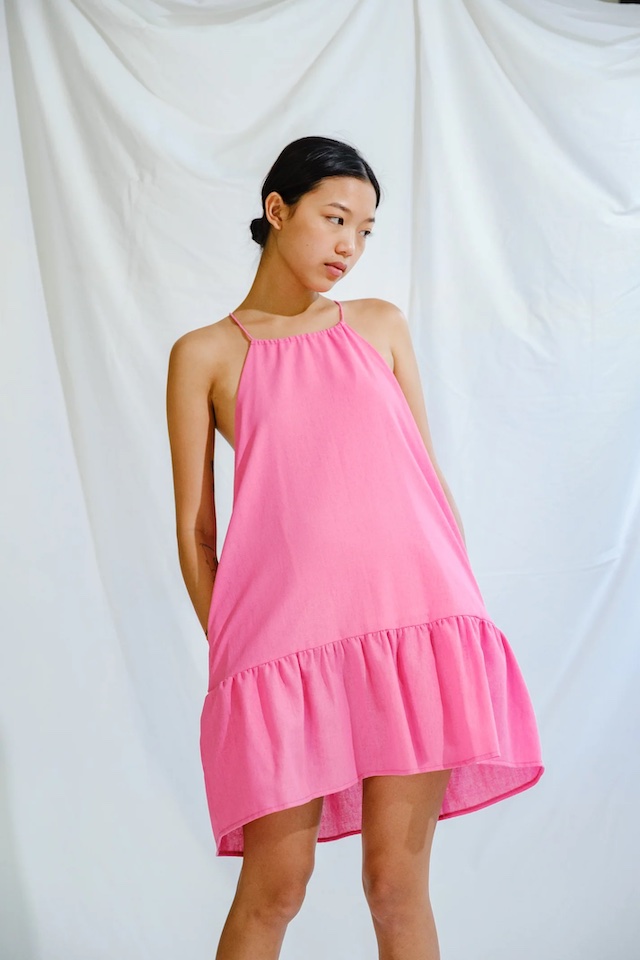 ADVERTISMENT - CONTINUE READING BELOW ↓
It's the pink color of this dress that lured us into the closet-staple wonderland that is Cariño the Brand. The shop has lots of timeless linen silhouettes, of which 90% are made from reclaimed fabrics, like this Miranda Dress that deserves a spot in your wardrobe. This specific dress features a unique neckline design with adjustable back details. It's fully lined and comes with side pockets!
Available for pre-order online.
Jamila Linen Dress (P1,150) from Love, Ara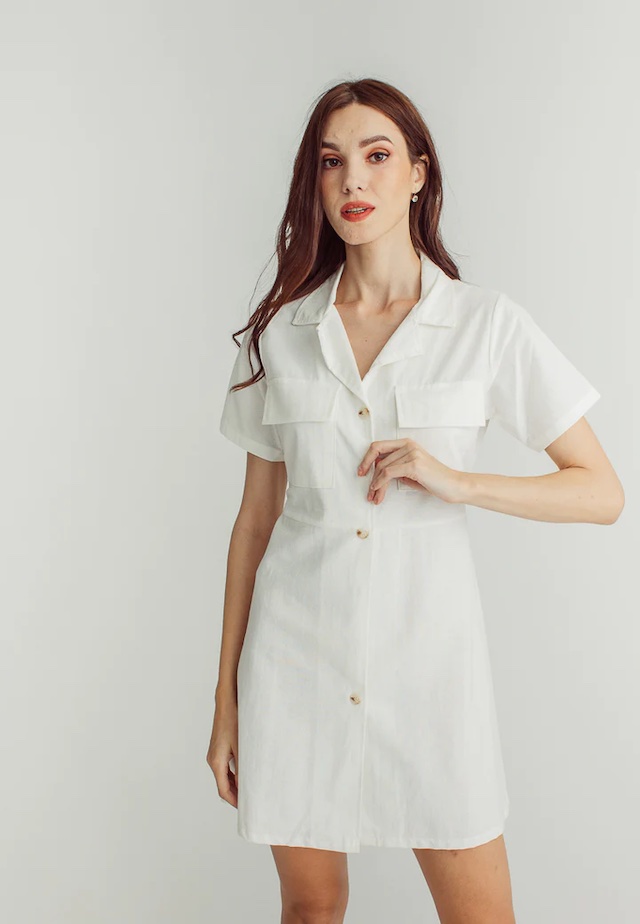 ADVERTISMENT - CONTINUE READING BELOW ↓
We can perfectly picture you wearing this button-down dress from Love, Ara during your casual walks around the neighborhood or picnic dates with your S.O.s or friends. It oozes a casual yet chic vibe. The Jamila Linen Dress is just one out of many linen pieces available under this brand. Love, Ara has tops, bottoms, and dresses that fit every occasion-be it for everyday, workwear, semi-formal, et cetera starting from P500.
Available online.
Marrakesh Backless Dress from La Oceann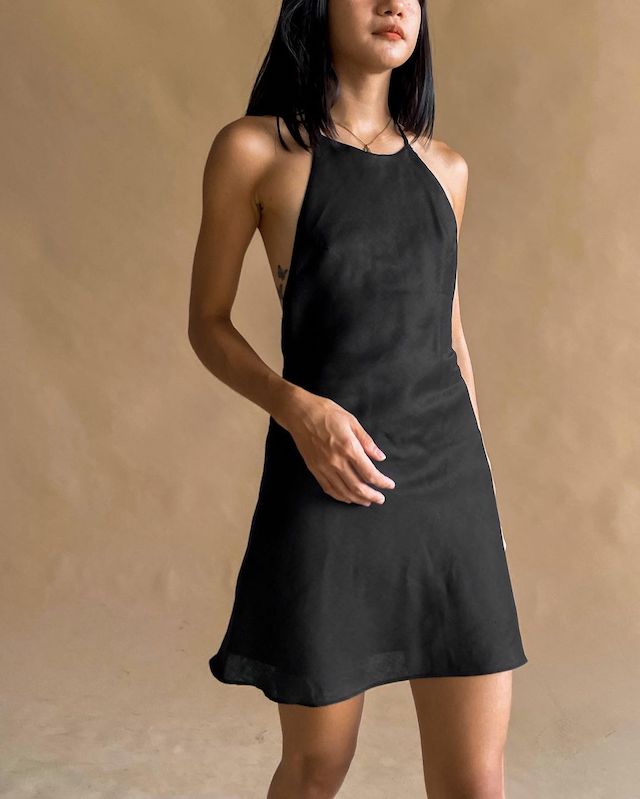 ADVERTISMENT - CONTINUE READING BELOW ↓
For ladies who hate wearing a bra, La Oceann's Sans Bra lineup is for you. Each piece-tops and dresses made from linen and hemp alike-is wearable sans a bra. This Marrakesh Mini dress, included in the Sans Bra VII "Reimagined Selects" lineup, has that sultry, open-back design that lets the cool air stroke your back whenever you're out for a walk or your wine and dine night.
Available online.
Dodie Linen Shift Dress ($33, approx. P1,832) from Love, Bonito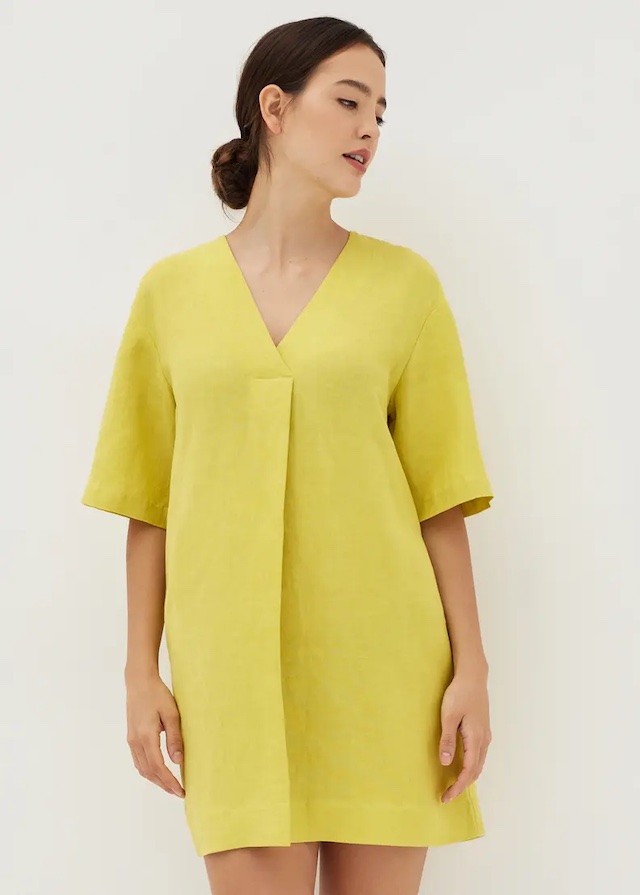 ADVERTISMENT - CONTINUE READING BELOW ↓
Singapore cult-favorite brand Love, Bonito never fails to deliver timeless and versatile pieces from their selection-linen silhouettes included. What caught our eye in their catalog is the Dodie Linen Shift Dress, made of textured linen and features a relaxed shift style with a V-neckline. To make it more of a must-have, it has functional side pockets, too. The dress itself screams comfort and sophistication, especially in this unique lime color.
Available online.