Socks with sandals: yay or nay? Is the pairing a cool fashion trend, or something you wouldn't wear for a million pounds? Cosmpolitan UK editors debated a controversial "marmite" trend. Scroll on to read whether the fashion editors will be wearing socks and sandals in 2021.

I'm all for it
Maddy Alford, Acting Shopping Editor (Print and Digital)

I'm pro socks and sandals all the way—but only when the occasion calls for it. The humble sock (often, weirdly, a source of shame) plus a foot-baring sandal is a delicate styling combo meal to get right—but let me explain.
There are a few tiers in the sock + sandal universe, IMO. On the outer tier, is the lovable, but tragically unfashionable, dad on holiday. He's accessorized his cargo shorts with some faded hiking sandals and graying athletic socks, sagging slightly at the hem. That is not the sock + sandal combo we're talking about here. Bless him though, we love him.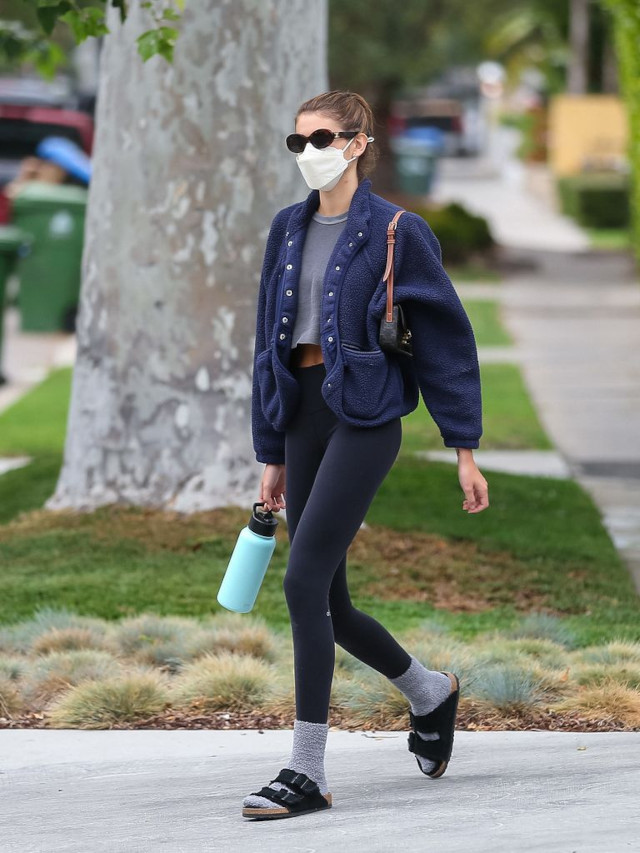 ADVERTISMENT - CONTINUE READING BELOW ↓

A few tiers in, we've got the 2009 Blair Waldorf-esque heeled sandal with a dainty bobby sock sticking out underneath. The sock is pristine, of course, as is the heeled sandal. Perhaps the sock has a gentle frill on it, or it's sheer or woven through with glittery threads. Socks + heels were the essence of the Man Repeller crowd in the early 2010s, and for a while there, you couldn't look at a street-style gallery without the combo popping up every fourth slide. I'd also file the rockabilly/ vintage 50s pinup look under this tier. I always love seeing people fully commit to a look, so...nothing but respect here.
Pulling up into the core is the heart of the trend—just pure, no f*cks given practicality. Which, I would argue, is the definition of cool. We have Kaia Gerber wearing wooly socks and Birkenstocks to her pilates class. In the core is also Kendall Jenner wearing Yeezys with socks and leggings to yoga. (Although, is wearing expensive plastic sandals ever truly not giving a f*ck? Jury's still out on that one...) This category is giving me sporty and rich. Those who are in this category may be having A Moment™, but practical footwear is forever, even if you manage to make yours look expensive and "L.A.". I almost hate to love it, but I really, really love it. Count me in.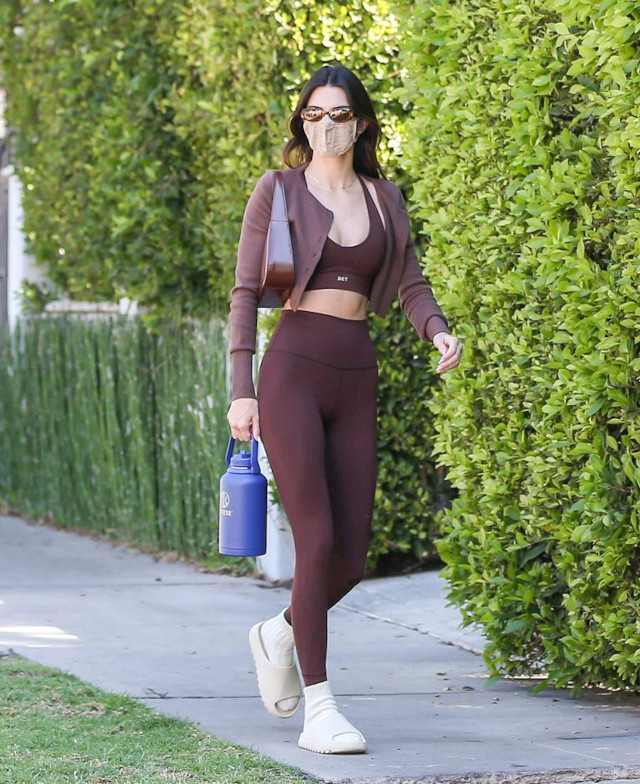 My ultimate sock + sandal combo is probably chunky Dr. Martens leather sandals and a thin, colorful, perhaps even sparkly, fashion sock. Either that or thin gray ones. I like to pair tough sandals with something sugary sweet and girly, like my pink gingham puff-sleeve dress. It balances out the styling so I don't look like actual Goldilocks on my way to a fairy picnic. Heavy leather sandals can sometimes rub after a while in the heat though, so the thin socks prevent blisters. Plus, I just think it looks cool. You're already wearing a giant clod-hopper on your foot, why not just go all out and add a sock? Just make sure you're wearing a fresh (never scuzzy) pair, and you're good to go. I salute you.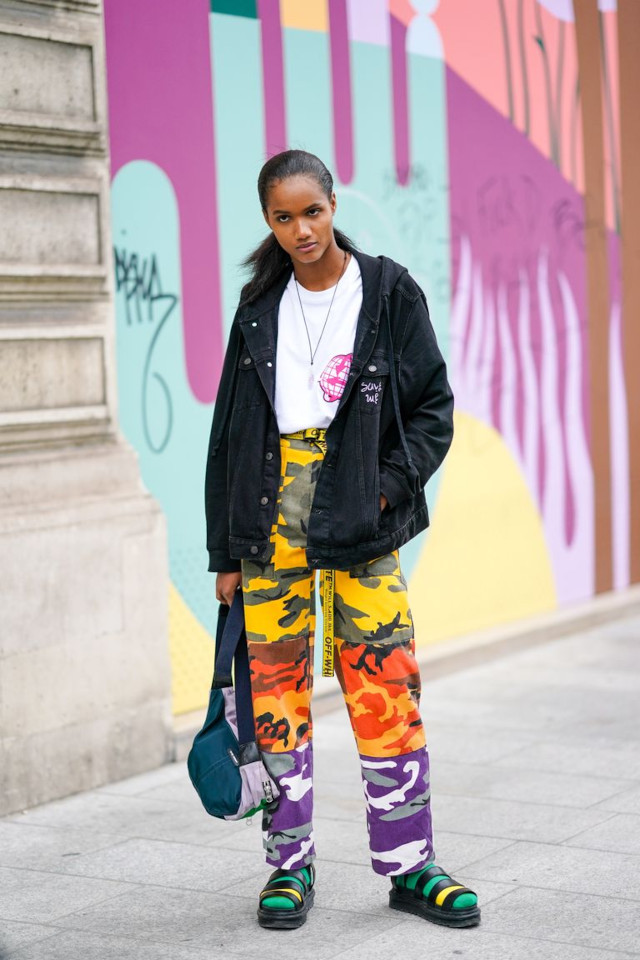 Ehh, maybe not
Sophie Leen, Bookings Editor
I'll be honest with you, I've never actually paired a sock with a sandal out in the real world, so the following argument could be considered null and void, and that would be completely fair enough. But I've never had the intention or want to either, and that has to count for something, right?
ADVERTISMENT - CONTINUE READING BELOW ↓
Don't get me wrong, I know it's no longer "white socks and dad sandals" and people definitely look great in the trend, but does it really make sense? The sun is out, and your feet are warm, warm enough to grab the sandals out of the back of the wardrobe (hallelujah)... let them be free. Let's not mess that up with socks, guys.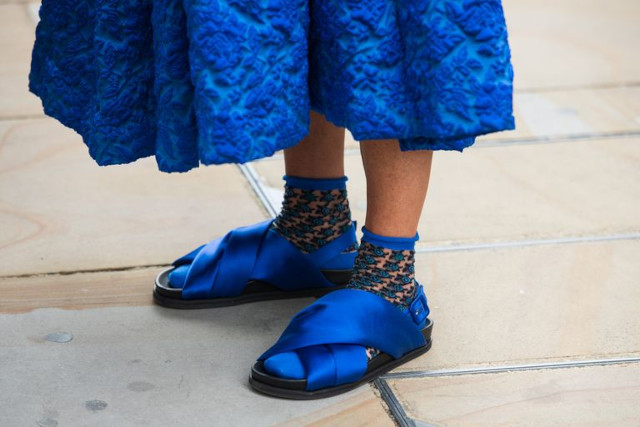 Oh, and the seams. What do you do about the sock seam at the end of the toes? I think this irrational fear might stem from my complete aversion to wearing nude tights with open-toe shoes (I wouldn't dare). Confession time. I think my relationship with socks is a weird one, which you've probably gathered. I was never a fan of those pop socks everyone at school wore with pumps.
I've heard there's also rules of which socks you should wear with trainers, how much of the sock should be visible out of the shoe, that sort of thing, which I've never been able to wrap my head around. I'll always wear socks with boots though, I'm not an animal.
For people who like to wear sandals all year round, I salute you. I've got nothing against a person who throws sliders on over socks to run down the shop and pick up some milk. I live with one, but I wonder if he were to wear this look down to the pub if I'd carry on this long-term courtship. Weirdly, at one point I was sure that my feet were my best feature too (ruined now since squishing them into many second-hand shoes that don't fit) so this whole thing could just be me finding it hard to accept a trend that would dare cover them up. But for now, if the sun's out, it's feet out.
***
This article originally appeared on Cosmopolitan.com/uk. Minor edits have been made by the Cosmo.ph editors.