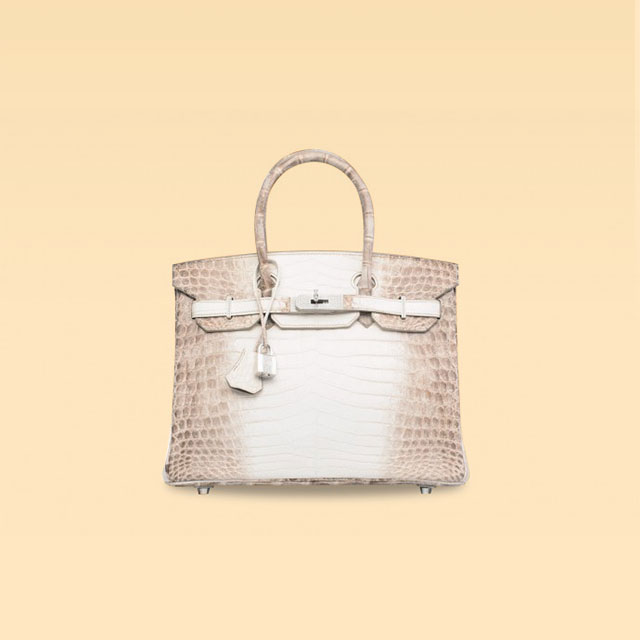 Christie's Hong Kong
And now, for news about pretty things we just cannot afford: A Hermès Birkin is set to break records as the most expensive handbag to ever go on the auction block. Experts are counting on it to sell for as much as HK$2 million, which is around 11.85 MILLION PESOS.
According to Billionaire.com, this particular Birkin is encrusted with—count 'em—245 diamonds and features 18-carat white gold hardware. But the thing that really makes it cost way more than what most people would pay for a car or a college degree? The hide of the white Himalayan Niloticus crocodile.
Sounds fancy? Well, it is. Birkins made of "almost albino" Himalayan Nilo croc skin are produced in very small batches, as unblemished versions of this particular material are super hard to come by. You can bet that the ones that do land in store floors are snatched up almost immediately—if they even make it out of the stockroom.
ADVERTISMENT - CONTINUE READING BELOW ↓
Last year, a Birkin broke records for selling at HK$1.72 million (around P10.19 million) at an auction by Christie's Hong Kong. It was made of fuchsia Porosus crocodile skin and studded with diamonds.
The white Himalayan Nilo Birkin will be up for bidding at Christie's Hong Kong's 30th anniversary auction on May 30, 2016.
Follow Patricia on Instagram.
ADVERTISMENT - CONTINUE READING BELOW ↓
Recommended Videos
EXPLORE COSMO