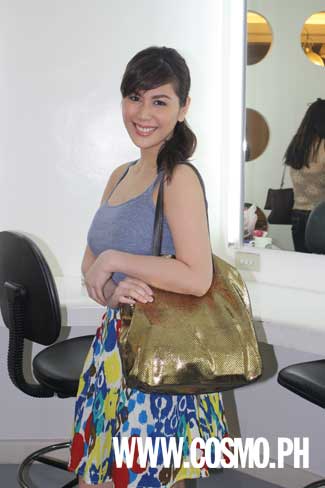 Actress Valerie Concepcion has tapings and shoots left and right for her TV shows. On top of that, she has to devote time for her lovely 7-year-old daughter Fiona. Cosmo got to spend time with the single mom when we shot her and Fiona for the "Single Hot Mommas" feature in the March 2011 issue of Cosmo, and we couldn't help but notice how, despite all the things she has to juggle in her life, she stays young-looking and flawless.

We were even more surprised to find that Valerie's daily beauty essentials include perfume, lip gloss, and lipstick--and nothing more. She likes to keep things simple when she's not on-cam, and prefers to show off her clear complexion instead of piling on makeup.

She also happens to live by this principle: "Dapat may time ka sa anak mo, sa trabaho, at sa sarili mo." It's no wonder then that, even if she's a single mom and an in-demand celebrity, she doesn't let a single shred of exhaustion show on her bright young face.

We asked Valerie to give us a peek inside her glam gold tote, and she obliged. Launch the gallery to check out the 10 essentials in this celeb's bag.
1017
Continue reading below ↓
Recommended Videos