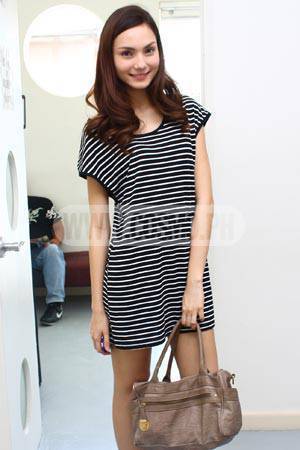 Models may seem like perfect people when we see them on the ramp, in magazines, and on TV commercials, but when you take away the fancy clothes and heavy makeup, they really are just ordinary gals like us (perhaps with a slight height and weight advantage--and undeniable confidence that makes them look larger than life!). Do you sometimes wonder what you have in common with a top model? There's no better way to get a candid, sneak peek at a girl's personality than through her bag!

That's what we thought when we met model Jasmine Maierhofer, the doe-eyed beauty seen on this month's special fashion editorial, "Cosmo's 8 Sexiest." On the day of her magazine shoot, she arrived at the Summit Studio looking like an average 20-year-old girl dressed in a loose-fitting striped dress and flat sandals. She carried with her a trendy Topshop tote, which she gladly handed over when we asked if we could take a look inside for you, our dear readers!

As we photographed the contents of her bag, we noticed that her essentials are simple--consistent with how she described herself during her interview. She had no makeup kit or extravagant products in her bag, just practical everyday things. Her beauty essentials? Health supplements!

Launch the gallery to see all the stuff we found in Jasmine's bag! Do you have any of the same essentials tucked in your bag? Tell us when you comment!


Grab a copy of Cosmopolitan Philippines' November 2011 issue with Carla Abellana on the cover to see Jasmine Maierhofer in this year's "Cosmo's 8 Sexiest" fashion editorial!
ADVERTISMENT - CONTINUE READING BELOW ↓
1621