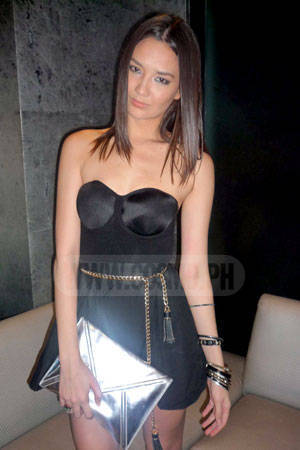 If you google the name Ornusa Cadness, chances are, you'll be flooded with images of the model-slash-DJ sporting a hundred different looks. That's because her gorgeous mix of Kiwi (her dad's from New Zealand) and Thai genes allows her to glide effortlessly from vixen-hot to edgy to classy to downright sexy.

She's no stranger to the the public eye, having graced the November 2011 cover of FHM, appeared in a sizzling hot fashion spread in Esquire Philippines' November 2011 issue, and sashayed in Cosmo's May 2011 "It-Girl Style" fashion ed with model buddies  Sanya Smith and Mia Ayesa, whom she shares billing with in the DJ trio The Zombettes.

Blessed with a svelte figure and a flawless complexion, we figure Ornusa hardly needs to work on her makeup when she goes out!

That's why when we caught up with her at an event, looking stunning in a plain black corset top with just bangles and a gold belt as accessories, we just had to know what nighttime makeup stash she had inside her silver purse--if she brings any at all.

Launch the gallery to see what Ornussa stowed in her party clutch!
2121
ADVERTISMENT - CONTINUE READING BELOW ↓