1. When in doubt, a matching set always works.
The thing about lazy day dressing is that it doesn't have to look, well, lazy. When you have absolutely nothing to wear, it pays to have a matching top and bottom in your closet, because it is a complete outfit in itself. No more ransacking your drawers! No more asking yourself if the combination is bagay, because you know it is!
2. A little black dress can look different every time you wear it.
Maja paired this gorgeous A-line number with a sparkly necklace and shiny shoes to boot. But it doesn't have to look like this all the time. Next time she wears this dress, she can ditch the accessory, and put a thin belt around her waist. Or she can wear a white button-down underneath the tube dress to give it a preppy look. The options are endless! 
Continue reading below ↓
Recommended Videos
3. But a little black dress shouldn't be your only dress color.
There are two dress colors you should have aside from black: red and white. A LWD works best for weekend brunches or dates with the boyfriend. A sexy LRD works best when you're seeing your ex for the first time since the breakup. The dress totally says "I am a sex goddess, and I will use this dress to make you pay for breaking my heart." Remember: Red is your spirit color. Use your LRD very well.
4. Boyfriend jeans look better when paired with heels.
Boyfriend jeans are loose, frumpy, and have no shape. Hence, they're not sexy. To avoid looking like you literally rolled out of bed and put zero effort into your outfit, pair your jeans with high heels (never flats)—the way Maja did. That way, you look longer, leaner, and soo put together.
5. Don't be afraid to show a little something.
The thing about looking really fashionable isn't the number of trends you can wear well. It's knowing what trend works for your body type and sticking to it. Maja has an amazing pair of gams, and she knows how to W-E-R-Q it by sticking to silhouettes that emphasize her legs. So if that means wearing more short dresses with high slits, go! Always ask yourself: What's your favorite part about your body? Flaunt that. 
6. Invest in killer heels.
Don't be dyahe to invest in a pair of good, expensive heels if you know you're going to wear them constantly. Shoes don't have to be expensive to be pretty, but if you're going to spend on a shoe—spend on a style that will never look baduy (black or nude pumps are a safe bet) no matter what the season is. If you really want to buy trendy heels (like Maja's lace-up booties), see if you can find an inexpensive pair, because you can only use those a number of times before you get sick of them. Repeat after us: Pumps are eternal! Pumps are eternal!
7. There is no such thing as too much black.
Girls get really particular about evening events because 1. They want to look great; and 2. They want to wear a gown that's not black, because everyone will be wearing black, and black is boring. That is complete bollocks. There is a reason why black is the most worn color in fashion (we invented that, btw), because it works on anyone. Wear the color if you want to! What will set you apart is attitude! And accessories! 
***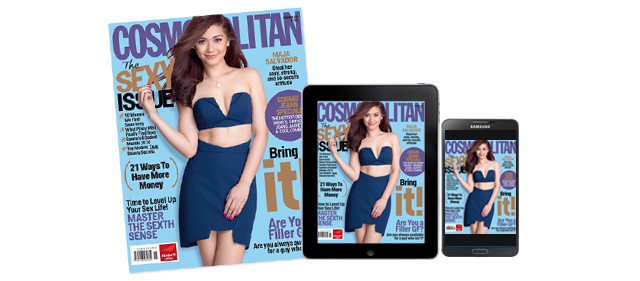 Can't get enough of Maja? Find out more about our cover girl's sexy, strong, and so-secure attitude in our November issue! For your print and digital subscription options, go to summitnewsstand.com.ph/cosmopolitan.