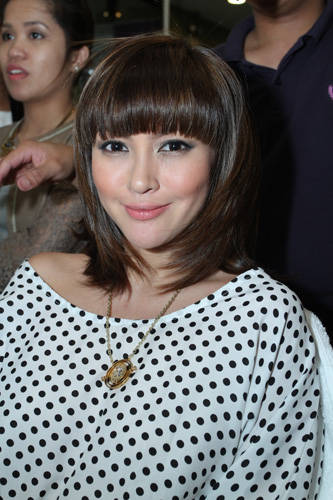 It's not every day that you meet someone like Cesca Litton, who is willing to spend her break from her busy schedule throwing herself into advocacy work for orphans and animals-- all the way in South Africa.

Along with her best friend, Cesca recently spent two weeks with the UN-accredited program, Edge of Africa. Before her long flight to the other side of the world, Cesca gamely chatted with us to share her kikay tips and reveal her relaxation musts. And if any of you are headed for South Africa anytime soon, read on to find out what Cesca's packing--you might just want to pack the same things yourself!
Continue reading below ↓
Recommended Videos

On her trip to South Africa:
It's for an advocacy of mine. It's called Edge of Africa and it's a UN-accredited program. My best friend found out about it, and she went ahead to South Africa to help with the orphans' program. Because of my work schedule, I couldn't work with the orphans program [because it started earlier]. Instead, I'm going to be helping out with the animals program, which is fine with me since I'm an animal lover. Since I can't help out with the orphans program, I asked Pantene if they could donate shampoo and conditioner for the kids. They were kind enough to donate, which is one of the reasons why I love working with Pantene.
On packing for her South African sojourn:
It's the end of winter there so I have to bring thick clothing. But they said it gets warm during the day so I'm just going to layer up. We're going to sleep at tents at some point during the program so I have to bring warmer clothing just in case the temperature drops and we're in the middle of nowhere.

On her hair care regimen:
I shampoo and conditioner every day. I get a hair treatment and trim at a salon every once a month since I'm trying to outgrow my perm. Other than that, I just make sure that I don't fall asleep with any product in my hair--I always rinse before I sleep.

On the beauty basics she always has in her bag:
Lip balm with SPF, oil control film, a brush, a hair tie, cheek tint, and eyelash curler.

On off-duty dressing:
The more casual, the better! For my line of work, I always have to be dressed up. I have to have makeup on, get my hair fixed, and wear heels. So when I have time to relax, I really relax--you'll see me around the mall just in shorts and flats and a whatever shirt. The more relaxed I can get, the better.

On her "me"-time musts:
For sure a massage! I go to my chiropractor regularly because I have this bad habit of cracking my neck. He helps with the alignment of my spine. There's also this thing called myotherapy, which is like a hard massage that focuses on those "lamig" spots on your back. I also love manicures, pedicures, and foot reflexology.